Want to reupholster your old furniture to refresh your interior design? Here are five simple tips you can follow to reupholster your furniture.
Your furniture plays a vital role in the appearance and feel of your home. If you want to make your home look refreshing, you should start with your furniture.
But while furniture is an important element, it is also expensive. If you haven't reupholstered your furniture before or you have a poor previous experience, then you may find the task daunting.
To reduce your pressure, you can follow these five tips to choose the ideal materials and requirements for reupholstering your furniture.
What is Reupholstering?
Even high-quality furniture will diminish over the years and lose its pristine, robust aesthetic.
Reupholstery is essential to bring your old furniture back to its best quality. It is the ideal way to revive your treasured pieces without compromising the original design's comfort and style.
Reupholstery uses the latest fabrics to bring your furniture back to its original look that you first fell in love with.
Check out these best staple tools at woodworkingtoolkit.com for attaching fabric to your furniture.
Choose a Quality Furniture
Reupholstering a piece of furniture is a time-consuming and extensive process. So if you want to do on furniture that is poor on quality, then you will experience these issues:
Increased difficulty for the overall process.
The furniture will most likely not last long, which results in a waste of time and money.
Appropriate furniture to reupholster will be made of solid wood with no plywood or veneer. Solid wood will maintain the integrity and last a long time.
Look at the overall furniture and determine if it has any major damage or problem. If you find it fixable, then fix it or get a new one.
Get All Tools and Fabrics Ready
It depends on what sort of reupholstery project you are undertaking, but there are a few main essentials that you need.
As reupholstery is mainly performed by hand, all that is needed to extract old stuffing and material is a staple remover, pair of pliers, and some blister.
When you choose the material for your furniture, consider your design preferences and budget. Make sure to take into account your lifestyle and surroundings.
If you have kids, pets, or any active lifestyle, the fabric needs extra durability.
There are a variety of colors, patterns, and material types available that make it easier to find out the perfect fabric based on your requirements.
Pick the Best Upholstery Fabric
Cotton
It is a natural fiber that has good resistance to fading, wear, and pilling. But cotton is not resistant to soil, fire, and wrinkling.
However, if cotton is blended with other fibers or has a treated surface, it can fix those weaknesses. Cotton's durability and applications depend on its finish and weave.
Leather
Leather is a very sturdy material that can be easily wet-wiped and vacuumed as needed. You can clean leathers with a leather conditioner or any saddle soap.
Linen
Living rooms or adult areas are best for linen fabrics as they wrinkle and soil easily.
Keep in mind that this fiber will not be able to withstand heavy wear. But linen has resistance to fading and pilling.
Soiled lines have to be cleaned professionally to avoid any kind of shrinkage of the fiber.
Silk
This natural fabric is very delicate, and it only suits adult areas like formal living rooms. As for silk fabric cleaning, it needs a professional cleaning process.
Vinyl
Vinyl is not as expensive as leather, and it is easy to care for. These fabrics are a very good option for dining and living rooms.
But the durability of the fabric depends on its quality.
Wool
Wool fabric is very durable and sturdy, and it has good resistance to fading, pilling, wrinkling, and soil.
Usually, wool is mixed with synthetic fibers to make it easy to clean and decrease its felting chances. The wool-blended fabric can be spot-cleaned if necessary.
Microfiber
These synthetic fibers are made from polyester, and it is well-known for its velvety texture.
The velvet texture of microfiber is very durable and resistant to fading, stains, and water. Microfiber is great to use in very busy living areas.
Acetate
Acetate is created as imitation silk, and this fabric can withstand pilling, mildew, and shrinkage.
But it does not have resistance against wear, wrinkles, and sun damage. Acetate fabric is a great selection for furniture as it will face everyday usage.
Rayon
Rayon was developed as an alternative option to cotton, linen, and silk. This fabric is durable but has wrinkle issues; however, recent developments have made rayon a good quality fabric. Now rayon is known as a family-friendly carpeting fabric.
Removing Fabric from Furniture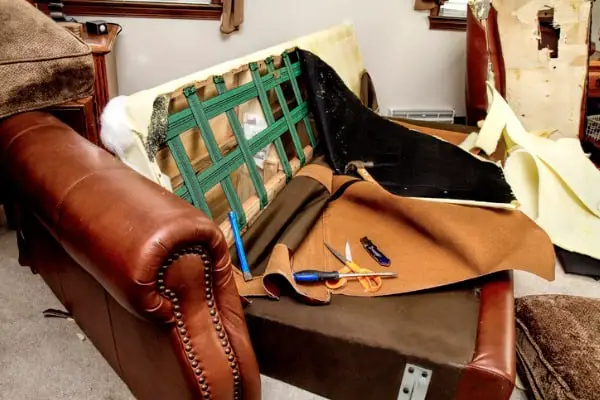 Work slowly and carefully to take out the fabric from your furniture by pulling out all the screws, tacks, or staples that are holding the fabric.
Use a flat-head screwdriver or butter knife for pulling out every staple.
Avoid cutting any fabrics to remove them, as you need to use that pre-existing fabric as your mark for the new fabric.
If you are removing the fabric from furniture, you need to flip it over and take the fabric out from the bottom and back of it.
Side panels of fabric (like a sofa) may not need fabric removal because often, you can take your new fabric on top.
Be cautious when you are taking out the fabrics as the staple or tacks can cut your hand, posing a very real threat of tetanus..
Consider the Costs of Reupholstering
Reupholstering furniture is a fun way to perform an interior update, but you will want to think about the costs that go with this project.
The size, damage, and materials must all be considered to determine the cost of reupholstery.
If you want to hire labor for this job, then you need to think about the budget. As this process is time-consuming and labor-intensive, its cost will be significant.
Other specialized work like tufting, aligning patterns, and attaching or replacing welt cords will also add to the cost.