Home offices have become a popular trend because more and more people choose to work from home.
Remote work provides employees with flexibility and many other great benefits. Follow expert tips to create your dream home office and get the comfortable remote workspace that you deserve.
Set up a budget for your project
The process of creating a home office has to begin with planning. You must be prepared for building a home office financially.
The cost to build a home office depends on several factors such as:
size of home office
costs of building materials
costs of building services
location
It's necessary to make calculations and figure out how much on average it costs to build an office in your home in advance.
After that, you have to choose a builder for a home improvement project.
Start a project only if your budget allows you to build a comfortable and functional home office that meets your needs.
Choose the right space for a home office
It's crucial to pick the right room and set up your home office in a quiet spot. Make sure that nothing will interrupt you in your remote office during the work process.
There is a direct link between natural light and improved mood and increased productivity.
The study has shown that natural light increases the productivity of employees in an office by 40%.
Give a preference to a room that gets plenty of natural light.
Design your workspace in a smart way
Now, it's time to choose the best fit-out for the office. You need to create the most suitable design for your home office.
This process consists of several stages. Let's dig deeper into the design process of a home office.
Select a suitable home office layout
It's incredibly important to pick the right type of layout for a home office. You have to make a smart choice and avoid unnecessary expenses.
Ask a professional designer for help. A designer will analyze your needs carefully and recommend you a layout for a comfortable home office.
Pick the right colors for your interior
You need to select colors for a remote work studio's interior design wisely. Give a preference to the colors that positively affect the mood, feelings as well as productivity of employees.
Neutral colors like blues and greens work well for a home office.
Get the most out of your home office space
Have you decided to create a home office in a small room? If so, you will have to take advantage of storage solutions.
There are many great office storage ideas. Shelves on the walls, cabinets as well as drawer units will maximize your space and make your home office more comfortable.
Select a home builder for a remote studio carefully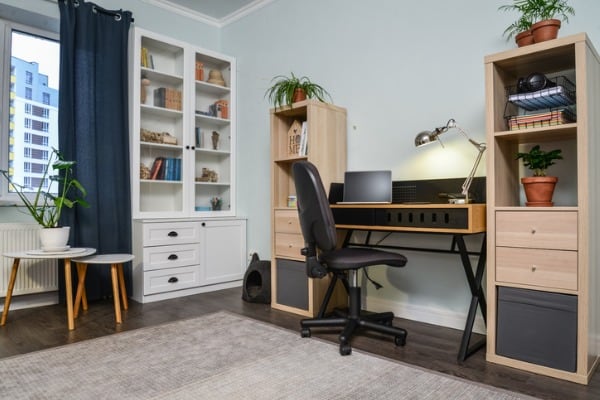 When the design of a home office is ready, builders start their work.
A team of highly professional builders will turn your home office ideas into reality. You should aim to hire highly experienced house contractors who have a good reputation on the market.
Professional builders at Marriott Construction explain that a skilled team should be able to provide the clients with effective solutions for any of their needs.
Buy all the necessary home office equipment
When planning your remote work studio, you also need to set a budget for office equipment.
A remote work studio requires different types of office equipment. These include:
table
chair
computer
standing desk
printer
scanner
furniture
You have to decide what pieces of equipment you have to buy beforehand. Make sure that you have everything that's needed to work from home successfully.
Pick the right plants for your workspace
Without a doubt, indoor plants will add a lot of comfort to your remote office. If your workspace is comfortable, you will find it a lot easier to overcome challenges during the work process.
Green plants reduce stress and make home office workers happy. And of course, a comfortable workspace will have a profound positive impact on your productivity.