There isn't a straight-jacketed answer to this question. It depends on certain factors such as frequency of usage, fabrics, and the kinds of stains and spillages.
For sure, no one likes to sit on dirty sofas, chairs, or couches. Worse still is if a chair gives off offensive smells from pet's urine and food stains.
It's especially embarrassing if you have a visitor with a very sensitive nose who can easily pick up strong smells coming off your upholstered furniture.
Hence, we cannot overemphasize the importance of cleaning your upholstered furniture.
Whether you live alone or you manage a family, after a clean carpet, a piece of clean and shiny furniture is the next fascinating item in your living room.
And you should maintain all the upholstered furniture in your living room or lobby with the utmost care.
If you want your upholstered furniture to last long, you need to do a surface cleaning at least twice a week.
However, there could be instances whereby you may not be able to get some stubborn stains off your upholstered furniture properly.
If you find yourself in this situation, you should get a professional cleaning service to help you with a deep cleaning service.
Although this may seem petty, no one buys a sofa or a chair to change it every year. Rather, people buy chairs that they hope would last them for a while, perhaps 5-8 years.
It's disheartening to have to replace furniture after just a year of buying it, especially if it's due to stains or wear and tear.
The truth is that frequently, most people judge their sofa's lifespan by how their cover looks and wears. Not really by its frame or its spring.
So if a sofa is looking worn out due to harsh cleaning, its owner may feel pressured to change it.
You don't need to feel as if your upholstered furniture is looking worn out every year. Rather, you can contact a professional cleaning service to help deep clean your upholstered furniture at least once a year.
Depending on its frequency of usage, your upholstered furniture may need to be cleaned more than once a year.
Make sure you hire a professional to handle your upholstered cleaning because there are different methods for cleaning different fabrics.
The cleaning solution used to clean a natural fabric is different from the solution used to clean a synthetic fabric.
And a slight error in cleaning could lead to a worn-out fabric.
Before choosing a professional upholstery cleaning service, it's useful to check their website for reviews.
You can also check their Google My Business profile for reviews from real-life customers.
In the subsequent sections, you will find some essential things to consider in cleaning your upholstered furniture. Please take them seriously.
Things to consider in cleaning your Upholstered Furniture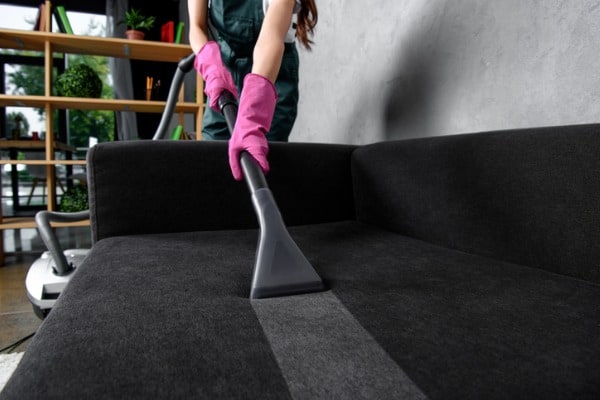 Frequency of Usage
Chairs in the living room are prone to oil stains, water spillages, pet urine, food stains, dust, and other allergens.
The way you'll clean a sofa in the library, which is rarely used, is different from the way you'll clean a sofa often used by either your children or your pet.
So, for a piece of upholstered furniture in the living room, there's usually a need for deep cleaning at least twice a year.
And if you have a pet or many children, you may need to carry out surface cleaning at least three times in a week.
But if you stay alone or with just a pet (as long as you discipline the pet), you may not need to clean the sofa more than once a week.
Fabrics
In cleaning your upholstered furniture, you have to be careful with the fabric. The way you clean leather is different from how you clean linen, cotton, wool, or synthetic fabrics.
Leather gets worn out from improper cleaning and reduces the upholstered chair value. To clean wool, one has to be extremely careful to avoid felting.
Kind of stains
The kind of spots and stains on the upholstered furniture will determine what kind of cleaning would be carried out- whether it's surface cleaning or deep vacuum cleaning.
If you have a stubborn stain, such as a pet's urine on your upholstered furniture, it's not enough to scrub the surface with a cleaning solution. You have to use a vacuum cleaner to extract all the liquids from the fabric.
If it is a leather fabric, you'll need to be careful to avoid any unwanted hard stains. In this case, you should get a professional cleaning service to help you remove the hard stains.
If you want to opt for a D-I-Y when you have spillage and stains from pet or children, then you can carry out a surface cleaning with an environmentally friendly cleaning solution.
Cleaning Solution
The cleaning solutions used in cleaning the fabrics of the upholstered furniture also matter.
If you want to clean spots on your upholstered furniture, use the right cleaning solution in order to avoid permanent stains. If you use bleach,
Final Thoughts
If you are unable to get rid of harsh stains or bad smells as a result of stubborn pet urine, it may be time to get a professional cleaning service.
Cleaning stubborn stains by yourself may lead to wear and tear of the furniture. But if you are going to do it, you have to be very careful.
If you haven't deep cleaned your upholstered furniture at all since you bought it, you need to contact a professional cleaning service to help you out.
They are the only ones that can help you remove deep-seated stains, specks of dirt, and allergens on the furniture. You may not need to bother about buying new fabric.
The preferable time to clean your upholstered furniture is towards the end of the year.
It is a good omen to enter the new year with a piece of clean upholstered furniture. Brighten up your living room; check a professional cleaning service website for a deep cleaning service today.