Vinyl is undoubtedly the most versatile plastic material on earth. It was first invented back in 1920 by two scientists who wanted to develop a material that could be used in the manufacture of everyday products.
Today, adhesives vinyl collection pieces are used by many people, from schools, offices, and art enthusiasts to professional interior designers.
This is due to its durability and affordability. In the sign industry, it's used in making stickers, banners, floor stickers, and vehicle graphics.
Benefits of Adhesive Vinyl
Good Looking
The use of adhesive vinyl adds a modern feel to your home or office.
At the office, they show you value your space. Adhesive signs can also add a contemporary feel to the interior and exterior walls of the building.
Versatile
Not only are banners and signs good for the office but can also be used in many other events, including fairs, concerts, town meetings, etc. The brighter they are, the better.
Vinyl is flexible enough to work on a variety of work surfaces such as a desk, workstation or adjustable table, and looks great in a variety of setups.
Affordable
With a superb adhesive vinyl collection, you can come up with beautiful artistic creations at a substantially low cost.
Best self-adhesive vinyl
StylTech repositionable adhesive vinyl
This customizable, utilitarian adhesive vinyl is gentle on walls and other surfaces, making it suitable for temporary use in art projects, home décor, and signage. It can also be used in the outdoors since it's water-resistant, though not for the long-term.
Swisselite premium permanent self-adhesive vinyl
This pack comes in 32 multi-colored sheets. The adhesive back is easy to peel-off. The 32 sheets are permanent and water-resistant, making it ideal for multiple projects. They come in metallic grey, matte, and glossy colors.
Vinyl ease permanent adhesive vinyl
Vinyl ease permanent vinyl comes in a 30-pack of 6×12- inch vinyl sheets. They are highly durable and can last up to 6 years.
They work well on wood, ceramic, glass, mirrors, and paper surfaces. Their solid vibrant colors make them a favorite for home décor.
ilmagine vinyl self-adhesive vinyl sheets
If your project needs something more permanent, then consider going for the 72-pack. It comes in glossy, matte, and metallic colored sheets measuring 12- squared inches.
The ilmagine vinyl sheets can work well with Cricut, Cameo, Silhouette, and other craft cutters.
Arteza self-adhesive vinyl
The Arteza's 42 pack vinyl sheets are waterproof and will remain put until you're ready to use them.
Each sheet is compatible with current cutting machines and can be customized into any shape or size. They are thin, flexible, yet powerful. It can be used on glass, wood, plastic, and metal.
How to apply self-adhesive vinyl on a table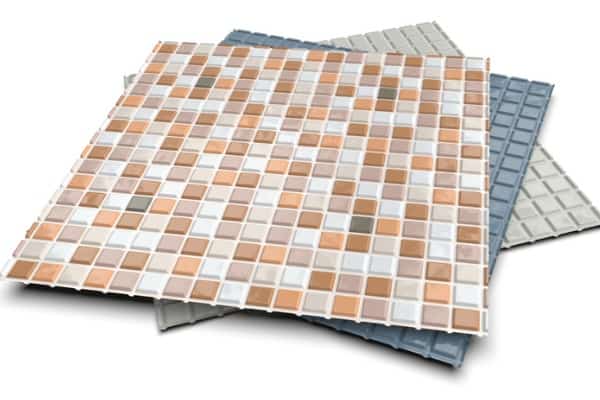 Clean the surface to remove any grease and dust
Measure the surface, ensuring to leave extra allowance for wrapping
Use the grid on backing paper to mark & cut to size.
Apply onto the surface by peeling away the backing paper- 10cm at a time.
If you encounter an air bubble or need to start over, simply lift the vinyl or push the air bubble to the side using a dc-fix smoother.
Prick any tiny air bubble using a pin to release the air.
For the corners, make diagonal cuts into the corner of the vinyl.
Fold one flap around the corner, then the other.
Trim any excess vinyl left using a scalpel or box cutter.
For curved edges or shaker style doors, use your hairdryer. This softens the vinyl, making stretching it onto the grooves or over the edges easier.
Now that you have a better understanding of the various self-adhesive vinyl pieces, make sure you pick the right one for your next or current project. Also, ensure you have all the necessary tools, such as vinyl cutters, for a cleaner job.