Floral wallpapers are timeless, and seemingly in 2021, they seem to be getting more light than the past few years.
It's probably because of the time we are in as people have to spend more time at home than they ever were before.
This instance might have led people to decorate their living space, and this might be one of the most significant contributors to the increase in people's interest in floral wallpapers in 2021.
Floral wallpapers are good for many a thing. Namely, they are comparatively inexpensive, are removable, and look good.
The design choices are many, and the diversity makes floral wallpapers a pleasure to dive into.
People opt for floral wallpapers for different reasons, from having to cover up ugly walls to make the interior more attractive.
This article will mainly be divided into two sections.
The first section will be a guide on how you apply the floral removable wallpaper without hating your life.
The second section will focus on which places you can apply wallpapers to make them look good, what type of wallpaper to use, and different techniques to use floral wallpapers for greater aesthetics.
Guide to applying removable wallpapers
Back in the days, removable floral wallpapers used to have a bad rap as people would sometimes attribute them to their grandma's dining room filled with floral wallpapers and the terror that it ensued when taking it down, fractured and one piece at a time.
However, times have changed, and so have floral wallpapers; they are cool again, and with the newer, fresher patterns, it's much easier to put up and take down for the average person.
Before you start putting up a floral wallpaper, test with a smaller piece.
1. First, apply the piece of wallpaper to the wall and check its adhesiveness. Papers like these usually love satin, eggshell, or semi-gloss painted surfaces. We don't recommend them on flat or matte paint.
2. Clean the wall and make it fresh and smooth.
3. It's good to have a helping hand when applying removable floral wallpaper to a wall; however, it can be done alone. If you are working with another set of hands (another person), one can guide the wallpaper from the top while the other person can make sure that the wallpaper attaches to the wall correctly.
4. This is optional but a fantastic tip: Utilize some kind of rug or bathmat to lay the wallpaper on as you roll it. This ensures that your wallpaper isn't getting damaged or scratched.
5. It's better to start from the middle part of the wall, and then from there, you can build out to the rest of the place. Peel your liner a foot or a few inches away from the top of the piece. Then, position the paper to the wall.
6. Once it's properly lined up with the wall, you can start and remove the liner by putting some force on the paper as you go about it. A friend in this step really helps you out.
7. Keep repeating the step 5 and 6 until you fully cover your walls. You can slightly overlap the edges of the wallpapers to avoid small gaps.
8. When you are done with step 7, do a pass and check if there are any air bubbles. You can apply some pressure to mitigate a lot of the bubbles.
9. Use a box cutter or an X-ACTO knife to trim away some of the excess paper.
And you are all done. When you want a new wallpaper or a new design for your walls, you can just peel the wallpapers off and throw them away.
Where to apply floral wallpapers, and what kind of wallpapers you should get?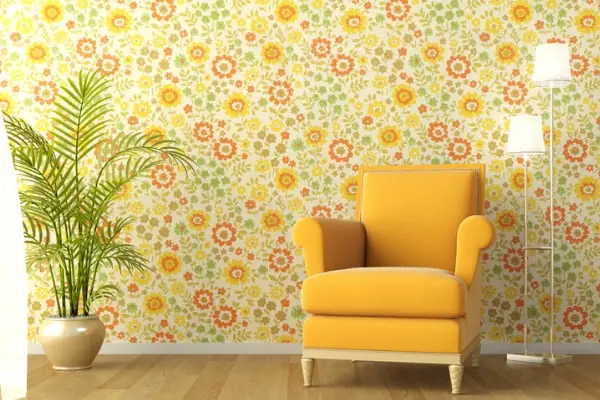 Floral wallpapers come in different patterns, shapes, and sizes. The design varies a lot, and they are sometimes divided into various categories.
You have the colorful floral wallpapers that have a diverse range of colors, and then you have dark floral wallpapers that are aesthetically dark and have a lesser contrast.
There are others that have no flower at all and consist only of various abstract patterns and designs. They look amazing around the hallway and your bedroom walls.
Bedroom wallpapers
For your bedroom, you can go for something dark with a darker toned floral wallpaper with roses and sunflowers, or you can simply pick an abstract patterned wallpaper.
For the children, the vibrant floral wallpapers work better, and for adults, the darker tones are sometimes more appreciated.
Dining room wallpapers
For your dining room, you want a very colorful bright set of floral wallpapers. A dining room should have high energy and a positive vibe.
Going for some yellow or similar colored floral wallpaper consisting of sunflower and dazzling flowers is a good option.
Laundry room wallpapers
Floral wallpaper that brings a touch of nature to your space Is an amazing choice for the laundry room area.
These floral wallpapers have various leaves and wildflowers, sometimes even animals or a hint of an animal silhouette.
Living room wallpapers
Anything goes in the living area when it comes to wallpapers. However, it is one of the best places to go all crazy, from blue astronomical colors to pink and fuzzy colors, or a combination of both works amazingly well in the living space.
Different nebula colors and patterns also do good in the living space.
Different methods of utilizing floral wallpaper
You can sometimes only cover half the wall with floral wallpaper and leave the rest empty with a chair railing in the middle of a concrete wall to later paint with some painting.
You can also cover your roof or half cover the ceiling and paint the rest of it.