Relocating to a foreign country can be both thrilling and stressful simultaneously; its attractions lie in exploring uncharted territories, trying new cuisines, and making new friends, yet it comes with several challenges.
The foremost among these is relocating smoothly, and adapting to an unfamiliar culture and a new neighborhood.
Over the recent years, many international relocations have been recorded from major cities across the US, including Miami.
Located in the southeastern region of Florida, USA, Miami is a bustling and multifaceted city renowned for its warm climate, stunning beaches, and vibrant culture.
Despite its many attractions, many individuals have chosen to leave Miami, quoting many reasons, including severe weather, low wages, overcrowded beaches, shifting political landscape, and soaring housing costs.
So, if you are also moving from Miami to another country and want to make the process as stress-free as possible, read on.
We have compiled some useful tips to help make your international relocation stress-free, whether moving from Miami or any other city abroad.
1. Research and Plan in Advance
Before setting off for an international relocation journey, conducting extensive research and planning meticulously to ensure a smooth transition is essential.
Spending time exploring every aspect of your move could save time and challenges down the road.
Before moving abroad, familiarize yourself with key factors like visa requirements, cost of living, and job opportunities in your destination country.
By knowing these elements, you can make the right decisions and prepare for challenges during relocation.
2. Find an Experienced International Moving Company
When moving to a new country, it is best to choose an experienced international moving company.
Why? Because they know all the processes, laws, and regulations related to moving from one country to another.
They can help you with packing, shipping, and customs clearance and offer valuable insight into other processes.
Also, hiring an insured international mover in your respective city is important to ensure the safe transfer of your belongings.
For instance, if you are moving from Miami to a foreign country, hire a licensed Miami international moving company for top-notch service.
Professionals at these moving companies understand all the complexities associated with international moving.
Also, you will have peace of mind knowing your possessions are in safe hands with experts to guide you at every stage.
Before finalizing a moving company for your international move, ask friends and family for recommendations or read online reviews to find the one with proven efficiency in handling international relocations.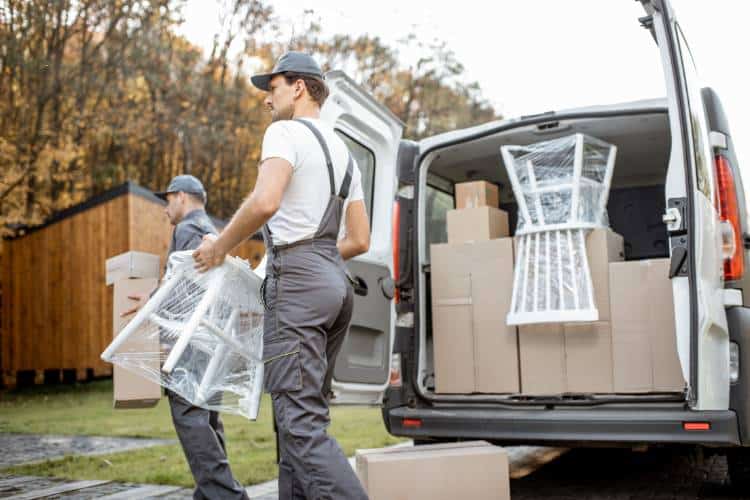 Movers specializing in cross-border moves must be the first preference as they understand the complexities.
Compare costs from multiple movers, taking note of any extra charges or hidden fees that might exist.
While cheaper may seem attractive, consider the advantages and disadvantages carefully before making your choice to make an informed decision.
From saving you time and stress to decreasing the likelihood of damaged or lost items, collaborating with an established international mover will make your move hassle-free and an enjoyable experience.
3. Manage Your Finances
A key to any successful international relocation is structuring your finances efficiently.
Create a detailed budget that accounts for the costs of moving and initial living expenses in the new country- consider housing costs, transportation fees, utility costs, and leisure activities when creating the financial plan.
Next, research banking options available in your destination country.
Establishing a bank account before moving will facilitate funds transfers and help ease life abroad.
Select banks offer the best exchange rates and transaction fees and have a strong international presence.
Be wary of currency exchange rates and international money transfer services; their fluctuation can hurt your finances and budget.
Research various money transfer services until you find one with competitive exchange rates and affordable fees.
4. Prepare for Cultural Adjustment
Before you move to a new country, you must familiarize yourself with your destination country's cultural norms and practices.
Learning local customs and traditions will facilitate faster adaptation and demonstrate respect for your new community.
Invest some time reading about the culture online or join various communities on social media platforms to learn about the culture.
Moreover, language can hinder communication, so learning some basics of the local language before moving abroad is wise.
Even just knowing basic phrases will make day-to-day interaction smooth.
Consider taking language classes or downloading relevant apps to learn the language of your destination country.
Seek assistance from local expat communities and other resources during your transition.
Connecting with fellow expats can help you gain valuable insight into the culture, assist in learning the language and even for emotional support – look for online forums, social media groups, or local get-togethers where people who have had similar experiences can guide you.
5. Packing and Shipping Essentials
Packing and shipping your possessions abroad can be difficult, so start decluttering them first.
Go through everything and decide what you want to keep, donate, or throw away. This process not only simplifies packing but can reduce shipping costs significantly!
Create a detailed packing list and prioritize essential items.
Consider climate, cultural expectations, and personal needs when determining which items to pack.
Set aside important documents, valuables, and essentials for your initial days in your new home.
As your shipping options and timelines become clear, discuss them with your moving company for guidance in selecting the most cost-effective and reliable transport method (air, sea, or land) and customs regulations and potential delays with them.
6. Securing Accommodation
Once you have selected a country to move to, the next step should be securing accommodation before finalizing your moving date.
Research different neighborhoods to make an informed decision.
Next, decide whether to rent or purchase an apartment in the new country.
If you are only relocating for work or education, renting accommodation is better than investing in the property immediately.
Conclusion
International relocation can be an exciting and life-changing experience. At the same time, it is equally stressful and overwhelming.
Consider all aspects of the move for a smooth transition, from selecting the right moving company to researching healthcare options and following the legal procedures.
Considering the tips outlined in this article and collaborating with a reputable international moving company, you can make your relocation to or from Miami hassle-free.
So, take the first step today and start planning your stress-free international move!