A kitchen is one of the most used rooms in a house and can also be one of the most disorganized and cluttered.
Kitchen makeover ideas are common among homeowners as this is an ideal way to create a more spacious and attractive kitchen.
There are numerous ways you can revamp your kitchen by simply making small changes such as replacing the cabinets, paint color, appliances, and hardware.
Doing so can certainly transform its look as kitchens with modern or transitional designs will always appear bigger than those with country styles.
Here are some useful ideas on kitchen makeovers you need to check out:
Replace Kitchen Cabinetry
Cabinetry is one of the best kitchen makeover ideas you should consider as this will provide more storage spaces for your kitchen appliances and utensils.
It can also help create a contemporary look to turn your dated kitchen into an instant classic.
Kitchen cabinets are not only purely functional but can also beautify your kitchen, making it appear brighter, bigger, and cleaner.
When looking for the best kitchen cabinet choices like these, remember that the best choice will depend on your taste as it reflects your personality and lifestyle. You can mostly choose between flat, shaker, or raised panel-styled kitchen cabinets.
Another type of cabinet worth checking out is wall-mounted cabinets as this is perfect for small kitchens because placing them on the wall allows maximum use of space.
Aside from this, you can also install a pantry cabinet to declutter your kitchen and maximize storage spaces in your house.
Replace Old Kitchen Flooring
Kitchen flooring is another best kitchen makeover idea you should consider as this can instantly create a modern look.
Although it may seem insignificant, the old flooring in your kitchen may be the reason why it appears smaller than usual.
This is because poor-quality materials can easily warp and shorten their width.
Therefore, if you are planning to give your kitchen a more modern look, consider changing its old and worn-out flooring with new ones to make it appear bigger.
One of the best modern kitchen flooring materials you can choose is concrete. It creates an ideal foundation for new homes and provides ample support for weighty appliances.
You can easily mix concrete with stones or other materials to make stylish patterns on your floors. This can help create an impressive contrast that makes your kitchen appear brighter and cleaner.
Update Kitchen Countertops
Kitchen countertop ideas should not be ignored as this can greatly improve and maximize kitchen space.
Installing laminate, granite, or even wooden countertops may be expensive but it is best to make a good investment as they will help elevate the overall look of your outdated kitchen.
If you cannot afford luxurious materials for your kitchen top, then go for those with modern designs as they are cheaper yet still durable and beautiful.
One of the best ideas to help make your kitchen appear cleaner is to install countertops with stainless steel surfaces as this best complements modern or transitional styles.
You can also give your countertops a fresh and updated look by simply replacing your current backsplash with a modern one.
Replace Old Kitchen Appliances
Replacing your dated appliances with new ones is another best way to instantly update the look of your kitchen especially if you have purchased it several years ago.
Old-style stoves and ovens are best replaced with technologically advanced units fit for small kitchens as they use less space while providing ample workspace for cooking tasks.
You can also choose to replace your old refrigerator with an energy-efficient one as they are best for small kitchens.
Although they may cost more than ordinary refrigerators, you can save up more on utility bills because of their improved insulation and energy efficiency.
Add Modern Kitchen Lighting
An option that should not be left out in an ideal remodeling project is to update your kitchen lighting fixtures.
When done right, this simple best kitchen makeover idea can help brighten up your kitchen and update its look.
If you have outdated, dull, dark, or stained lighting fixtures in your kitchen, replace them with modern ones to instantly give your room a cleaner feel.
The type of lighting you choose for your kitchen should also be considered based on the overall look and design that you want to achieve.
You can go for chic lights to complement modern cabinets or go all out with lots of fun pendant lamps if your room has a more traditional feel.
Install Area Rug
One of the best ways to make your kitchen appear larger is to install an area rug.
Area rugs are effective in visually making your home look bigger as they provide a larger impression of the flooring that covers them.
When you entertain guests at home, adding an elegant area rug can help improve its look especially if you have smooth and shiny surfaces surrounding it.
It will also help create an inviting and warm ambiance that makes everyone feel at home.
They can be used as a decorative element as you install them on top of your laminate countertops, tiles, hardwood flooring, or even concrete floors.
Add Color To The Walls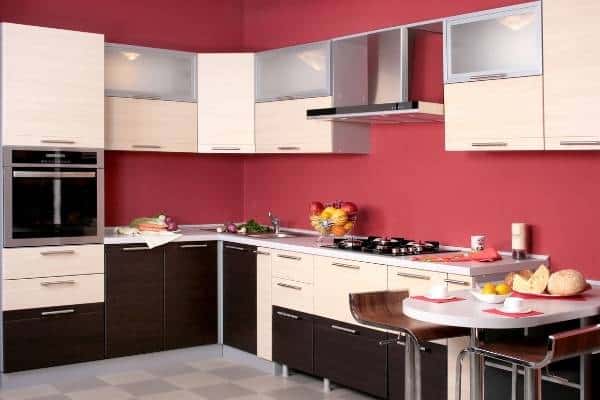 Another best way to make your kitchen appear cleaner and spacious is by adding color to its walls. or add a few colorful units like these.
If the walls in your kitchen are bland, stained, or already decorated with wallpaper that you want to remove then this idea will be helpful for you.
Modern walls should not appear cluttered and dull as they must provide an inviting and warm feel that would allow people to enjoy their time there.
To add color to the walls of your kitchen, choose paint colors that complement its lighting fixtures and other furniture pieces found in it such as cabinets or island units.
You can also add accent wallpapers if you like but make sure only one wall appears more vibrant than the others so it does not make the space look overcrowded.
As you can see, modernizing your dated kitchen can be done with ease once you know how to.
Choosing the best kitchen makeover ideas that fit your taste and preferences should not be a problem now that you have learned a thing or two.
Make sure to follow the tips mentioned above to help you come up with your ideal remodeling plan without struggling too much and you will be amazed by the results.