Sorting out the back yard garden is a job that makes it onto everyone's list of odd jobs that need completing.
However, with a busy life and the yard area being out of sight, it can often get pushed to the back of the queue.
However, with people spending time at home over the last year, DIY attention is turning to the back yard.
If you're finally ready to improve your yard, but you're struggling for inspiration, you've come to the right place.
Below, we have outlined five easy tasks that will improve the overall feel of your yard.
Water Features
When you're stressed out, being near a body of water can help to calm you down. Therefore, you should add a splash of magic to your yard.
You don't need a large yard to install a water feature, just take a look at these waterfall designs for small properties for inspiration.
Before you begin work on your new water feature, you will need to consider the location and have the plumbing examined by a professional.
There are water features that do not require plumbing, like a pond.
However, if you decide to go this route, you still need to be sure you properly take care of your new feature since water might need to be changed at a specific interval.
Planting Flowers
If you've got the space for a flowerbed, tidy up your garden and some color.
If you don't have the space for a traditional flowerbed, you can get creative and use an old wooden stepladder to put your planters on.
If you're going to maintain your flowers seriously, take a look at these different flower color schemes.
Paint Your Fence
If your garden or yard fence is looking tired, a fresh coat of paint and varnish can immediately bring it back to life.
If you have a wooden fence and want to preserve the quality, we suggest using wood stain paint. While you've got the paint out, you may as well freshen up other objects, including sheds.
Install Lights
During the summer evening, when it's dark outside but sweltering all the same, keep your yard inviting by installing lights.
If you've got a tall fence around your yard, use the fence posts to nail light fixtures. Alternatively, if you can use lights with ground stakes to create pathways.
Enjoying your yard in the light of the evening can be extremely relaxing.
Create a Social Area
With your lights installed, you can create a vibrant social area to be used day and night.
Find a corner of your garden or yard, preferably close to the house, and lay decking to form the base of your seating area.
If you've not got enough space or you're struggling for inspiration, there are plenty of creative ideas here.
If you install a suitable roof, you can use the area all year round by packing the area full of blankets and cushions.
Add Self-Seeding Flowers
Self-seeding flowers are great for those that do not have enough money for a larger project or simply do not have the time needed to propagate plants.
You just have to finish work with one batch of seeds. Then, brand new blooms will appear every single year. And you do not have to spend money to get that.
Some options you can consider as beautiful self-seeding flowers are poppies, forget-me-nots, verbena, and cranesbill.
Divide Plants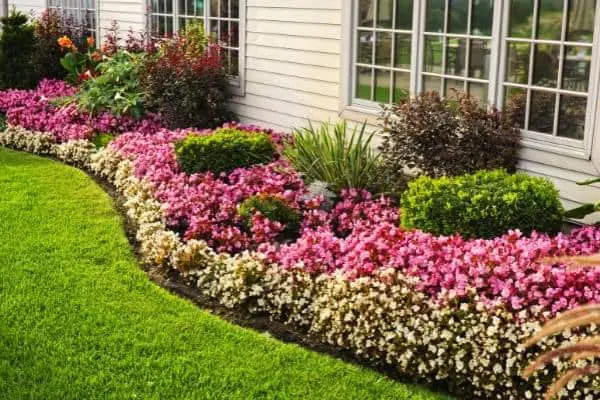 When you want to have more plants and flowers in the garden but you do not want to spend more, you can split or divide summer-flowering plants.
This lets you add extra color while you make the original plants much healthier since they will not overgrow.
Some options to consider for dividing are daylilies, primroses, hardy geraniums, Japanese anemones, geums, and asters.
Separating plants is very easy to do. Just dig up the entire clump as you gently loosen soil. With your hands or a trowel you have to pull the new plant away.
Do this carefully and slowly to be sure that several roots still remain. Just replant the new section, add water and you are good to go.
Add A Mirror
You can surely find a mirror in your home that can be moved to the yard. Do so since it will make a huge difference.
You can actually completely transform the yard since the mirror will make the area feel like an extension. Also, since light is reflected, the entire yard will end up looking larger.
This very simple trick is often used by landscapers so why not use it yourself?
The yard is one of the jobs that constantly get pushed to the back of the list. However, after people have spent so long at home, their attentions are turning to yard improvement.
Whether you simply repaint your fences and tidy the yard or install water features to help you find your zen, your gar will appreciate the work you put in.