Are you dreaming of creating a stylish and relaxing oasis in your bathroom?
Is the thought of turning it into an inviting high-end retreat something that seems like a distant pipe dream?
Whether you're looking to upgrade on a budget or completely splurge, many tips and tricks help make any bathroom look and feel luxurious.
From new lighting to decor picks, we have all the inspirations for transforming your current space into your private sanctuary.
So keep reading for creative ideas that transform any dull room into a one-of-a-kind bathtub heaven.
Here are some tips for upgrading your bathroom into a high-end retreat.
Create a Vision for Your Dream Bathroom
Creating a vision for your dream bathroom is exciting – after all, what could be better than designing the perfect space to meet all your needs?
Imagine yourself transported to that dreamy space and think about the features you'd love.
Would you go for a large soaking tub, or do you prefer a luxurious shower? Perhaps a dual vanity setup would be great for his-and-hers sinks.
Then it's time to think of the colour scheme and finishes that will make up your starscape design.
All these details come together to create an oasis right in the comfort of your own home. So have fun exploring different options, and make sure it's exactly how you want it.
Add Some Scented Candles and Hang Plush Towels for an Extra Touch of Luxury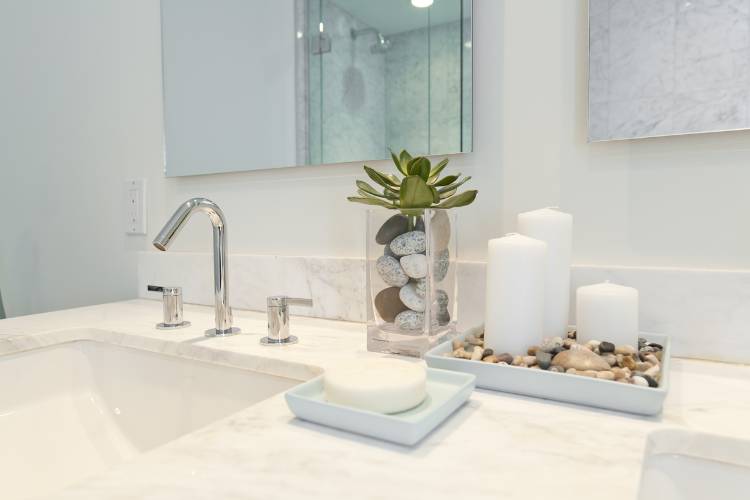 Adding a few scented candles or small potpourris around the bath space is an excellent way to create a more inviting and calming atmosphere.
Also, plush bath towels are a must for any luxurious bathroom. Choose either extra soft bath towels with vivid colors or go for lighter shades in satin or velvet.
Having a variety of towels with different fabrics and textures will add a unique touch to the room and ensure comfort after a bath.
So, don't forget the bath towels when you want to make your bathroom feel more luxe.
Invest in Quality Materials and Fixtures
Choosing quality materials and fixtures is so important when it comes to bathroom remodeling projects.
Investing in items that will stand the test of time, like marble countertops and solid stone shower trays, is worth the extra cost.
In addition, adding gold or chrome taps can take your bathroom design up a notch with a luxurious touch.
Quality pieces can last a lifetime, so upgrading your bathroom with them is worth it.
Upgrade the Lighting to Make It Feel Cozy
Upgrading the lighting in your bathroom doesn't have to be complicated. Installing a dimmer switch is an easy way to instantly add ambience.
So whether you want to keep it bright when you're getting ready or switch it to dim when you're relaxing in the tub, for those moments, consider adding some wall sconces or even recessed lighting above the mirrors.
And to take it one step further, string some twinkle lights above your bathtub.
You'd be surprised how much of a cozy but not too over-the-top effect that can have
Add Luxurious Touches With Decorations and Accessories
If you're looking for a way to add a touch of luxury to your bathroom, why not try using decorations and accessories?
They can bring the whole look together and give your dream bathroom something special.
Think about adding some potted plants, a plush rug or carpet, beautiful vases, candles, or anything else that goes with your bathroom style.
Candles and aromatherapy diffusers can also be a nice addition, providing a soothing atmosphere.
At the same time, you get ready for the day. So go ahead and show off your luxurious design with some carefully chosen decorations and accessories.
Incorporate Natural Elements Into the Space
Incorporating natural elements into your bathroom can elevate its look and feel.
For instance, adding a wooden basin or even a freestanding stone bathtub will give it an undeniably luxurious touch.
Also, merging wood and stone will create a soothing spa-like atmosphere that you won't be able to resist.
Moreover, you can also opt for more organic materials, like bamboo or rattan, for the walls and flooring to tie the whole look together.
If you want to wow your guests while they relax in your bathroom, this is one way.
Install Smart Technology for Added Convenience
Installing smart technology into your bathroom can be an easy, simple way to add a touch of luxury.
Motion sensors to turn the lights on automatically when you enter is an example of a small change that can make a big difference in convenience.
You could even connect the shower head to an app to adjust the water temperature from your phone – now that's living like royalty.
Whether you're looking for added convenience or want to spruce up your bathroom, look no further than smart tech.
Get Creative With Color and Patterns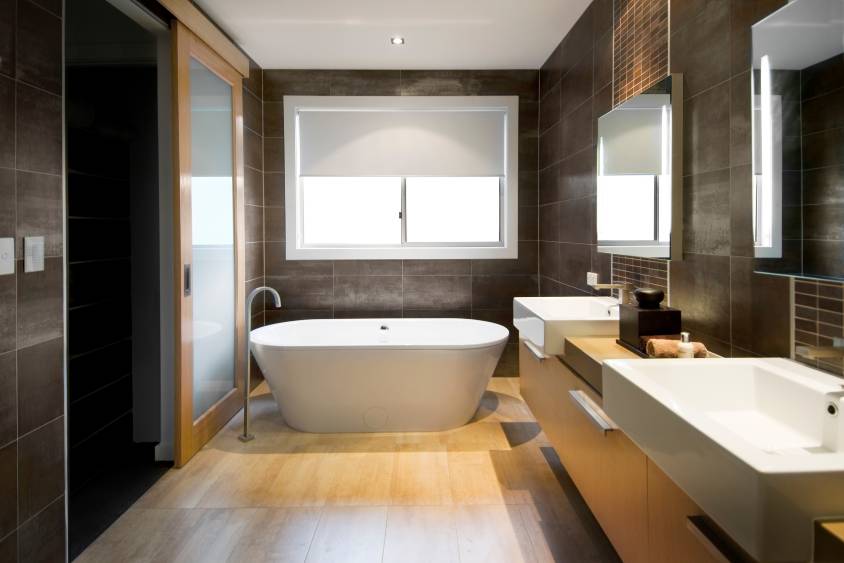 Unleash your creativity when it comes to transforming your bathroom. Don't be afraid to think outside the box when choosing colors and patterns.
Add hints of muted blues and greens, or go all out with bright reds and purples.
Get creative with different pattern combinations, too – you could even layer stripes and polka dots for the towels and rugs.
For something more unique, consider wallpaper with a floral pattern or geometric tiles for the flooring.
Mixing and matching textures will inject personality into your bathroom space and make it feel like a luxurious retreat.
Conclusions
When creating your dream bathroom, you can have any look and feel you want.
With a little creativity, planning and effort, you can make your bathroom the luxurious retreat you've always wanted.
Don't be afraid to put in the extra work and thought; by doing so, you will create something truly unique and beautiful that you will enjoy for years.
With the right materials, fixtures and lighting, you can create a truly unique spa-like atmosphere in your home.
So go ahead and unlock your dream bathroom today. All you need is a little bit of imagination and dedication to get started on creating something special.