One of the best feelings in the world is when you're spending time at a luxurious retreat which usually feels sophisticated, plush, and comfortable.
And when the time comes to say goodbye and go back home, it can feel quite stressful.
It isn't a surprise because you're going back to your hectic daily life routine and your modesty-designed home.
Fortunately, you'll be happy to know you can still make your home feel as pristine and stylish as the luxurious retreat.
Look no further if you wish to replicate this vibe in your home.
Below is an overview of ideas to transform your home and make it feel like you're in a luxurious retreat.
Therefore, you'll always feel the vacation vibe each time you're home to relax from the never-ending troubles of today's world.
1. Transform Your Bedroom
When transforming your bedroom's look, the first place to start is by altering your bed's look.
Remember, the bed is the centerpiece of any bedroom and is usually the first thing anyone will notice right after walking inside.
Hotels best understand this and do everything possible to ensure your focus will be on the bed.
Therefore, you must start by getting another bed at Savoy Living and similar shops and get one of proper size, luxurious, and feels snuggly.
As a result, your bedroom will get a more appealing appearance. You can also alter your bed's look, and there are various ways you can do this to give it a luxurious look.
One way is to update your bed's headboard and make it eye-catching and an excellent backdrop for cushions and bedding.
In addition, you should invest in a mattress topper for your bed and new high thread count sheets, making sleeping on your bed more comfortable.
You can also spritz scented water on your sheets to give them a pleasing smell.
Also, don't forget to iron your sheets before you spread them on your bed, as such small changes drastically change your bedroom's overall feel.
By implementing such adjustments, you can start enjoying a good night's sleep each day in the comfort of your home and not being restricted when you've traveled to a luxurious hotel.
2. Add Eye-Catching Greenery
Another way to refresh your home's look and give it a lavish feel is by adding eye-catching greenery to your garden.
It is something luxurious hotels do excellently by imitating the landscape and later incorporating colorful plants, trees, and flowers all over.
Doing this will give your home a refreshing and relaxing feel anytime you're in your backyard.
The greenery will also give your home a different feeling depending on the time of year as they change their appearance across the seasons.
To enhance the greenery's look further, consider using unique flower beds or combining different shapes, colors, and types to give your home a unique look.
3. Create Your Spa Bathroom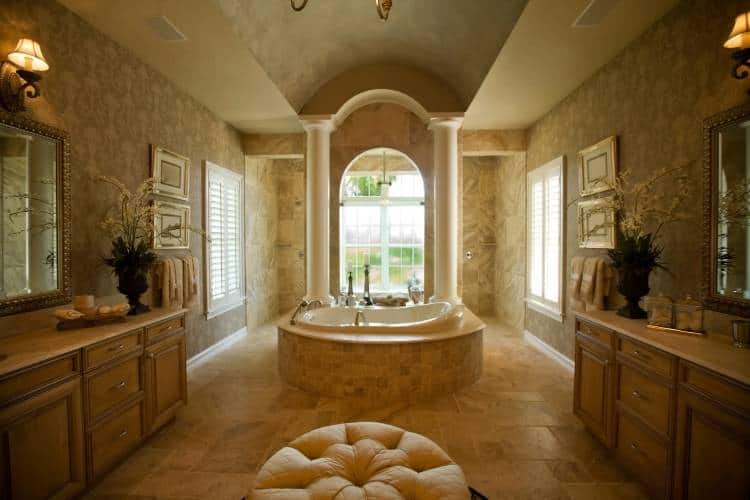 Luxurious resorts are known not to settle for the ordinary, so they go the extra mile to add a spa to the bathroom.
While in this bathroom, the serene atmosphere makes you relish every second you spend there. It is an idea you should steal from lavish hotels and incorporate into your bedroom bathroom.
Some additions to your spa bathroom include a Jacuzzi tub, luxurious scents, soaps, and double-sinks with large mirrors.
In addition, you need to have a glass-enclosed walk-in shower featuring sturdy and elegant shower heads and full-body jets.
Don't forget the shower curtains and scented candles that do an excellent job enhancing your bathroom experience.
Also, you should invest in a bathrobe of high-quality cotton and towels to use after showering.
4. Add Landscape Lighting
Lighting is vital in affecting your overall mood. Luxurious hotels understand this, so they strategically position different light sources across the various places of the resort.
For instance, you'll find overhead lights, scones next to your bed, table lamps, and bathroom lights, to name a few.
These many light sources give the multipurpose room function and help create different moods in your home.
You can also add ambient lighting outside your home to give the outdoor spaces a peaceful atmosphere.
You can best achieve this by adding landscape lighting to the outdoor spaces by placing them on plants, trees, and backyard paths.
With the outdoor lighting, your backyard becomes an excellent place where you can unwind and relax.
5. Get An Indoor Pool
Do you love spending your time relaxing on the water? If yes, an indoor pool is a perfect addition you should get to give your home that luxurious hotel vibe.
Besides improving your home's overall aesthetics and feel, an indoor pool fosters social engagement when hosting events since people can freely enjoy a swim.
In addition, you can utilize it if you're into exercising because you can take a swim each day to boost your mental and physical health.
Indoor pools give your home a more luxurious feel, unlike ones located outdoors because you can conveniently use them across the different seasons of the year.
If you want to use your pool to relax, consider getting one with innovative saltwater.
6. Hang A Hammock
The sight of a hammock alone is enough to give you a relaxing and chilling vibe. So, a hammock is a good addition if you want to make your home get the luxurious resort vibe.
It's on the hammock where you can go and relax while reading your favorite novel or magazine in the afternoons.
Before you hang a hammock, pick a suitable spot with two strong posts or trees onto which you'll place it.
Alternatively, you can invest in a hammock with a pre-installed stand.
In addition, ensure the spot has bark mulch, soft landing grass, some gravel around, and cover plants to protect you from the scorching sun.
Takeaway
There's no better way to prolong the feel-good holiday vibes than transforming your home into a lavish retreat.
Doing this will work wonders at freeing your thoughts from the outside world. It makes your home the perfect place where you can unwind and relax after a frantic day's work.
If you wanted to achieve this but didn't know where to start, this exhaustive guide has outlined helpful ideas on how you can transform your home to become a luxurious retreat.