Doesn't coming home to a warm and luxurious bedroom after a frustratingly stressful day at the office sound like the next best thing to heaven?
It seems like it never ends and by the time you step out the door, the only thing you can think about is a shower and a few moments of quiet relaxation in your own personal space, your bedroom.
You wonder why you've left it so long before adding a touch of the luxury you so deserve and now that you've made up your mind, it's time to think about how you'll create your own little paradise.
Maybe it's even time to stop thinking and start doing! Let's get that roadmap to luxury together so you need wait no longer.
It All Begins with a Plan
All day every day you plan projects for your company.
This is not going to be nearly as challenging because you won't need to take out your project manager software, but of course you are free to do so if that makes you happy.
What you will be tasked with doing is taking a few moments to remember all those things you wished you had had on evenings just like this one.
What could have made that time of relaxation a bit more luxurious?
You Won't Need the Plan for This One!
Probably a more comfortable bed is the very first thing you remember but that's because you think about this every night.
You just can't get the comfort you need to get a good night's sleep, waking up refreshed and free from those bothersome aches and pains.
It sounds like you need an adjustable bed so that you can alter your position to provide the support you need.
An adjustable bed like they have in hospitals, but much trendier, would even allow you to sit up and watch a show or two while winding down.
Today's fashionable adjustable beds are nothing like those in hospital settings and as noted here, you can mix and match various mattresses with adjustable bed frames so that you have a bed that is the height of both fashion and comfort.
High-Quality Designer Linens Are Next on the List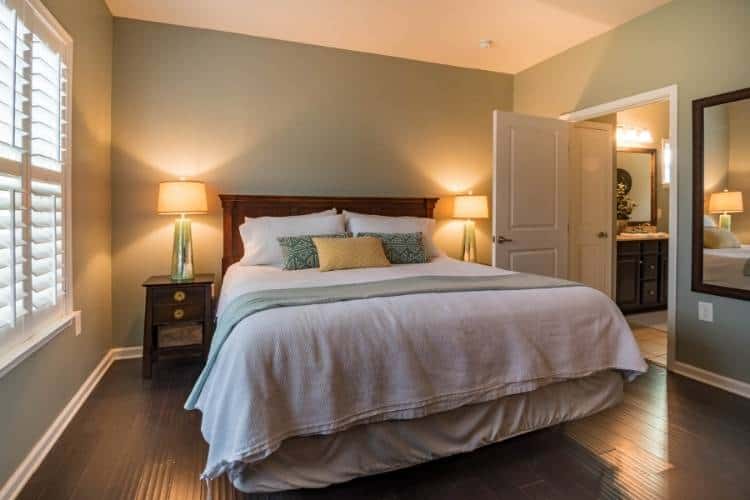 Since we have been talking about a bed, let's start with bed linens. For so many years we have been programed to believe that the most luxurious sheets are those with the highest thread count.
Actually, modern science has taught us that this is an antiquated way of rating cotton sheets which you will soon find out are not your best option for comfort and luxury after all.
Years of research have shown us that the best rest you will get depends on the four main characteristics of a high-quality sheet set. You need to find a set that:
Regulates temperature
Is comfortably soft
Has antibacterial properties
Is hypoallergenic
Cotton has none of these benefits! In fact, the tight weave of cotton sheets doesn't allow for air to pass through and that often results in night sweats – no temperature regulation there!
Cotton also holds dust and other allergens so it isn't hypoallergenic and because of the moisture from night sweats, you will be surprised to learn just how conducive they are to bacterial growth.
Does that sound like luxury to you?
You will probably want to get coordinating bedroom linens to match your sheet set so remember you need bedspreads or quilts, pillow shams, curtains and although not linens, you'll want small space rugs to match your color scheme if nothing else.
Beyond Comfort
Does it seem like we've spent an inordinately long time on the bed and bed linens? Actually, that is going to be the key element determining the amount of luxury you experience.
After that you will want to look at such things as lighting. You will almost never want overly strong lights in the bedroom because they are anything but relaxing.
If possible, opt for dimmable smart lights that can easily be controlled by Alexa.
That's another luxury you can't afford to miss out on. An Amazon Echo Dot that can be linked via Bluetooth to your PC, tablet and smartphone can carry out voice activated commands.
You can tell her to dim the lights, raise the lights, turn on your heating blanket in the winter, start your television show and so much more.
One Final Element of True Luxury
While so many people go out and buy things like Tiffany lamps and other expensive bits of décor, sometimes they get a little overambitious.
There is nothing that detracts more from a luxurious bedroom as one that is too busy. An abundance of clutter, even expensive clutter, will keep you tense because your brain will be in overdrive taking everything in.
A comfortable minimalist bedroom is going to be the height of luxury because it whispers peace and comfort the moment you step through the door.
With that in mind, don't forget to have Alexa pipe in your favorite soft music to set the stage for a peaceful and highly luxurious night in the most comfortable room in the house.
Remember, the house isn't your castle, but the bedroom surely is.