If the inside of your home is too dark, you may have used the tried and tested tricks, such as adding mirrors to lighten it.
If this hasn't helped, you may feel there's nothing more you can do.
But combining a few small structural changes with an overhaul of your décor could reap the rewards you're after.
Top to bottom changes to your home aren't always easy but they do work. So, use these bright ways to lift your dark interior.
Improve light from the outside
A big issue with dark homes is the distinct lack of natural light. And it may be that your home just doesn't have enough glazed elements.
Whether it's too few windows or windows that are too small for the size of the room, it's a problem. Thankfully there are plenty of ways to improve the situation.
Where the sides of your home meet your outside space it's nice to have large openings that make the most of garden views.
So, if your home only has a small window or back door, switch them for bigger doors or windows.
Bi-fold doors, sliding patio doors and traditional-style French doors are all great choices. And if a door isn't suitable, perhaps a large picture window may work.
Walls aren't the only place to add extra glazing though. At the top of the house, rooms can benefit from skylights or roof windows.
Fitting Velux windows with center pivots is the easiest and most cost-effective solution.
But you could choose a longer, top-hung window with an innovative balcony opening. This will truly maximize the light and views.
Single level buildings can bring in more daylight with a glass roof lantern.
This beautiful, architectural feature means that sunlight just pours into your room. And you can look up to the sky rather than a dark ceiling.
Make changes throughout the inside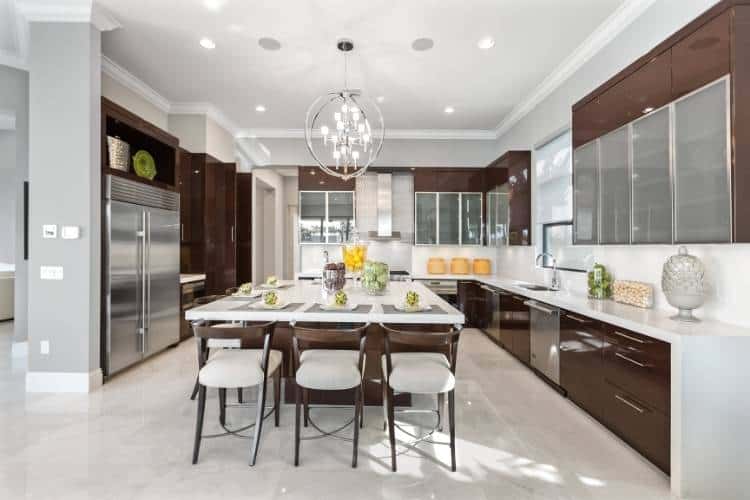 These small structural alterations work so well, but they work even better when they're carried out in combination with interior décor changes. So, what can you do to the décor to lift it?
First, remove or change fixtures and fittings that are bringing it down.
Dark wood wall cabinets in the kitchen can be swapped for open shelves or glossy units. And both the floor and wall tiles should be light-colored with a high sheen.
Heavy drapes and deep-toned couches in the lounge can be switched for sheers and lighter fabrics.
Boost floors by polishing wooden boards or cover them with light-hued area rugs.
Upgrade your lighting from incandescent bulbs to LEDs and add more lighting points.
Spotlights and lighting strips will brighten the kitchen and chandeliers or cluster lights with glass shades are perfect for hallways and living spaces.
When installing light fixtures, try to place them in an upward position, as this will give a natural sunlight effect and will keep the room well-lit when the sun goes down.
Let's not forget to freshen up the color scheme of walls and ceilings. Some paint finishes and colors absorb light rather than reflect it, so choose carefully.
You may want to go all out paint the entire room white if you have a really dark room, as this will really enhance the natural light in the space.
However, you should be careful when opting for a whiteout, as the space may end up looking clinical.
To avoid this, you should add wood or paneling to the walls and ceiling to create a textured aesthetic.
Invest in Transparent and Compact Furnishings
When choosing furniture for a dark room, try to select transparent pieces such as glass tables, as the natural light will bounce off the furniture and spread across the space.
This will offer a much lighter feel than solid pieces of furniture which block out a lot of light and can make the space appear darker.
Pairing transparent furniture with neutrals and metallics will create the perfect balance of natural light with sophisticated décor.
A white ceiling is also a must, as this will ensure the light reflects of the furniture perfectly.
Overly large furnishings can also block light from reaching the whole room and make it feel too cramped.
Keep furniture compact and use pieces such as sideboards and coffee tables with long, thin legs to allow light to flow around them.
Try to opt for Scandi-style pieces which take up less room and also look lightweight and modern.
You should also try to choose furniture that has 6 to 10 inches of space underneath, as this will allow the light to natural pass through the space.
This will work even better if you have a light gain wooden floor, as this will brighten the room up even more.