Are you looking round your kitchen thinking that it could do with a bit of love? Is it more beige than bling?
Just because your kitchen serves as a functional room, doesn't mean that it shouldn't look good at the same time.
One color that is guaranteed to breathe some fun into your kitchen is turquoise. This vibrant color will not only add a talking point to your room but will add a massive splash of fun.
If you want to give adding turquoise to your kitchen a try but you don't know how best to do it, then don't panic.
I have found 15 of the best way's turquoise can rock your kitchen and transform it into a fun and inviting room.
From DIY projects to simple swaps, I have a wild bunch of great ideas for you to choose from.
1. Go All Out!
So the best way (and possibly the bravest to transform your kitchen using turquoise is to simply go all out.
Painting EVERYTHING from the cabinets to the wall's turquoise will make a rea statement. Be aware though that this is not for the faint hearted.
In order for this look to work, you need to have a big bright room with lots of space.
Using the all out method on a small room is only going to make it look smaller and darker.
If you are still set on painting most of the room then try to balance out the color with a white ceiling and white worktop.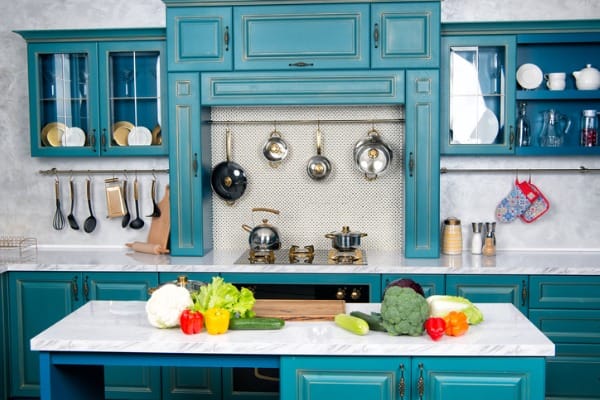 2. Accent Your Cabinets – INSIDE!
Want to try turquoise but aren't brave enough to go all out? No worries!
Instead, why not try painting the inside of the cupboards?
This awesome little play means that every time you open a cupboard to get something your heart will be filled with joy as you see your quirky cabinet interiors.
Remember that when painting the inside of a cabinet, you should paint everything including the shelving.
This will give it a better overall look.
Also make sure that you use suitable paint that can withstand the wear and tear of items being moved in and out of the cupboards each day.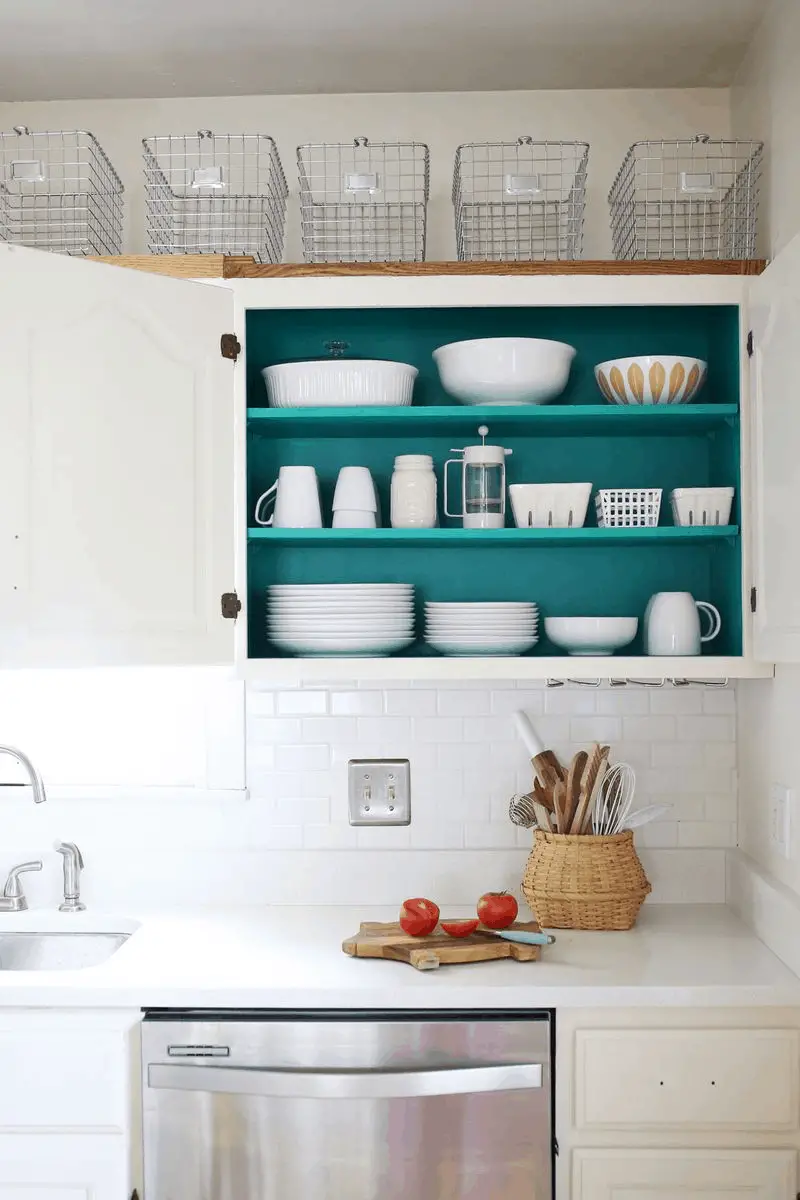 Check out Elsie and Emma's awesome tutorial at A Beautiful Mess.
3. Put in a Statement Island
If you have room in your kitchen, a statement color island can really give depth to a kitchen room color scheme.
This addition of a bold color will provide your room with enough style but won't have a big impact on the rest of the room.
Painting all the island cabinets in turquoise will look fabulous, especially if it is against a white or natural wood flooring.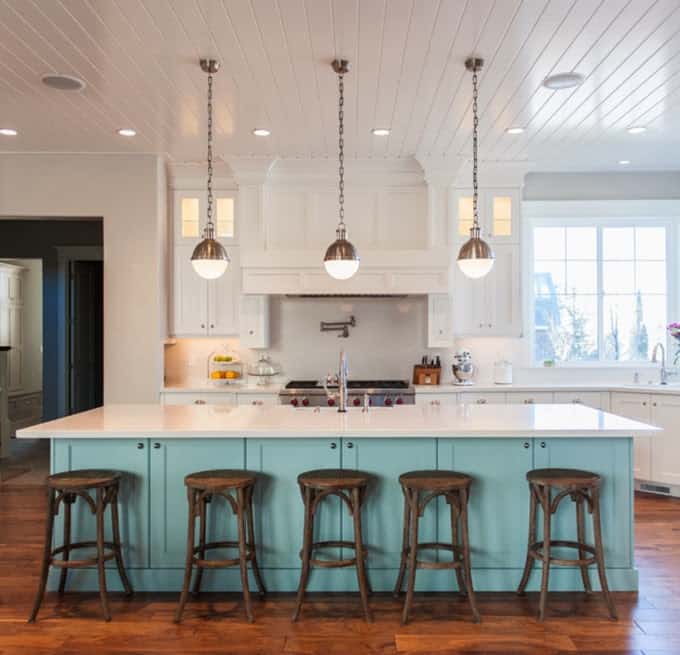 Check out awesome decoration tutorials like this one at House of Turqoise.
4. Are You Sitting Comfortably?
If you have a breakfast bar or a table in your kitchen then why not look at adding some turquoise chairs?
They aren't easy to come by so it might take a while to source the right chairs that you like, but when you do find them, it will be worth it! Having items that are rare in a design scheme gives you more credibility as a designer and will make all your friends jealous!
Make sure that when you buy your chairs you check that the fabric has adequate protection from food and drink spillages.
If your new chairs are made from fabric, then help protect them with an anti-spill spray before using them so that they keep their gorgeous color for longer.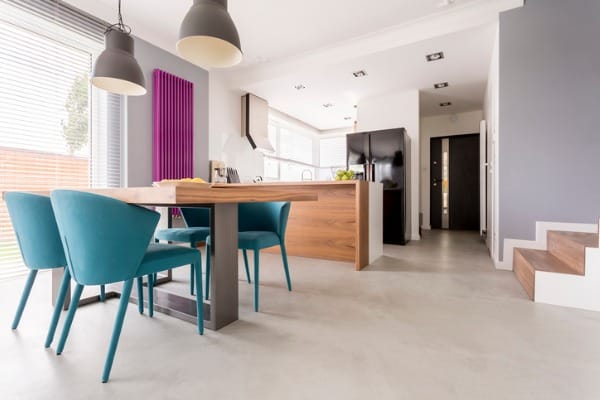 5. Upgrade Your Seating!
You could go a step further with your turquoise seating and try adding a turquoise sofa off your kitchen (assuming you have enough space).
Don't have the funds for a new sofa? Then try adding some turquoise cushions or a throw instead.
One trend that is huge at the moment in textiles is turquoise velvet or velvet effect.
The combination of a rich color along with a luxurious fabric provides the room scheme with some serious opulence.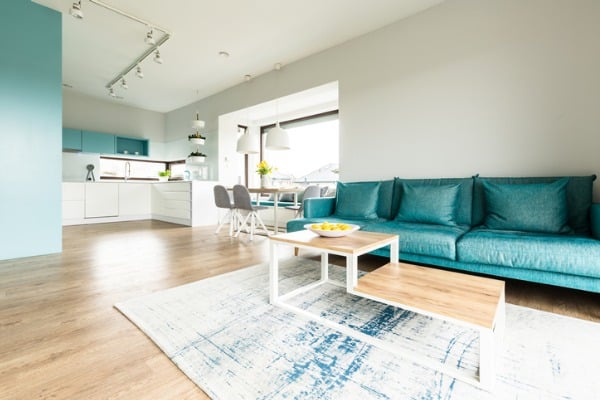 6. Adorn Your Walls
Implementing turquoise into your room doesn't mean that you have to paint everything one color!
In fact, there are lots of little ways that you can add this color to your kitchen without shifting out of your comfort zone.
The first of our smaller ways is to use wall art.
This particular kitchen art is great for the room and ties in nicely with the color scheme too.
You could also make your own printable artwork, use turquoise frames, or find letter signs that say things like "EAT" or "FOOD".
The wall art doesn't have to be huge (unless you want it to be, but it will make a big difference to the finish of your room.
Amazon carries this attractive kitchen wall art in turquoise.
7. Shed Some Light On The Subject
One of the most commonly forgotten elements in a design scheme is the lighting.
So instead of leaving it to the last minute and only giving it a minutes thought, why not make it the star of the show?
Sure turquoise light fixtures are a rare fid, but lampshades are easy to come by and if you ask us, the bigger the better!
Think about using a turquoise lampshade that has a contrasting color on the inside too.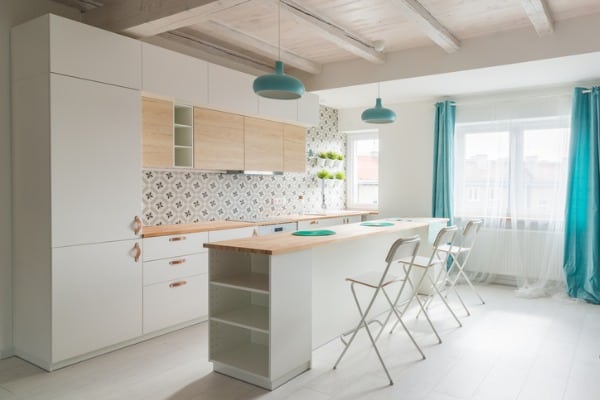 8. Alternate Your Colors
If you are intending on refitting your whole kitchen and you want to experiment with pops of color then you could always try mixing two colored cabinets together.
Using turquoise and white together will provide you with an accent color and a base color to balance it out.
You could place the colored cabinets on one whole wall, have them all along the base units or you could mix and match between the two.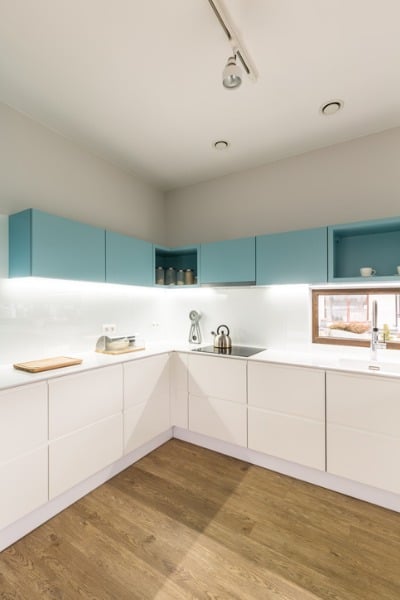 9. Use A Stunning Back Splash
If you don't have a tiled splashback in your kitchen then now might be a good time to test out some other options.
Splashbacks come in glass, Perspex and even special epoxy resin. All of these can either be turquoise or have turquoise as the main color in the design.
While it will need to be installed by a professional, the look you get from a single sleek piece of glass across your wall is just stunning.
10. Go Unique with Your Tiling
You'll be amazed by how many different shape and design of tiles you can buy in turquoise and it is a fantastic way to get the color into your kitchen.
This is the sort of upgrade that won't take too much time and won't cost as much as replacing your entire kitchen.
When choosing and measuring for your tiles make sure that you account for breakages and allow extra for those tricky corners.
Also think about the color of your grout between your tiles and whether you could add a bit of color in there too.
You can even buy gold additive for grout which really gives the luxury look.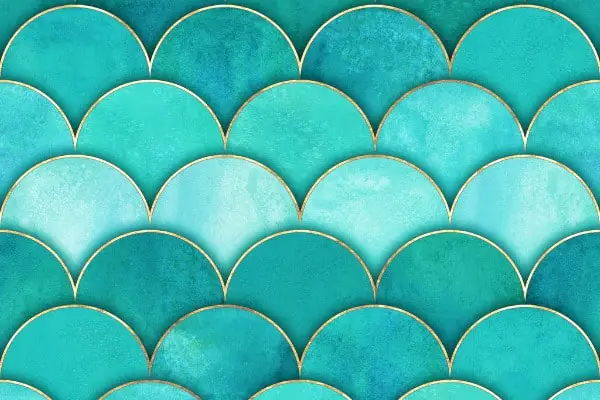 11. Upcycle Your Utensils
Another one of our small changes is to upgrade your utensil pots and ceramics with turquoise ones.
These will sit nicely on your counter and give a nod to the color scheme you are going for.
There are lots of different styles of ceramics you could go for from shaker style jars to more modern metal style tins.
It will depend on the style of your kitchen which ones you choose, but I think that choosing ones in turquoise is a must!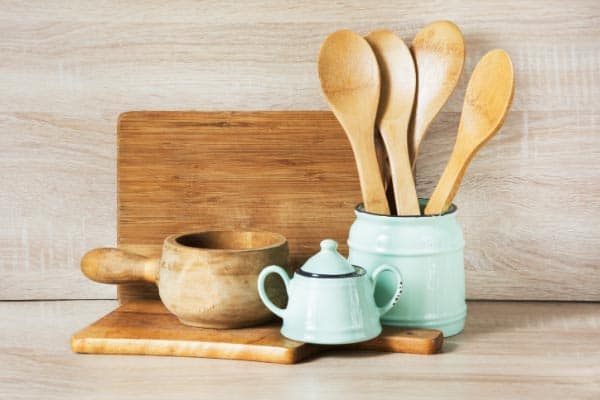 12. No Cracks in Our Crockery!
Yet again another simple way to add turquoise into a room scheme is to use crockery in this base color.
Seeing your table all set up beautifully with your turquoise plates and bowls will really set off the room and make it look great!
If you can't wait until mealtime then why not display your plates and other crockery in a rack on your kitchen wall? That way it can be seen all day and night too!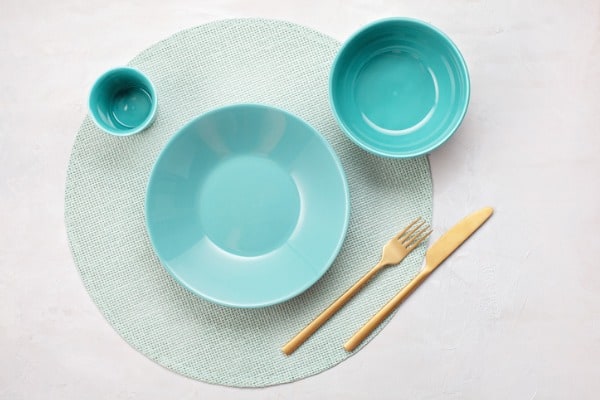 13. Glam Up Your Glassware
As well as utilizing your crockery, you could also try using turquoise glassware.
These stunning colors work so well in a translucent state and your dining table will look amazing too!
Again, turquoise glassware isn't easy to come by which makes it all the more special for your guests when you get it out at dinner parties.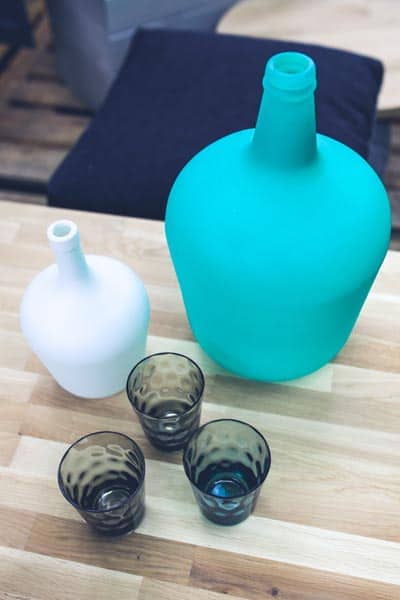 14. Take Time On Your Table
If turquoise crockery and glassware aren't your thing then why not think about adding a table runner and placemats that are in keeping with the turquoise theme?
They will brighten up a table setting and you can easily contrast the colour with bright yellows, neutral white or bold pink!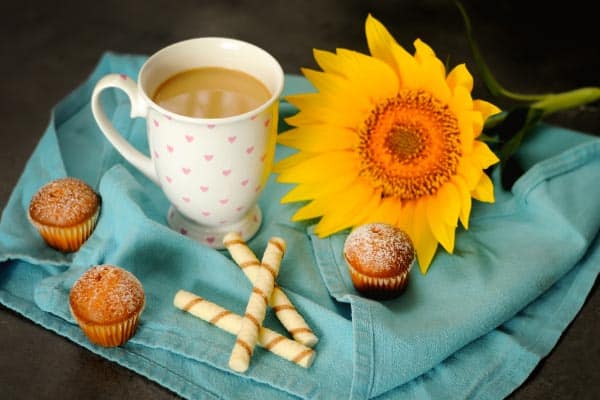 15. Get Creative
If you have a bit of a crafty streak in you and you want to release some of your creativity on your kitchen then why not try personalising your own kitchen tiles?
There are lots of ways in which you can do it but there is a current trend for alcohol inks and resin based artwork.
Take a look at this YouTube video and see if it sparks any creativity in you.
It might be a labor of love to make all the tiles for your kitchen so if that idea overwhelms you then why not just make enough for your backsplash?