Country living has surged in popularity, with a recent Gallup survey showing that almost 50% of people in the U.S. said they preferred to live in a rural area rather than a big city.
The reasons are manifold, and include the popularity of remote work, an interest in sustainable living, and the many findings on the benefits of living near or in green areas.
The penchant for the natural life has also manifested itself in the popularity of ranch home designs, with both urban and rural new-builds revealing ranch-style aesthetics.
If you're thinking of making a move to the countryside yourself, what features of modern ranch homes should you watch out for?
What are those aspect that will truly give you what you want for making such a move, but also make for conducive and efficient living?
Sustainability Makes Its Presence Felt
Sustainable materials and construction methods are all the rage in modern ranch home designs, which is of prime importance, considering the fact that ranches (particularly those with animal husbandry activities carried out on them) can potentially consume plenty of energy.
Just a few features that are lowering the carbon footprint of dwellers include floor-to-ceiling glass doors like these and windows (to maximize the amount of natural light), water-efficient landscaping (inspired by permaculture principles), and radiant floor heating with high-efficiency boilers.
Some homes also have structures made with reclaimed wood and interiors filled with decorative items made from recycled bioplastics.
Biophilic Design Takes Hold
Biophilic design has been deemed 'the most exciting new interior trend of 2021' by Homes & Gardens, and nowhere is this trend more suitable than in a ranch home, surrounded by lush trees and water features. Indeed, those looking for land for sale in popular areas like Texas often plan on nature playing an important part of their daily lives.
Building their home from the ground up over one or more acres of land enables them to strengthen their 'innate affinity with the natural world' via everything from greenhouses right through to interior green walls, furniture inspired by natural shades, and green hues on walls, furnishings and flooring.
Biophilic design embraces the ability of indoor plants to improve air quality, but also to help dwellers enhance their focus and battle stress in a natural yet powerful way.
What more could you ask for? It's no wonder this design approach is gaining quickly in popularity.
If you are wondering what is the best flooring option for a biophilic design, you can reach out to flooring companies in Orlando or to your local flooring contractors. You can also visit decorativeconcreteorlando.com.
Marrying Rustic And Modern Elements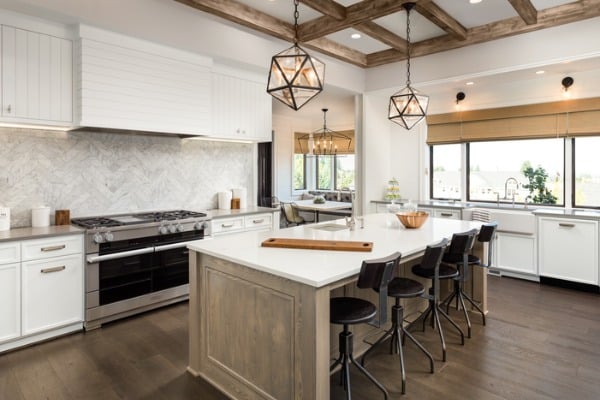 Ranch homes have traditionally borne interiors containing materials like wood and bricks.
These continue to dominate, with vaulted wooden-beamed ceilings being in high demand.
In recent year, artificial elements that mimic wood materials such as beams, wainscotting and of course flooring have become a top consideration for homeowners redesigning or building their ranch style homes especially.
Bricks, meanwhile, can be found on accent walls, fireplaces and columns.
Eclectic looks are in, meaning that even within otherwise traditional interiors, you can expect to find more modern material choices such as concrete, mixed metals, and marble.
The possibilities become endless when it comes to texture, coordinating palettes and more when using these types of materials in a ranch home design.
Kitchens are the most popular "canvas".
This is because the kitchen is a space that lends itself to this blend of materials, for everything from central islands to countertops and backsplashes.
Modern ranch homes are more sustainable, but also more eclectic in their inspiration, than in the past.
These days, two of the hottest trends in interiors for ranch homes include sustainability and the blending of materials and styles.
Dwellers are also seeking to live in greater harmony with nature by heeding to the tenets of biophilic design.