Having a rental property is a valuable venture for savvy investors. However, it goes along with having the responsibility of becoming a landlord.
This is a good challenge for some, yet managing tenants isn't suitable for all. Having a property manager can be good if the latter applies to you.
A property manager won't only collect the money for the rent and other financial charges on your behalf, but they'll also manage the daily maintenance and answer the needs of your renters.
On the other hand, deciding which is the best property manager can be daunting, particularly if you're a first-time landlord.
You might ask what qualifications should be considered or how to classify the subpar property managers from those who'll actually effectively safeguard your investment.
Overall, whether you hire a regional management company or a local independent contractor for your property, you can continue reading to learn more about how to select the best property manager.
1. Conduct Research
If you have reliable Internet connection and ample time, this ought to be an easy step for you. Search for and read customer reviews of various property managers to get feedback from other investors.
Make sure to take each review with just the right amount of caution. Yet, know that the best property managers have a lot of satisfied clients.
Likewise, here are some ideal resources for your research on finding the perfect manager:
Real estate websites
Google
Rent.com.au
Productreview.com.au
Facebook Reviews
Note that word-of-mouth referrals are also an excellent way to begin your research. If your rental property is in a place you're not well-acquainted with, you can ask for recommendations on local property managers from your real estate agent.
Overall, if you want some recommendations on different property managers, you can check several sites that provide candidates with their respective property management fees.
2. Check Licenses And Certifications
Most states necessitate property managers and management companies to have a real estate broker's license or a property management license to exhibit vacant apartments.
Yet, in some places, you may notice individuals who manage properties by only having a real estate license, and some states don't even need a license.
However, note that a reliable property manager and management company must be able to support their technical knowledge with necessary licensing and professional certifications.
Likewise, you can examine your state's real estate commission to know if the real estate broker's license of your desired candidate is updated.
Note that professional certifications and affiliations a property manager has are an added advantage.
In addition, you'll also have to be informed if the candidate has been certified by a trade organization. Conduct research online to authenticate credentials with groups such as:
The Community Associations Institute (CAI)
The National Apartment Association (NAA)
The Institute of Real Estate Management (IREM)
A property manager who received certifications from these organizations has undergone extensive training programs.
It shows the amount of dedication a property manager has if they're willing to continuously attend education courses through their use of personal time and money.
However, trust your guts. Some may have spent money to take further training, only for you to know that the lessons they've learned remained outside of practice.
3. Understand The Terms Of The Property Management Agreement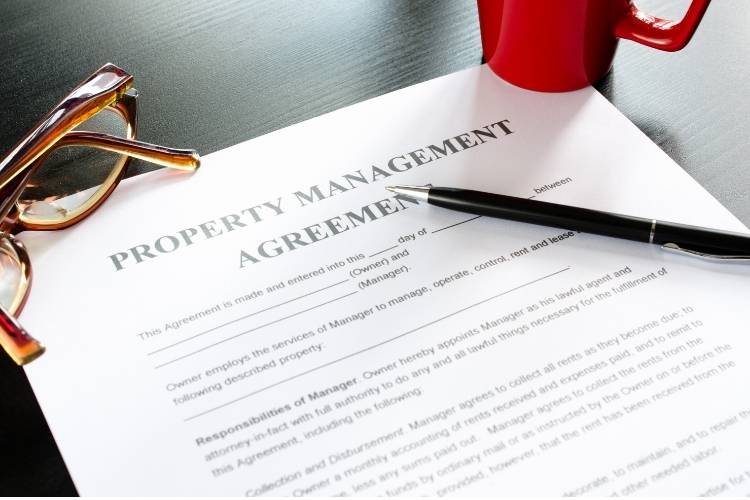 The property management agreement is a binding contract between you and the property manager. It describes the management team's responsibilities and duties.
As this is a serious kind of contract, ensure that before you sign the paper, you've read all its terms. You may hire a lawyer to oversee your agreement to keep you secure.
Remember that the property manager's role can be extensive or more limited. Whatever's stated in the contract, ensure that the agreement matches what you shared during the candidate's interview process and that you have clarity regarding your duties as the property owner.
Likewise, the typical property management agreement covers aspects such as:
Owner Responsibilities: As stated earlier, you must be clear about your duties as the property owner. If there are responsibilities you don't want to be a part of, you can share these before the signing and transfer such tasks to the manager.
Contract Duration And Termination Clauses: The period in which the agreement applies must have a particular start and end. It's also vital to enclose breach of contract rules alongside termination fees and timelines in the agreement.
Fees And Services Offered: Usual services offered involve addressing tenants' requests and needs, marketing and filling vacancies, handling move-outs and evictions, maintenance of the property, and other day-to-day operational tasks. To prevent unexpected bills, all fees and the process for agreeing with added expenses must be clearly stated in the contract.
4. Specialized Experience
Renting a property can be very complicated. There are federal, local, and state laws to face. And, so, hiring a property manager can be necessary.
When looking for a property manager, you may need a person who has a history of effectively managing various variables with tenants and properties.
Likewise, ensure the manager has been in the industry for years.
Another factor to consider when choosing a property manager is that you have to ensure that the person has essential experience in taking care of your specific investment.
A property manager that specializes in commercial properties, for instance, may not be the ideal candidate for managing residential properties.
Last, you should also stay away from realtors who act as property managers just to have an additional source of income. Suppose the person hasn't received specialized training.
In that case, such an individual won't be aware of how to manage your investment correctly, and they'll probably not be updated on the recent laws and codes surrounding rental properties.
Conclusion
A property manager can significantly help reduce the weight of responsibilities as a rental property landlord. However, choosing the best among potential candidates can be tricky.
As such, it can be good to know how to choose the best one to avoid spending time and money on a subpar manager who may only offer limited or, worse, poor service for your rental property.
This article outlined some ways of choosing the best. Overall, remember the information above for future reference.