Here's the thing with gray paint palettes: there are hundreds, if not thousands, of shades to choose from.
You can't just go "I want to paint my walls gray" and be done with it.
How light do you want the gray to be? How warm? Do you want it to brighten up a dark room, or compliment a monochrome-themed home?
There are just too many questions to ask!
If you've yet to decide what shade of gray to use for your home, let me introduce you to one of my favorites: Ancient Marble SW 6162.
Ancient Marble not only coordinates beautifully with furnishings, art, tile, and countertops, but it also provides a cool, fresh backdrop for decor.
In this article, I'll share some of my best tips when using this gorgeous neutral gray paint.
Let's dive right in!
Ancient Marble SW 6162 Technical Characteristics
I've always loved subtle neutral colors in my designs, but Ancient Marble has a special place in my heart.
Ancient Marble SW 6162 falls under Sherwin Williams 2016 Pura Vida Collection, alongside Ramie, Wool Skein, and Useful Gray.
While I adored all the colors in the collection, Ancient Marble SW 6162 stood out for its flexible and classic vibe.
To the untrained eye, this color is categorized under "light gray."
That's not entirely wrong; indeed, the SW 6162 has a mostly gray tint.
But upon closer look, you'll notice that it holds a hint of green.
For this reason, a subtle green undertone and darker sages or browns work particularly well for this color.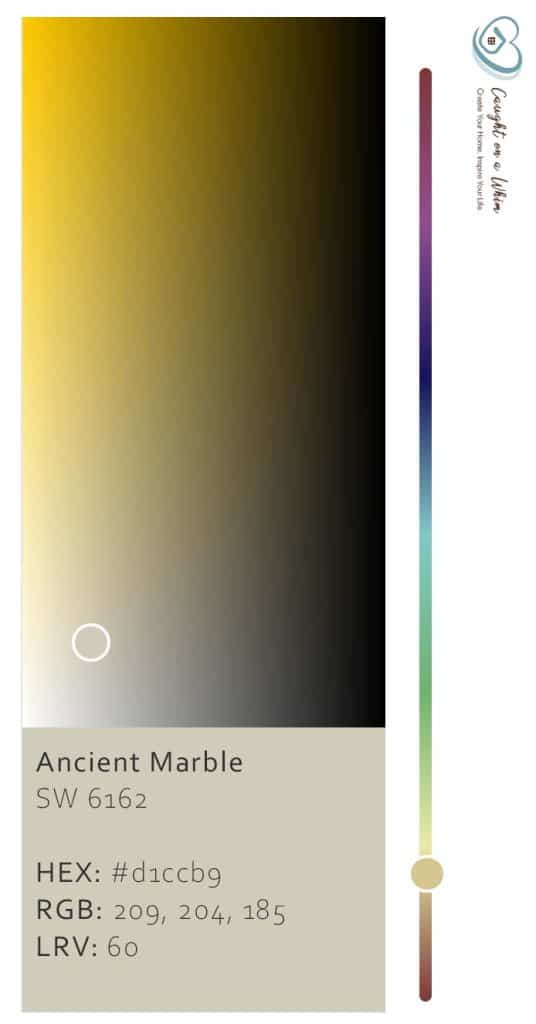 SW 6162 falls on the lighter end of the color wheel, with a green Light Reflectance Value (LRV) of 60.
The HEX, RBG, and CMYK values are as follows:
HEX Value: #d1ccb9
RGB Values: R (Red) = 209, G (Green) = 204, B (Blue) = 185
CMYK: C (Cyan) = 0.00, M (Magenta) = 2.39, Y (Yellow) = 11.48, and B (Black) = 18.04
Decimal value: 13749433
How Will Ancient Marble Make Your Home Feel?
Ancient Marble is a relaxing and easy-to-use neutral that adds a subtle "glam" to your home.
I'm talking sophisticated glam only seen in high-end places like natural history museums, spa resorts, and home offices.
It adds a clean, sleek feel to your home without the jarring coolness of grayed-down colors.
With the right furnishing, this color lends an ancient, almost antique feel to a room. It's fresh and crisp, without the detached coolness of stark gray or stark white.
The Effects of Lighting on Ancient Marble
Like most neutral colors, Ancient Marble appears different under lighting.
Daylight breathes new life into Ancient Marble, further enhancing its beauty and elegance.
Darker light gives it a classic, almost nostalgic feel. The color becomes smoother, darker, and wiser.
Appropriate lighting is key here.
For best results, find a good balance between natural and artificial lighting.
Add the right number of pendant lighting and wall scones to brighten up the space, but don't overdo it.
Ancient Marble is an extremely forgiving color, almost to a fault, but it draws its line with lighting.
Other Similar Colors to Consider
Ancient Marble shares multiple similarities with other neutral-toned grays and beiges. Some look so similar that they're near-impossible to differentiate!
Let's discuss the major ones: Simple Stone, Sedate Gray, Revere Pewter, and Repose Gray.
Ancient Marble vs. SW Simple Stone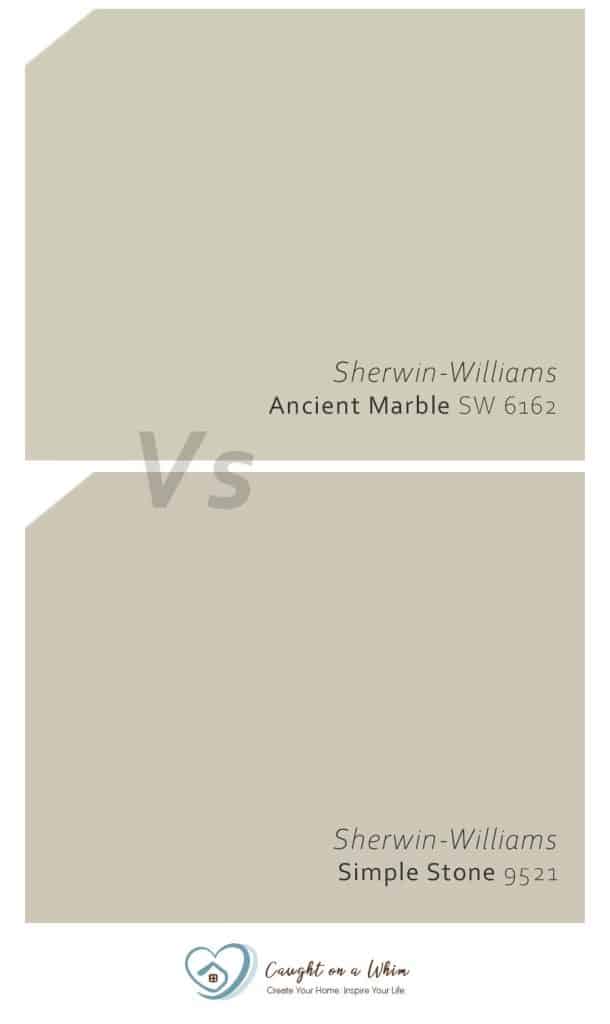 Whenever I ask my clients to pick between Ancient Marble and Simple Stone, they'd furrow their brows and say, "Wait, aren't they the exact same thing?"
Indeed, at first glance, these two colors look strikingly similar. In fact, they're so similar that they're impossible to distinguish under certain light conditions.
But when you look closely, you'll notice that Ancient Marble is a smidge brighter than Simple Stone.
This is much more evident in their Light Reflectance Values: Simple Stone has an LRV of 57, while Ancient Marble has an LRV of 60.
Remember: the higher the LRV, the lighter the color.
Ancient Marble and Simple Stone both add an expansive, "daytime" feel to the room, but this effect can be achieved much easier with Ancient Marble.
Other associated details are as follows:
HEX Code: #CDC7B7
RGB Decimal: 205, 199, 183
Ancient Marble vs. SW Sedate Gray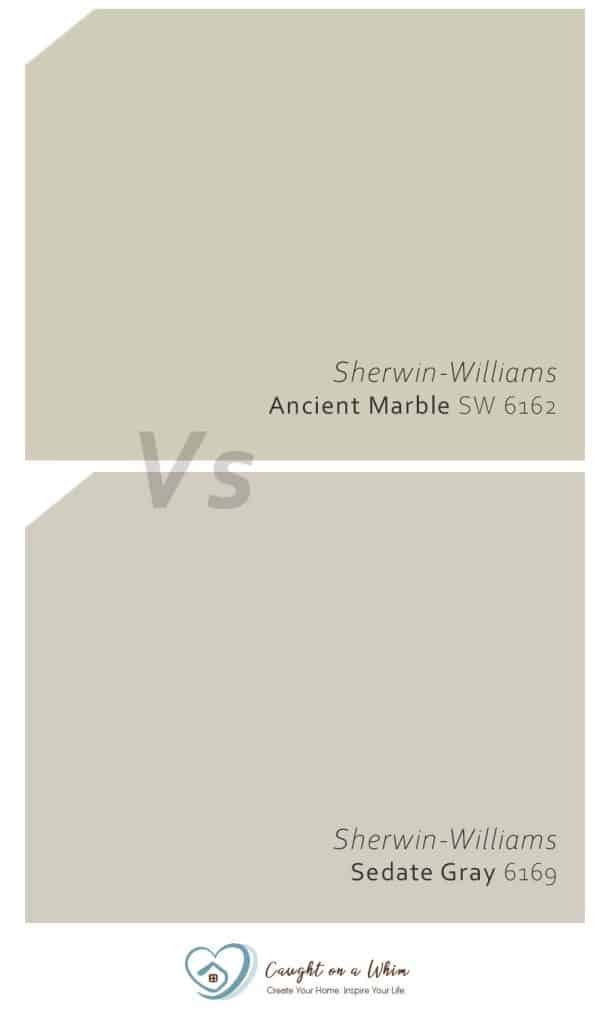 Ancient Marble and Sedate Gray are much easier to differentiate than Ancient Marble and Simple Stone.
Although they share the same LRV of 60, Simple Gray leans more towards cool neutral gray as opposed to cool neutral beige-green.
The difference is more apparent in their RGB values; Ancient Marble has an RGB of 209, 204, and 185, while Simple Gray has an RGB of 209, 205, and 191.
Let's take a look at its technical specs:
HEX Code: #D1CDBF
RGB Decimal: 209, 205, 191
What Colors to Coordinate with Sherwin Williams Ancient Marble
When coordinating Ancient Marble with other colors, always choose cool neutrals with warm accents.
Here are some suggestions:
Light Coordinating Colors
Use these colors in conjunction with Ancient Marble for light-themed rooms:
Ancient Marble
Dover White
Nonchalant White
Sun-Bleached Ochre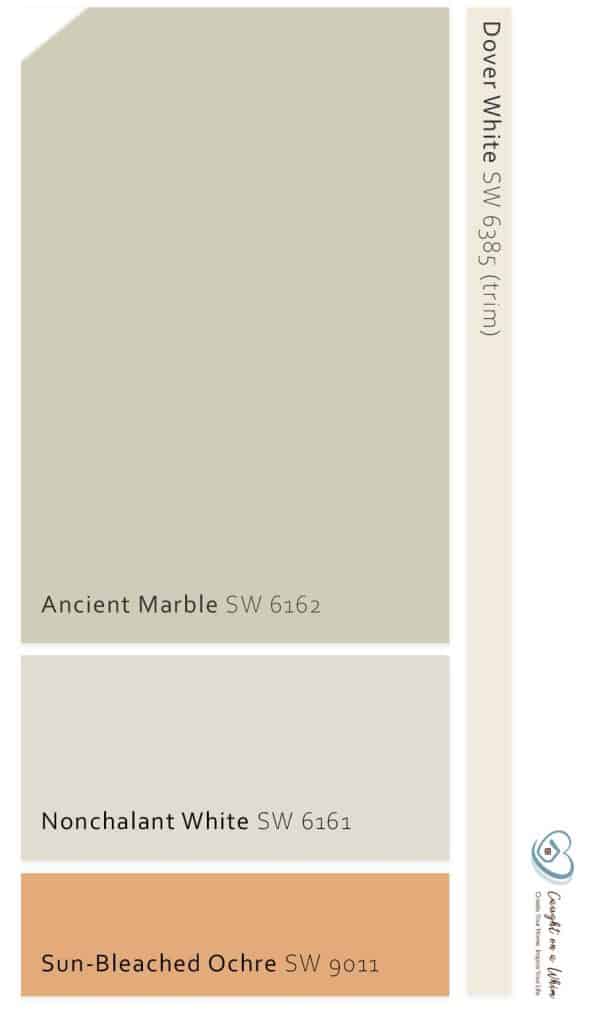 Dover White is best used for trims, while Nonchalant White works well as a base.
Sun-Bleached Ochre can liven up and add drama to the monochromatic Ancient Marble, so it works well as an accent.
You can also use it to establish a harmonious aesthetic and theme in a room.
Dark Coordinating Colors
If you want to go for a darker, more monochromatic feel, replace Sun Bleached Ochre with a dark color like SW Eclipse.
The color palette will look like this:
Ancient Marble
Dover White
Nonchalant White
Eclipse
Analogous Color Scheme
If you're more into pastel colors, I recommend this color palette:
Ancient Marble
Honeydew
Chop Sticks
This simple color scheme can be a great way to design a space without overwhelming it with color.
The color differences are subtle but effective; smaller touches of this palette can go a long way if used correctly.
With Ancient Marble as the backdrop, use Honeydew and Chop Sticks to add a natural touch to your space.
Honeydew (or a similar shade) can be used on your trimmings, window treatments, rugs, beddings, accent chairs, etc., whereas Chop Sticks can be used on your throw pillows, art, and accessories.
To ensure a visually appealing balance, use the 60-30-10 rule: 60% as the base color (Ancient Marble), 30% as the accent color (Honeydew), and 10% as your pop of color (Chop Sticks).
Triadic Color Scheme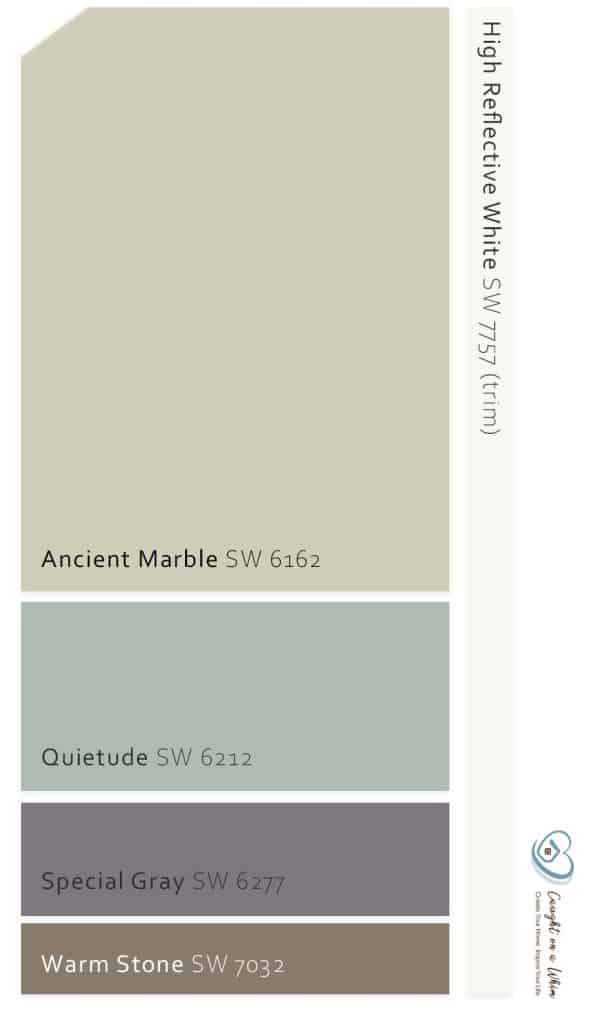 If you're going for a more vivacious feel, check out this triadic color scheme:
Ancient Marble
Warm Stone
Quietude
Special Gray
This scheme adds a pop of personality against the neutral backdrop of Ancient Marble.
It'll certainly add a transformative feel to your space!
Best Places to Use Ancient Marble in Your Home
Ancient Marble quite literally goes anywhere.
It brightens up even the darkest of spaces, making it a good all-around choice for homes.
This color works well in living rooms, kitchens, bedrooms, dining areas, and even the exterior of your home.
Here are some of my best picks:
Living Room
Ancient Mable amps up your living room's classiness by a mile. The color has a soothing, relaxing effect that makes you want to spend Friday date nights inside.
Dining Room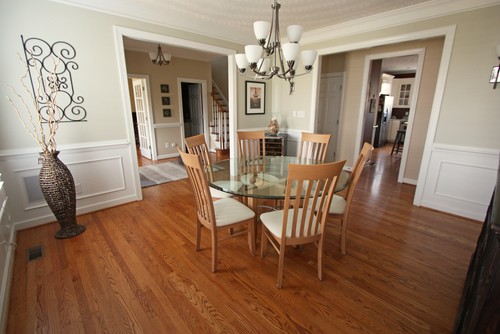 If you're going for a modern but still down-to-earth aesthetic for your dining room, Ancient Marble is your color.
It works brilliantly well with brown hardwood flooring, Dover White trims, and Nonchalant White wall tiles.
Bedrooms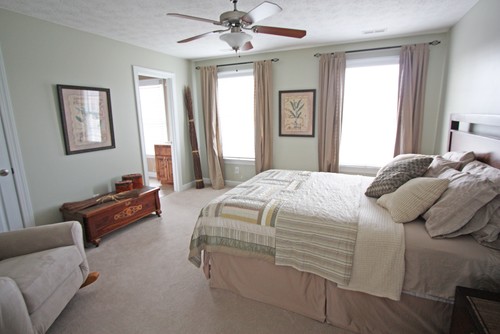 When I imagine a bedroom painted with Ancient Marble, sophistication first comes to mind.
This neutral gray color works especially well with brown accents and crisp white ceilings, wall tiles, and trims.
Bathrooms
Whether it's on the bathroom walls, trims, or base, Ancient Marble is a color you should consider.
It not only brightens up a small bathroom but also makes it look bigger, especially when paired with horizontal stripes.
Paint the walls and the ceiling with the same color to unify the space and add gentle sophistication to the room.
Also, don't be afraid to pair the Ancient Marble walls with bold colors such as Argyle (SW 6747). Eye Catching (SW 6914), and Garret Gray (6075).
Conclusion
There you have it, folks; my best guide on the Sherwin Williams Ancient Marble paint!
Ancient Marble is a beginner-friendly color that works in most areas of the home. It has a nice, soothing effect and adds humble luxury to your interior.
So, if you've yet to select a gray backdrop for your home, Ancient Marble is definitely one to consider.