Light gray walls have gotten a pretty bad rap over the years.
I've had clients wanting to paint their walls gray only to back out at the last second in fear that their walls will look too "dreary," "drab," and "dull."
Well, I'm here to tell you now gray is an extremely transformative color. Its chameleon-like quality makes it a brilliant backdrop for classical, coastal, and modern-themed homes!
Today, I'm highlighting the Sherwin-Williams Olympus White 6253 — one of the most popular and flexible blue-gray paint colors I've ever worked with.
It's sophisticated, timeless, and crisp, and although it leans more towards the cooler side, it blends quite well with warm elements and lighting.
Plus, it doesn't turn violet or mint after it's on the walls, an issue that a lot of blue-undertone paints seem to have.
In this review, I'll show you how to bring out the beauty of your room with Olympus White walls, trimmings, and accents. Let's dive right in!
 

View this post on Instagram

 
Olympus White Technical Characteristics
This paint is one of those paint colors that go well with everything, from dark hues to monochromatic tones.
Is Sherwin-Williams Olympus White warm or cool, you ask?
It's a cool-toned gray with subtle blue undertones that can neutralize a warmly-lit room.
Olympus White is crisp, light, and peaceful; it doesn't demand attention, which is why it works great in both minimalist and maximalist rooms.
For me, it's the perfect shade of light gray.
It creates a fantastic backdrop without taking the spotlight.
For this reason, it's best suited as neutrals and bases rather than accents.
This white-gray color has an LRV of 68, which is what I would call a "perfect middle." It's not too dark but not too overly bright and saturated, either. Plus, it reflects away most of the light falling on it.
Its RGB and HEX Values are as follows:
RGB: Red = 212, Green = 216, Blue = 215
HEX Value = #d4d8d7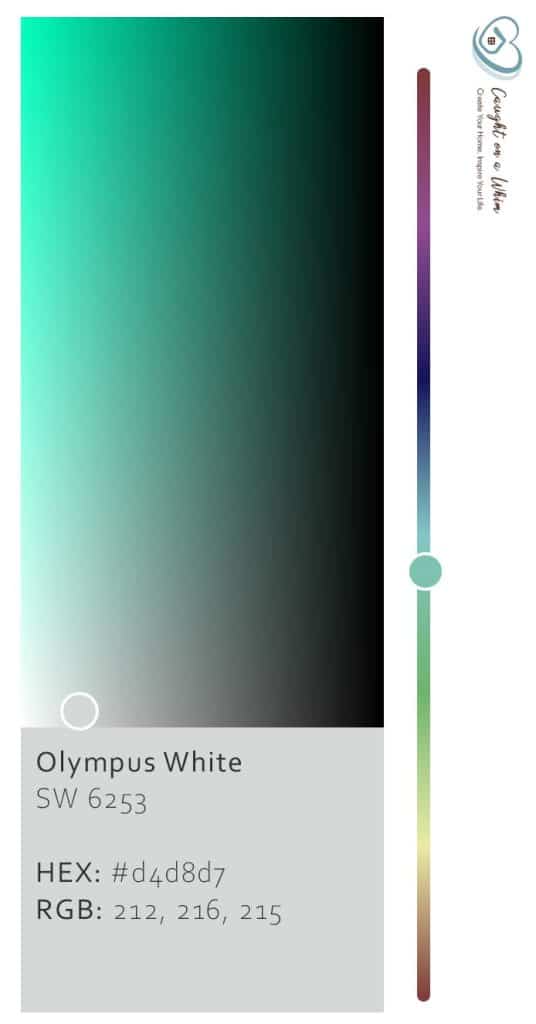 How Will Olympus White Make Your Home Feel?
I love working with this color because it makes a small, dull room look bigger, cooler, and brighter!
So if you have a small room, or simply want a large room to look even larger, Olympus White is the way to go.
Thanks to its subtle blue tinge, this color creates a cool environment that'll instantly liven up the place. It'll make you feel relaxed, motivated, and clean.
 

View this post on Instagram

 
The Effects of Lighting on Olympus White
Shades with strong undertones like O-White change significantly under lighting.
North-facing light transforms this gray-white into a light cool blue, whereas south-facing light turns it into a more neutral gray.
When daylight falls, it changes to gray-tinged blue.
Olympus White also absorbs the temperature of artificial light sources.
Warm-yellow lighting transforms the wall into an off-white and beige mix. Bright lighting emphasizes its blue-gray undertones.
This paint works best in rooms that receive a lot of natural light. If the room receives little to no natural light, it might make the room appear flat and lifeless.
Aim for LED temperature 2700 for soft, natural-looking light.
 

View this post on Instagram

 
Other Similar Colors to Consider
Olympus White shares a lot of similarities with other light gray colors.
In the Sherwin-Williams catalog alone, you can choose over 50 different variants of blue-gray!
Here are some of the closest colors to our star paint color:
SW Olympus White vs. SW Reflection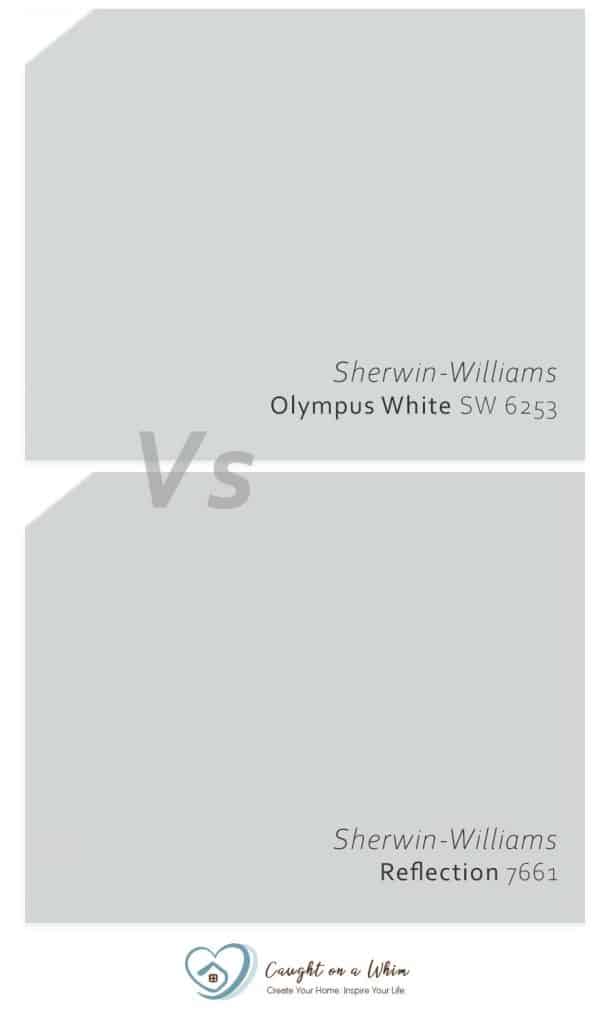 With an LRV of 66, Reflection is just a smidge darker than O.W.
It has the same undertones of blue and gray found in Olympus White, except it appears more grayish than blue in daylight.
Reflection pairs well with creamy whites and beiges to create a balanced look.
Technical specs are as follows:
HEX Code: #D3D5D3
RGB: 211, 213, 211
CMYK Percentage: 1, 0, 1, 16
SW Olympus White vs. SW Gray Screen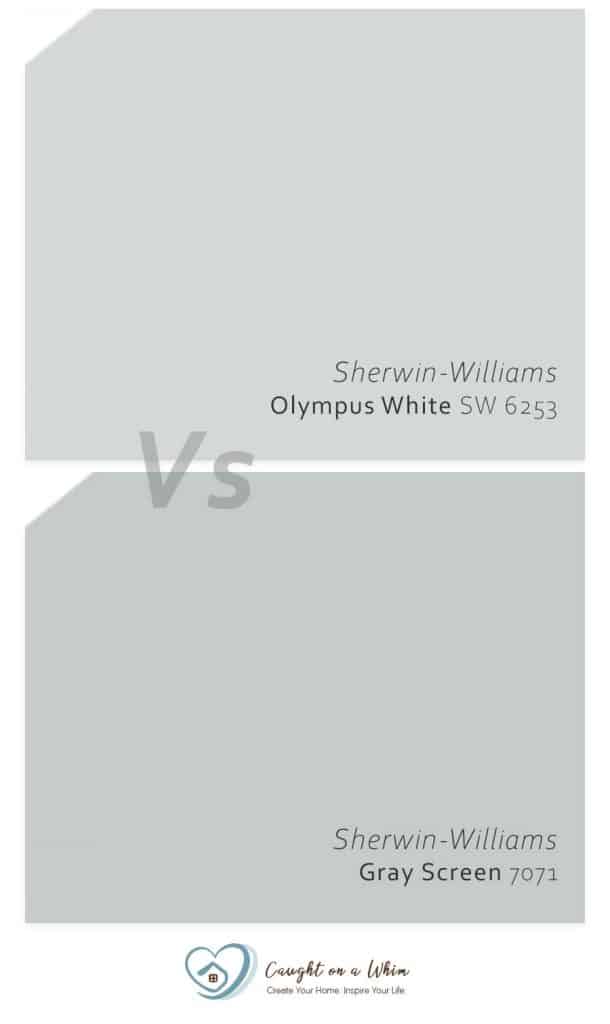 Gray Screen is another darker alternative to Olympus White. It has deep blue undertones that work especially well in classic and coastal-themed homes.
Technical specs are as follows:
HEX Code: #D4D8D7
RGB: 212, 216, 215
CMYK Percentage: 2, 0, 0, 15
SW Olympus White vs. SW Misty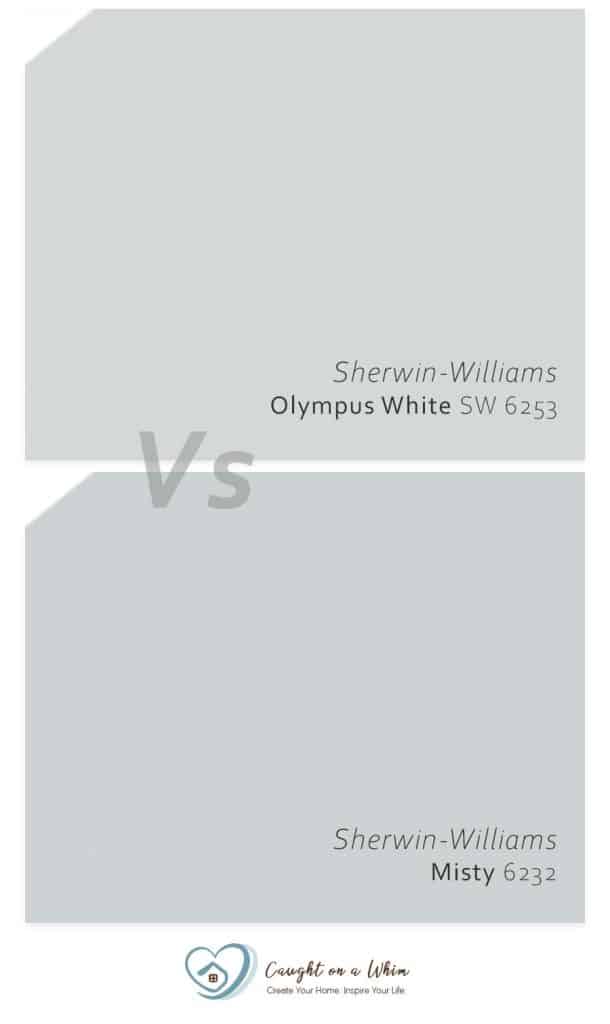 Unlike O.W., Misty appears lavender blue in bright light conditions. This makes it a great choice for feminine and fairy-themed bedrooms.
Technical specs are as follows:
HEX Code: #CDD2D2
RGB: 205, 210, 210
CMYK Percentage: 2, 0, 0, 18
SW Olympus White vs. SW Spatial White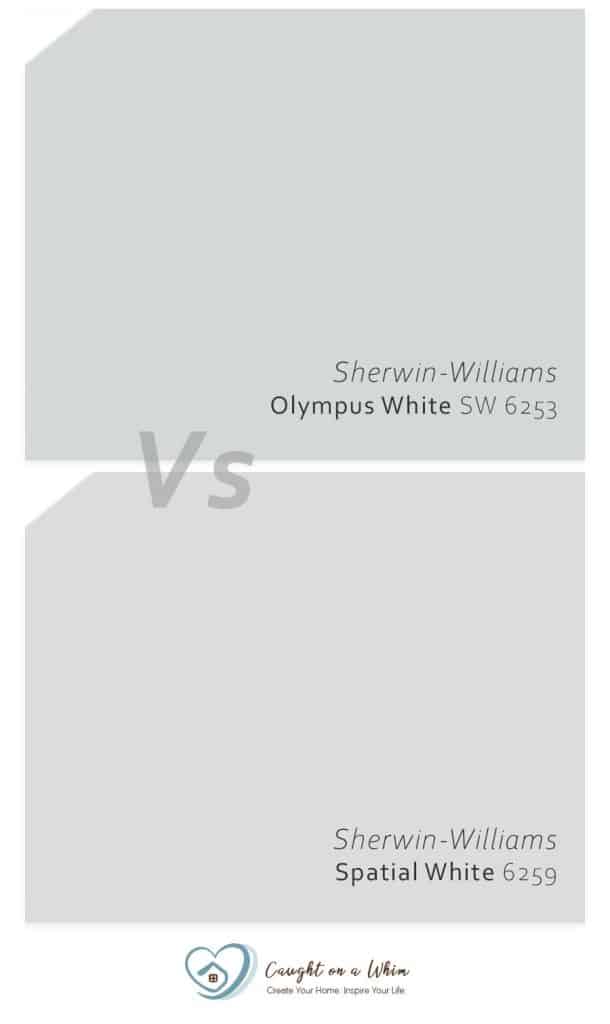 If you're looking for a lighter substitute for Olympus White, consider Spatial White.
It has an LRV of 72 and works especially well with colors such as Repose Gray and Gris Morado.
This color is another favorite of mine because it's light enough to work in almost any space and decor style imaginable, from Cod Cape to classical.
Technical specs are as follows:
HEX Code: #DDDCDB
RGB: 221, 220, 219
CMYK Percentage: 0, 0, 1, 13
What Colors to Coordinate with Olympus White
This off-white is a timeless color, so it goes well with a wide selection of color schemes.
However, it goes especially well with dark grays, off-whites, cool blues, and gentle beiges!
Light Coordinating Colors
If you're going for a modern, monochromatic vibe with Olympus White, I suggest pairing it with the following colors:
SW Extra White
SW North Star
SW Let it Rain
Use Extra White for the trims and moldings, Let it Rain for the base, and North Star as an accent.
If you want to incorporate a pop of color into your space, use this gorgeous triad color scheme: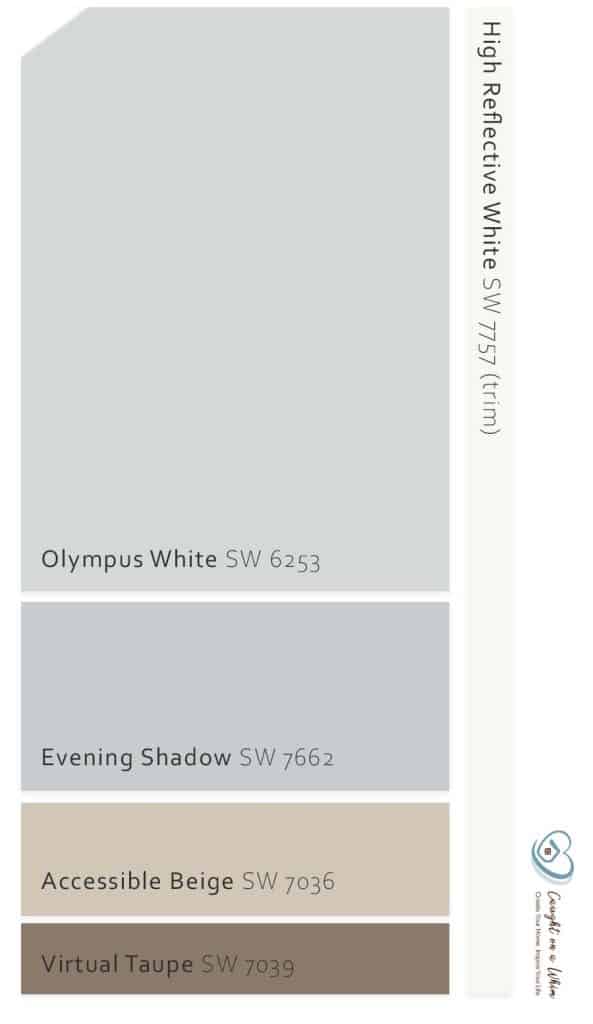 SW Evening Shadow
SW Abalone Shell
SW Accessible Beige
SW Virtual Taupe
Dark Coordinating Colors
Olympus White works great with dark accents and pieces.
Here's what I would recommend for a contrasting color palette: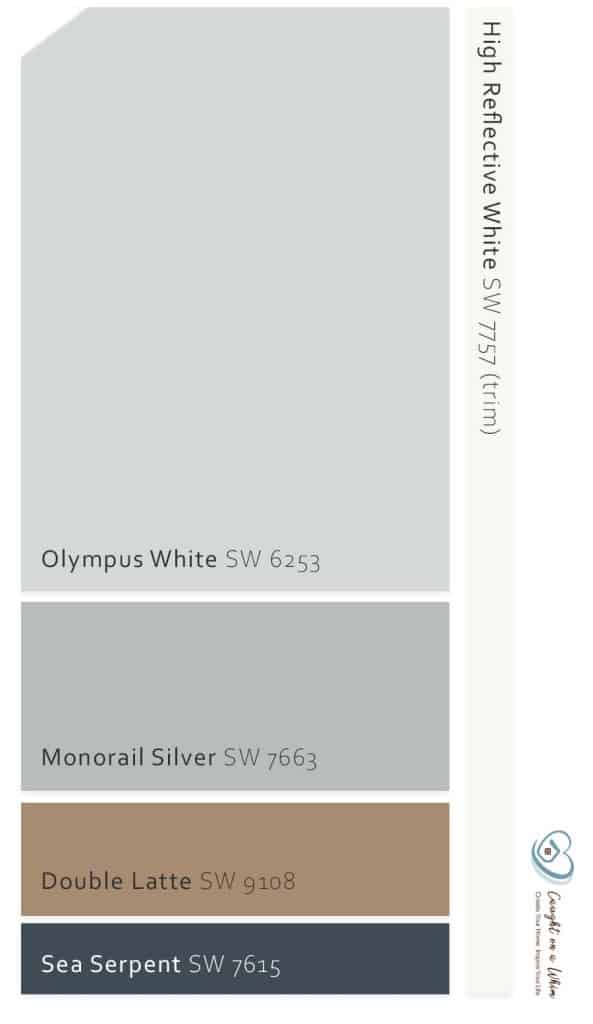 SW Sea Serpent
SW Monorail Silver
SW Double Latte
SW Kilim Beige
Best Places to Use SW Olympus White in Your Home
You can use Olympus White anywhere as long as the theme allows it. Here are some of my picks:
Living Room
This light gray paint sets off white trimming and wainscoting perfectly, creating an ethereal and romantic vibe to a room.
It also works beautifully with bold, wood tones, dark blue, and watery shades of green.
A bold, colorful rug or a shag rug can create a welcome dimension to an all-Olympus White wall. Keep the ceiling bright white to make a small space feel a tad bigger.
Bedroom
 

View this post on Instagram

 
Olympus white adds a dash of elegance to a bland bedroom, especially when paired with a monochromatic palette and lots of texture.
Plus, the light-blue undertone gives off a relaxing, almost fairytale-like feel to a bedroom!
Kitchen
 

View this post on Instagram

 
Gray kitchen walls have gotten a bad rap over the years, so it's not as popular as other options out there.
However, Olympus White can be a fantastic wall choice if done properly.
To create a truly dynamic look, use white stone countertops, glossy patterned backsplash, and dark, almost black cupboards and cabinets.
Add some beige accents and you've got a kitchen you want to spend all day long in.
Bathroom
 

View this post on Instagram

 
 

View this post on Instagram

 
Olympus White is another great option for bathroom walls, not only because it brightens up a small space but also because it exudes a sense of comfort and contentment.
If you're a lover of contemporary and/or traditional design, pair it with soft golds, navy blues, or windswept beiges.
For a more modern approach, contrast Olympus White with much darker grays, white, and dark browns.
Exterior
Olympus White isn't my first choice when it comes to the exterior.
While it's a great choice for beach and coastal-themed homes because of its subtle blue undertones, it can appear bright and washed out under the too-bright sun.
Facing north, it'll appear a lighter, less saturated gray color.
Conclusion
Sherwin-Williams Olympus White is a jack-of-all-trades type of color.
It's a sophisticated, clean color, and works well with almost every theme imaginable.
This is why it's one of my go-to gray whites for small rooms with lots of potential!