A bathroom can be one of the most neglected spaces in a home, purely because the space is usually viewed as merely functional and not aesthetic.
But there are ways to make a bathroom well-designed and luxurious regardless of its size or location.
When it comes to renovating or updating a small bathroom, there are some things that you should keep in mind so that you maximize the available space.
This article offers tips for designing a bathroom with limited space.
The ten best renovation tips for a small bathroom include:
Installing recessed lights in the bathroom's ceiling.
Including glass or acrylic partitions and countertops.
Using space-saving sanitary ware and fixtures.
Selecting a corner bath or shower unit.
Installing sliding doors or pocket doors.
Using light, neutral colors on the walls and floor.
Tiling the bathroom walls in large tiles.
Using recessed spaces and wall alcoves for storage
Placing mirrors so that light is reflected.
Using vertical space for storage.
Install Recessed Lighting in Each Corner of the Ceiling
A small bathroom space can look dingy and cramped if there is only one overhead light in the ceiling.
Inserting smart bulbs with a programmable dimmer function on your phone would provide additional options for mood lighting when you want to soak in a relaxing bubble bath.
Use Glass or Acrylic Partitions and Countertops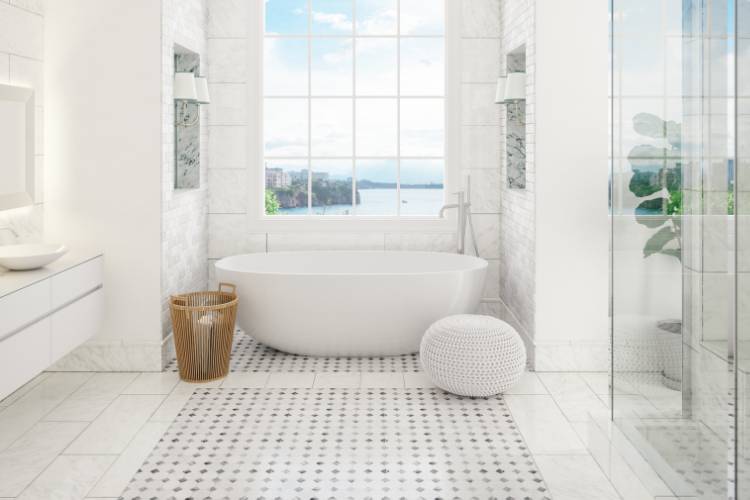 Glass and acrylic vanity countertops are ideal for bathrooms because they are easy to clean.
They are also non-porous and, therefore, resistant to mold growth, especially when the surfaces are consistently cleaned with a mold-preventing cleaning solution that contains bleach.
Acrylic bathroom fixtures and accessories can be manufactured using cell cast or extrusion methods, and Sanitary-Bathrooms.co.uk explains the differences between the two.
Get a Bathroom Renovation Contractor to Install Space-saving Sanitary Ware
Using wall-mounted bathroom fixtures like toilets, wash basins, and cabinets frees up valuable floor space in a cramped bathroom. If you're interested in a space-saving toilet option, consider the sanicompact.
Using wall-mounted bathroom fixtures like toilets, wash basins, and cabinets frees up valuable floor space in a cramped bathroom.
Skilled bathroom renovators and designers can help you select the right space-saving sanitary ware.
A professional renovation company will evaluate your space and offer space-saving advice.
When looking for reliable bathroom renovations in Toronto, you should choose a company that explains their step-by-step process the way Renowell does in this article.
That way, you can avoid unpleasant surprises.
Use a mixer faucet with one spout that can swivel out of the way so that it is easier to access the whole washbasin.
Choose a Corner Bath or Shower Unit
Using corners efficiently in a bathroom can ensure you maximize every available inch.
Corner baths always look luxurious and give a bathroom a 5-star hotel feel.
Similarly, by installing a ready-made corner shower unit, you will make the bathroom feel bigger, and you can hang a stainless steel corner shelf inside the shower to store your shower gel, sponge, loofah, and shampoo for easy reach.
Use a Sliding Door or Pocket Door To Increase Space
It is a good idea to have all the doors and drawers in a small bathroom be sliding doors.
The door that leads into the bathroom is another piece of hardware you can change to maximize your small space, especially in tiny apartments with narrow hallways.
A farm-style sliding or modern-style pocket door will give your bathroom an interesting look.
Use Light, Neutral Colors on the Walls
Painting the ceiling in an off-white eggshell or semi-gloss enamel will ensure the bathroom feels larger and will also reduce the chances of mildew growth from moisture.
Use neutral enamel paint colors on the bathroom walls to create a cohesive feel and make it feel more spacious.
To add interest in the bathroom, use pops of color in the bath mat, towels, decorative soaps, or face cloths.
Use Large Floor to Ceiling Wall Tiles
A half-tiled wall or border tile cuts the wall in half and creates a cramped look.
Floor-to-ceiling wall tiles, however, create a continuous and uniform look in a bathroom and makes the room seem bigger.
The larger the tiles, the fewer grout lines, and the more spacious a bathroom feels.
Use Niches and Recessed Spaces For Storage
You don't have to store all your bathroom accessories and toiletries inside the bathroom because there is limited space—a linen closet can hold all the extra supplies, and you can restock the bathroom as necessary.
However, displaying rolled towels in an arched niche in the wall can make the space feel cozier.
Small alcoves in a shower can be the perfect place to store bubble bath bottles, jars of bath salts, and essential oils you use frequently.
Place Mirrors Strategically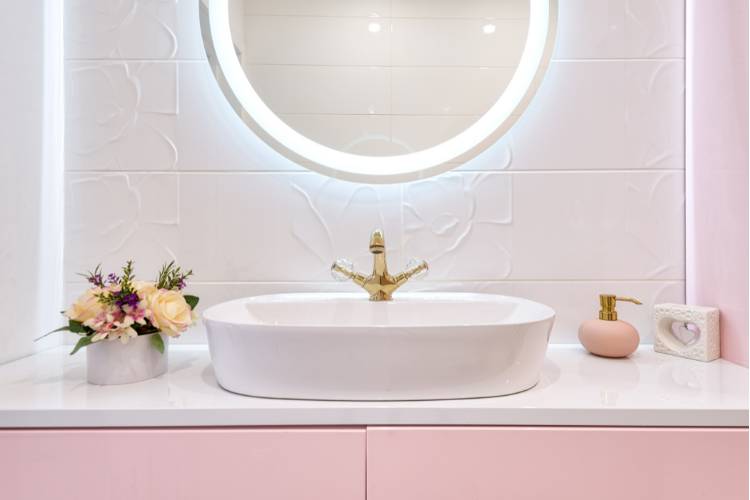 Mirrors instantly open up a room as they reflect light and space from a previously blank wall.
Using a large mirror in a bathroom magnifies the light and creates a sense of depth in a small area.
Modern mirrors with LED lights in the design are a great way to make a focal point in a bathroom too.
Use Vertical Space to Storage Toiletries
Placing shelves on the walls in a bathroom is the perfect way to utilize vertical space.
You should decant your lotions and gels into attractive clear or amber glass jars and bottles and then display them on narrow shelves beside the mirror or under the vanity.
Summary of Small Bathroom Renovation Tips
| | |
| --- | --- |
| Small Bathroom Ideas | How To Achieve the Look |
| Recessed lighting | Install large flush-mounted ceiling lights in each corner |
| Glass or acrylic elements | Use an acrylic partition for the toilet area or a clear glass basin and vanity countertop |
| Space-saving sanitary wear | Choose wall-mounted toilets, basins, and cabinets. |
| Corner bath or shower | Select an all-in-one corner shower unit to fit the space |
| Sliding bathroom door | Install a pocket door to maximize space |
| Light, neutral color scheme | Choose a neutral color to create the illusion of space |
| Large wall tiles | Tile the walls from floor to ceiling with large tiles |
| Wall alcoves and niches | Display attractive bottles of bath bombs or bubble bath solution in wall recesses |
| Strategic mirror placement | Place a large round mirror above the basin to reflect light |
| Vertical storage space | Hang a vertical row of shelves beside the vanity mirror |
Small Bathroom Renovations Wrap Up
When renovating a small bathroom, it is important to choose space-saving sanitary ware and plumbing hardware that frees up floor space.
Vertical storage will help you maximize wall space and give the bathroom a cohesive look.
Use natural light and mirrors to give a small bathroom a spacious feel.