Living in a small space necessitates some additional creativity and thought.
It would be best if you thought about things like creative storage options, how to organize a small space, and how to choose what belongs in your home.
No matter how small a bedroom may be, your style can be quickly revealed when designing it.
Fortunately, there are many creative methods, including furniture placement and clever storage solutions, to make rooms appear and feel more significant than they are.
We've compiled a list of bedroom layout suggestions ideal for designing a small sanctuary to help you get motivated.
Fitted Wardrobes
A compact wardrobe offers a practical way to organize one person's clothing. Due to their small size, fitted wardrobes won't cost much and will still give you plenty of storage space.
Additionally, a small, fitted wardrobe can be a good option for your guest bedroom if you want to avoid building a large wardrobe and keep the space open.
The cost of fitted wardrobes depends on several variables, including size, material, location, accessibility, and more.
Take Advantage of Natural Light
Your room may appear and feel more prominent by adding more light. Darker hues can be calming, but they also absorb light.
Sticking with lighter hues when picking your paint color can help you achieve a more open, airy feel.
You can also make the most of your light by arranging your tiny bedroom so that sunlight has an unobstructed path through the window.
Mirrors can reflect available light and give the appearance of more space in areas where natural light is not as strong.
Use Chest of Drawers as a Nightstand
Why not have a chest of drawers as your bedside table instead of a typical nightstand?
By doing so, you can add a double function and make the space next to the bed as helpful as possible for storage (as dressers offer more storage than a typical nightstand).
Then, all in one piece of furniture, you'll have a surface for a nightstand next to the bed and space for clothing storage!
Selecting a chest that isn't too tall is the best way to accomplish this. The ideal object should sit at or slightly above the height of your mattress.
Additionally, you want to ensure it isn't too deep because that can complicate getting in and out of bed.
Add Extra Storage
Storage is essential for organizing a small bedroom set-up. Find inventive ways to accomplish this by selecting pieces of furniture that can serve as a storage solution.
Storage beds, for instance, can make it easier to create under-bed storage for out-of-season clothing.
Even better, you can place a storage settee at the end of the bed, which serves as additional seating and storage.
These items are also adaptable in terms of style. There is a storage bench for almost any room shape because they come in every style and shape.
Additionally, with so many upholstery options available, it's a fantastic way to give your bedroom a splash of color and texture.
Designer pro tip: Storage beds are another excellent way to gain additional space without sacrificing design.
Create A Unique Headboard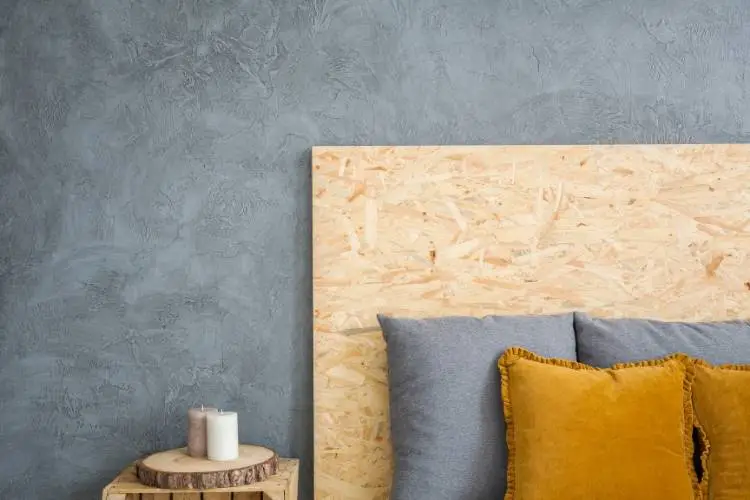 Consider something a little more compact than a traditional headboard. Install a gorgeous fabric or area rug first behind your bed.
After that, put a room separator behind the bed, preferably with a storage area. At this point, a focal point can be created behind the bed using wallpaper, mirrors, or a photo gallery.
You can decorate a headboard on your wall if you have a wooden board. If you don't think this concept is appealing, consider a velvet tufted, which might be a simple yet stylish fix for the issue.
Minimize Floor Space
Another fantastic bedroom design concept? Choose a nightstand that hangs from the wall as opposed to one that is on the floor.
With this choice, you get the minimal form of a nightstand with the storage capacity and convenience of a tabletop.
You can add additional fluid storage solutions underneath, such as baskets and hampers, with the extra floor space you'll free up.
Additionally, wall-mounted nightstands may be smaller than a typical nightstand, which is advantageous if there is not much room between your bed and the wall.
Finally, you could hang a drawer or use a straightforward shelf. In either case, you have a sleek and contemporary appearance.
Additionally, you can alter the height, making platform beds lower or taller beds higher.
Finally, choose a sconce instead of a table lamp for the ideal surface for a picture, plants, candles, and anything else you like to keep nearby!
Use Vertical Space
Using vertical space to create storage will help you make the most of your bedroom's potential and free up as much valuable floor space as possible in a small space.
As a result, your space will be less cluttered, easier to navigate, and have a better flow.
You can utilize vertical storage in a variety of ways. One of the most common options is a bookshelf, ideally mounted on the wall to maximize the use of vertical space.
In addition to books, you can stock the shelves with other items you use daily and decorative items.
But selecting a tall, lean wardrobe or dresser with lots of space for clothing storage is another way to add some vertical storage.