Bunk beds from B2C Furniture are of the highest quality and combine space-saving efficiency, affordability, and high-quality materials to produce a product that will last the test of time.
Unlike the vast majority of bunk beds on the market, these beds are seriously built to last.
These days, it's very uncommon for bunk beds to be constructed using chipboard or particle board, which is less expensive but also less sturdy and durable.
B2C Furniture's bunk beds are built with a solid hardwood wooden frame for your safety and comfort. Keep reading to learn about two of our favorite options available.
What Are the Top Two Bunk Beds?
Buying bunk beds for a household with two or more children is becoming common. Having beds in a room where two or more children have to share can make it too crowded for comfort.
One bed takes up so much room, but a bunk bed or a stake bed solves that problem.
Generally, bunk beds are just one bed placed over another. Your family will have plenty of room to stretch out,  study, and enjoy the extra storage space.
1. Myer Triple Bunk Bed with Storage
This features a classic style, solid construction, and practicality that minimizes the use of floor space.
Its sturdy hardwood timber frame is held together by metal mounting brackets and guard rails along the top bunk, emphasizing safety and strength in its structure.
Additionally, it incorporates a metal safety rail beneath the upper bed for your comfort and safety.
Drawers are designed to fit beneath a bed and roll out for cleaning, a feature particularly useful for those with respiratory conditions like asthma and allergies.
This also comes with its variation:
Myer King Single Bunk Bed with Storage
Myer White Triple Bunk Bed with Storage
Myer White Single Bunk Bed with Storage
Myer Single Bunk Bed with Storage
Myer Grey King Single Bunk Bed with Storage
2. Myer King Single Bunk Bed with Trundle
It has a hardwood timber frame, built with extra care, and is held together by metal mounting brackets and protective rails along the top bunk.
Additionally, it has a trundle on wheels designed with hygiene in consideration. The bunk bed may be separated into two single beds thanks to its smart design.
Why Should you Consider Buying Bunk Beds?
Choosing the ideal bunk bed for your needs may be quite a challenge. Spending substantial internet research may help anybody find the perfect bed.
Looking for a new place to sleep? Bunk beds are a fantastic choice. Many stylish bunk bed options exist, perfect for kids of either gender or adults.
Not sure whether bunk beds will work in the space? Here are several great advantages of having one.
Maximize Sleep Space
Do you want to make a room look larger while also making additional space for sleeping? It is simple to accomplish this goal when one uses bunk beds in a room.
When you have this kind of bed, having guests around for sleepovers won't be a problem since they'll be able to sleep comfortably.
It is possible for two siblings to successfully share a room while still being able to keep their own sleeping space and sense of privacy in the arrangement.
In addition, you may use a trundle bed in the same area, which frees up space below the bottom bunk for a third mattress to be added.
This contributes to the overall goal of increasing the amount of space available for sleeping.
Saves Floor Space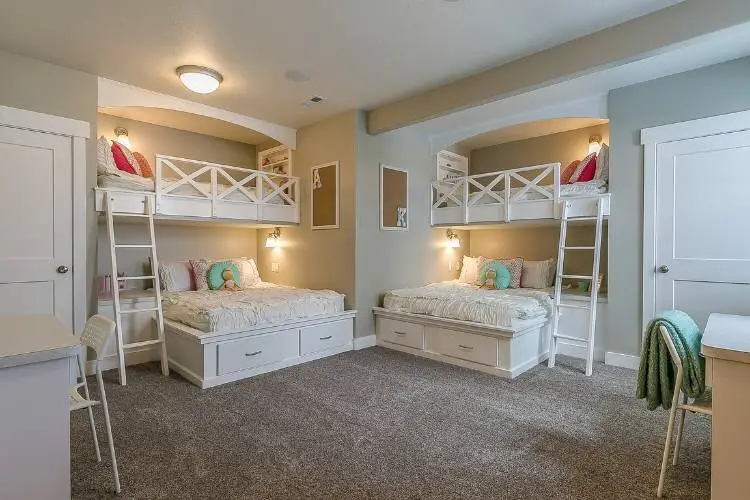 Because of how the beds are constructed, a single floor area may accommodate not one but two sleeping surfaces.
It is possible to fit a sofa, a study desk, and even a dresser in the spare room if necessary furniture is removed beforehand. Do not delay any longer in buying the bunk bed.
Affordability
If you are looking for a means to save some money or are working with a limited budget, you may consider purchasing a bunk bed.
Rather than paying money on two separate beds for the room so that two people may share it, you can save money by getting bunk beds instead.
Because of this, some money will be saved, which may be used for another purpose.
Customizable
You may customize bunk beds to suit an individual's preferences. If two of your children share a bunk bed, this presents a problem.
The items on the top left side of the bed serve no use and may be removed to provide more room for the second child.
In addition, you may always reassemble the bunk bed in case the first child is coming back to be with you.
Some manufacturers create bunk beds that you can disassemble into two individual beds if you decide to go in a different position with your sleeping arrangements in the future.
Creates a Bond for Family
If siblings live in the same house, they will develop a stronger sense of attachment to one another. They will strongly value ethical practices such as sharing and adaptation.
Additionally, they will get even closer through more time spent playing and conversing and remain best friends throughout their lives.
When siblings have separate rooms, they are more likely to argue with one another than when they share a place.
Your children will learn many important moral lessons, like modesty, a willingness to help others, and many more, just by spending time with others.
Children are less likely to spend most of their time in front of the television or on their mobile devices when they have guests.
Conclusion
Bunk beds are fantastic additions to any home, but they are particularly useful for households with many children.
However, to buy a bed that meets your family's needs, you must take your time and carefully consider all your choices. You'll want to consider the considerations mentioned when looking for a bunk bed.
Source:
https://virily.com/home-decor/essential-things-to-look-at-when-purchasing-bunk-beds/
https://homeharmonizing.com/should-you-buy-a-bunk-bed-many-reasons-you-should-consider-buying-one/
https://www.thesmartconsumer.com/why-should-you-consider-buying-bunk-beds-for-your-kids
https://b2cfurniture.com.au/kids-beds/bunk-beds?mgs_brand=5453