With inner-city housing becoming smaller and smaller in size these days, there is a growing need to create functionality out of tiny spaces.
There is no denying that, out of the many rooms that make up your home, your laundry is one of the most highly functional, as its entire existence is for a highly defined purpose.
Although it is not necessarily an area we want to spend a majority of our time in, there are ways in which you can make your laundry compartment aesthetically pleasing while meeting the crucial needs for its usage.
Whether you're washing, drying, or ironing your clothes, or are simply looking to have enough storage to house all of your home's cleaning equipment, having a well-organized laundry can greatly revolutionize and streamline the way you live on a day-to-day basis.
Read on to discover how you can make the absolute most of your tiny laundry room space.
Get a space-saving washer and dryer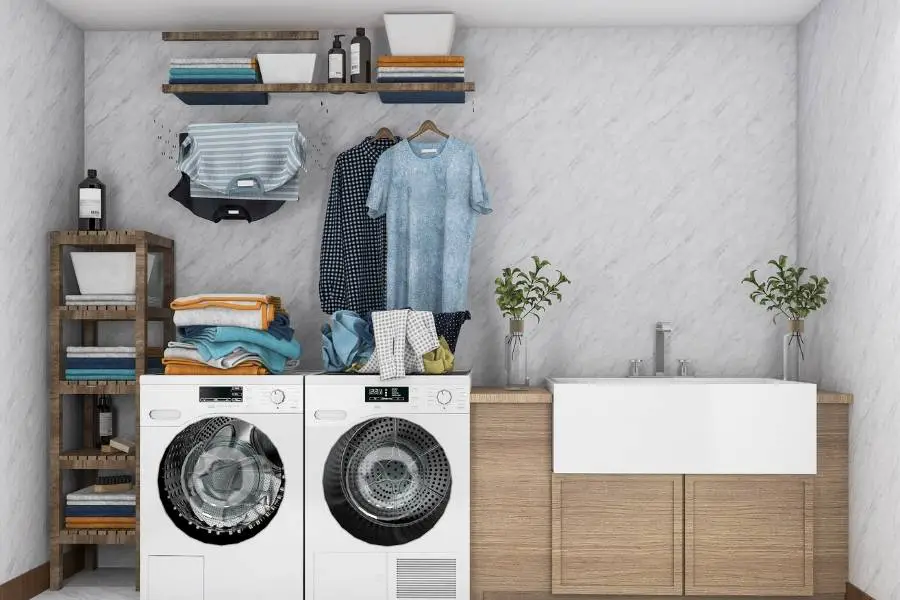 A great way to free up some space in your laundry room from the get-go is simply by choosing the right appliances to suit your space.
This is where selecting a front-loading washing machine like these paired with a matching dryer can be an asset.
A tower washer and dryer can be a fantastic asset for renters or homeowners who don't have a separate laundry room space, but instead have a modern, compact 'European' or 'Euro laundry' as discussed here.
Euro laundries are actually superb laundry room alternatives, as they can easily be confined to a neat little cupboard space, allowing you to enjoy more living space throughout your wider home as well as ensuring that your laundry clutter is out of sight of any guests or visitors that you may have over at your house.
Organize all of your detergents and other essentials
When it comes to stocking your laundry room, it can help to buy your laundry items in bulk.
Of course, the savings that you get to experience by buying in bulk may not outweigh the headache that can accompany figuring out how to organize this copious number of laundry items in a particularly smaller laundry space.
If you can install additional cupboard spaces for the sole purpose of storing and organizing your laundry room essentials, however, chances are you'll get to enjoy a highly functional and beautiful laundry space.
Be sure to invest in additional storage outside of your laundry room (i.e. a linen closet or even some boxes in your external shed space) if you do run out of room in your laundry room set-up.
Pull out the ironing board in a breeze
While your ironing board can certainly be a repulsive figure in your laundry, they are quite often unavoidable in our day-to-day lives.
However, you can hide your ironing board away in an elegant way by fitting it into a cabinet, so that it can be put away with constraint when it does not need to be used.
If your laundry room space is simply too small for any ironing board of any size or design, then you can absolutely install it in another room in your home, like in your bedroom.
Of course, there are a great variety of different sized fixed and convertible ironing boards out there, so it may very well pay to shop around in order to find a design that best suits your laundry room space.
The perfect ironing board may just prove to be the finishing touch on your highly organized and optimized laundry room set-up.
Use shelving, hooks and a rod to elevate items
When handling the issue of space in a small laundry, sometimes small and simple ideas can be the most suitable solution.
This is where open shelving and hooks for your cupboards and cabinets can be a lifesaver.
By taking full advantage of the vertical space that's available to you, you can free up the overall floor space in your tiny laundry, which can only provide you with more freedom to move around.
Similarly, installing a drying rod or rack over your laundry room sink will allow for drip-drying, especially after soaking, as well as giving you the ability to air-dry clothing if you are close to an open door.
Consider location, ventilation and lighting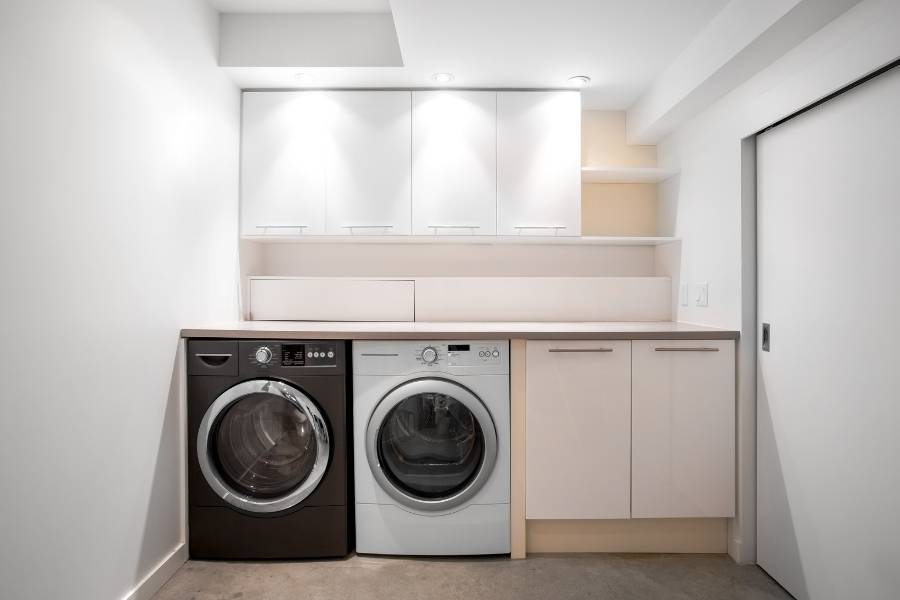 For many years, the location of where to place one's laundry wasn't often thought about, especially as many of us usually have a much larger outdoor area equipped with a nifty clothesline for effortless air-drying.
If you live in an apartment and may not have access to an external clothesline, you still have the option of placing your laundry on your balcony or in a bedroom space where it will be out of sight.
Of course, storing your laundry in any other interior space in your home is less than ideal, but with laundry spaces drastically decreasing in modern homes, there is no doubt that the means for washing and particularly, drying, is encroaching indoors more and more.
Therefore, when deciding where to build your own laundry space in a new home or during renovations, you should absolutely consider positioning your laundry by an outside door or near a bathroom, as this way you will get natural air from the breeze, particularly for linen drying, as well as having plumbing already installed.
If you aren't renovating and may not have the option to renovate, then you can boost your laundry room's ventilation by simply installing a window or even a skylight.
These few extra choices in how and where you position your laundry or even the light availability in your laundry can allow your clothes to dry faster, preventing problems like dampness and mold growth, as well as potentially even cutting your utilities bills in half by eliminating the need for a dryer.
Conclusion
Therefore, when it comes to designing your ideal laundry for a small space, it can be sensible to remember these few things:
Consider your space. If your layout allows a top loader, go for it! But stacking will allow you with more room to move.
Store your bulk orders of detergents and household cleaning supplies in a clean and easily accessible way. If you have more items than you have shelf space, then utilise additional storage so that you can still experience the savings.
Vertical space is your best friend! Shelves also help with storage, and a well-installed rod above your laundry room basin can help air-dry items with ease.
Considering positioning and ventilation can save you both time and money.
All the best to you, my wonderful readers!