If you're a bit handy and want to build a workshop or need extra space to set up a home office, have you considered making your garage more a part of your home?
The use of garages as places to store cars has dwindled over the years, with the growing size of many models meaning it is impractical to do so.
If you want to make a working space in your garage, here are the crucial steps.
Clear out and clean it
First up, you need to know exactly how much space you're going to be working with.
Rip out any existing fixtures and find a new place to dump all of those belongings that tend to build up over time.
You may want to sell some of the items secondhand to make some money while you clear out your garage.
Otherwise, you can donate old belongings to charity, or dispose of them correctly.
It's also important to give it a good clean. Remove dirt and debris from the walls and get everything swept up off the floor.
This is especially important if you are looking to put a more practical floor on top of the bare concrete.
Weatherproof it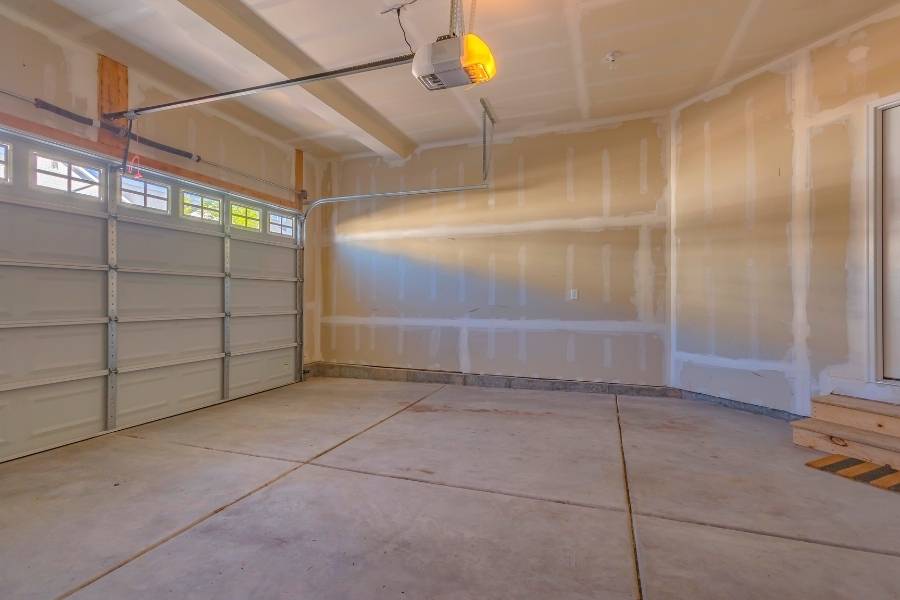 Most garages are built of a simple single course of brickwork, which will do little to insulate the space if you plan on spending large periods of time there.
Adding insulation is a job that people with a basic level of DIY smarts should be able to complete, but it's also important to see whether your space will be protected from the elements.
Check the roof and any windows for signs of cracks or gaps.
Do the same around the garage door, however it may be prudent to look into replacing it with a more functional entrance instead.
Making your garage weatherproof will help to create a more usable space that is tightly sealed and insulated.
Failing to weatherproof your garage can lead to water damage in the future, often an expensive fix, so it's a better idea to be proactive and ensure the room is water and weatherproof.
Add storage
Whether you're making your space somewhere for DIY, a home office or simply a place to relax, you will need to add some storage.
If you need somewhere to store tools, sturdy shelving systems will do the trick, while you may also want to think about what your storage does to your background if you are working from home and spend time talking to colleagues and clients over video calls.
Increasing the storage in your garage will help you to organize the space.
Most people use their garage as an unorganized space to keep old clutter, clearing out your garage and adding in new storage solutions will help you to keep the garage tidy and in order for when you come to use it.
Whether you need a work bench, a desk or just a sofa, get your measurements right and think about the practicalities of your work surfaces just as much as the style.
Consider lighting
Many garages are windowless and have large metal doors on the front, blocking a lot of natural light out and not making them very inviting places.
As previously discussed, it may be wise to invest in some PVC windows and doors to improve the room's energy efficiency and also let as much natural light in as possible.
Lighting is essential to working on projects as you will need to be able to see in good light.
To increase lighting you can also add more lighting fixtures and stronger bulbs into your garage to illuminate the space.
Most garages have pitched roofs, making them ideal for skylights to be added and flood the area with sunlight.
Adding these light-promoting features will help to make your garage feel like an extension of your home, rather than a dark room used for storage.
Improve the garage door
63% of housing units have garage doors or carports. If you have a garage door that is tired or not working well, you shouldn't skimp on quality when it comes to investing in a replacement.
The price of the garage door isn't all that you should look at when updating or upgrading the largest door in your home.
Good doors will also help your home look better from the outside and increase it's curb appeal. There's no doubt that this will also help improve the value of your home as well.
You can ensure you're getting a quality door when you use a reputable business such as FamilyChristianDoors.com; longtime experts who have been helping homeowners for years.
More importantly, when it comes to actually using your garage space, you want to ensure it's comfortable.
For example, depending on which direction your garage faces a modern and up-to-date door can help control the temperature better.
For example, direct sun or frigid winters can make your garage space either very warm or extremely cold. An extra insulated door will have a greater R-value level to help help block extreme temperatures.
If you want to use your garage space for more than just storage but as a functional room you spend time in, you'll want a good door to keep out these extremes during the peaks of summer and winter seasons.