It's no secret that we all spend a lot of time in our bathrooms. Therefore, it's only natural that we should personalize the space making it as relaxing and pleasant as possible.
Bathrooms, after all, are rooms that everyone uses, therefore the design is just as vital as a comfortable living room.
Gone are the days when we would adorn bathrooms with glass block bathroom windows, beige and taupe color schemes, impractical designs, chevron patterns, and glossy bathroom tiles.
The modern bathroom designs 2022 now include sleek vanity units, intriguing bathtubs, and modern toilet designs that come in a variety of shapes and sizes to fit both large and small design projects.
They can also be customized with shabby chic or minimalistic bathroom accessories, as well as small modern bathroom design elements such as multipurpose bathroom shelves, towel hangers, faucets, and flush valves.
Lighting is also an important factor to consider when it comes to designing a bathroom sanctuary, which can be attributed to its ability to completely shift the ambiance of a place.
Drum pendants, pendant lights, wall sconces, ceiling lights, and Vanity lights are all making their way into our homes' modern bathrooms.
So, if this is the year you finally decide to embark on bathroom remodeling projects, there's a lot you'll need to know.
We've compiled a list of 6 favorites for a modern bathroom that you should integrate into your bathroom, including the return of scenic murals, matte black fixtures, and texture blending.
1. Black is making its way back
Black never goes out of style, so it will keep your bathroom decor ideas looking amazing for a long time.
Matte black fixtures, similarly, have been popular recently, and we may expect to see more of them in modern bathrooms.
Black mixed with white and vibrant colors can be used to show off your design skills.
This is important because a black bathroom can be quite difficult to pull off unless it has plenty of natural light.
Black bathrooms with green plants, black primary bathrooms in the French style, and bathrooms with black hex tiles are all unique ways to incorporate it into your bathroom.
Although black is classy, easy to blend with other shades, and beautiful to look at, it does require confidence and an overall vision. The overall result, on the other hand, can be stunning.
2. Incorporating scenic murals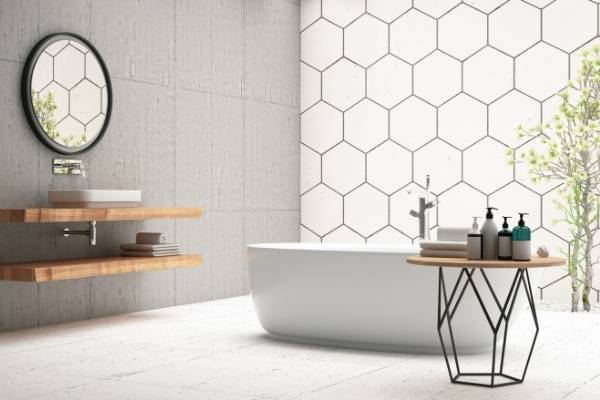 The bathroom designs for home walls that were once forgotten in favor of practicality were cold and clinical.
Bathrooms are no longer limited to a contemporary aesthetic, and statement walls are no longer intended to impress guests. Instead, color, detailed panoramic, and scenic murals are increasingly used to transform bathrooms into spa-like retreats for relaxation.
Scenic murals are a simple way to bring color, pattern, and life to drab bathroom walls.
These bathroom ideas are anything but average, with styles ranging from painted scenery and abstract murals to photography murals.
Textural features, architectural style, and heritage are now added by a professional Miami interior designer to the whimsical motifs that were so popular in the past, giving the bathroom walls even more depth and intrigue.
3. Mixing colors, textures, and materials
Mixing elements like color and texture in a room for a bathroom remodel is more essential than you might think.
Designers are using glass mesh with textured wall coverings and sandwich mirrors inside the space instead of simple plain colors.
Allowing yourself to mix and match various modern bathroom design patterns creates interest, and adds dimension.
You can also add unique benches and stools, as well as plants, old furniture, and other items to the space while blending and achieving aesthetic goals.
4. Adding luxurious fixtures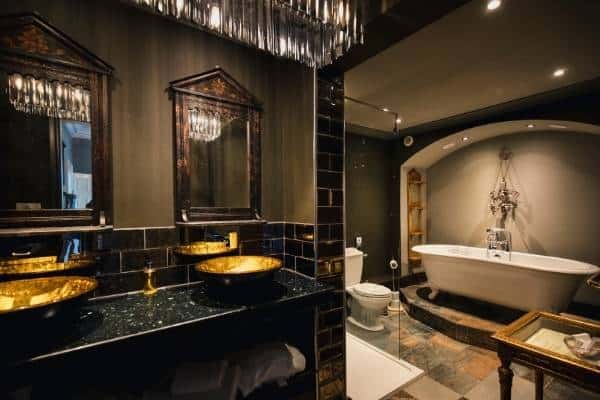 Luxury finishes and accents are more than just a fashion statement. High-end products usually last and will continue to serve the space as trends and fads change.
In essence, they're a sensible investment product that helps to maintain the home's value.
Designers customize faucets, toilets, sinks, tubs, and showers for luxury bathrooms adding significant aesthetic value to the space.
Heated towel rails, printed wallpaper, spa-like space with mood lighting and plants statement, and underfloor heating are all ultra-modern bathroom design upgrades offered by an interior designer Miami to your modern bathroom.
5. Two-in-one shower and bath
The concept of a two-in-one shower and bath is being reconsidered. A glass divider now separates a big shower and tub from a confined tub with a showerhead and shower curtains.
It's an excellent modern interior design option for individuals who value efficiency and accessibility.
6. Double shower heads
Showerheads with two heads are both convenient and aesthetic. It's no longer necessary to wait for your mate to finish showering.
Two people can shower at the same time with larger showers and twin showerheads.
To make the latest bathroom design trend stand out, even more, use fixtures that contrast with the room's color scheme.