What do you need to get the most out of your crafting? Talent? Patience? Good materials? They all help, of course. But a must-have asset for any crafter is a high-quality utility knife.
No matter what type of crafting you want to explore, a great knife is an essential part of your toolkit. In this post, we'll take a close look at why and how utility knives can help you kick-start your crafts.
Let's talk about your options first though. You have a huge range of models to choose from to suit your crafting goals and handling preferences.
One of the most important factors to consider when browsing knives is safety. So utility knives like these are designed to keep you safe while you cut and trim a variety of materials.
The finger-friendly® blades cut effectively, and their rounded tips reduce the risk of injury while you unleash your creativity. And retractable utility knives allow you to slip the blade back into the handle to prevent accidents.
For example, an auto-retractable utility knife pulls back automatically for safe and convenient cutting.
Smart-retracting knives take this a step further with an innovative safety feature: The blade instantly retracts back into its handle whenever you break its contact with the cutting material, even if your finger is still on the slider.
So, we've established that utility knives offer a safe cutting solution for crafting, but why else are they such a smart choice for beginners? And how do they work?
Why Are Utility Knives So Effective for Crafting?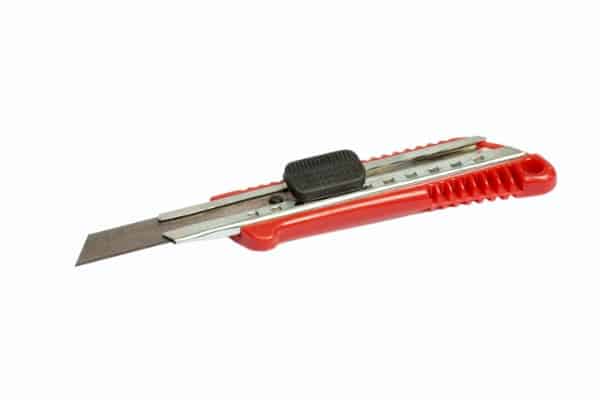 Here are three reasons why utility knives are such a terrific tool for your crafting projects:
Cut a Variety of Materials
Utility knives are designed for a range of cutting tasks, from cutting through cardboard to slicing fine wood. That's why workers in warehouses and factories will have a good utility knife on hand.
Of course maintaining good safety habits by using them properly will go a long way towards cutting efficiency and getting the most out of any knife you use for crafts or any home projects, really.
As a beginner crafter, utility knives' versatility can help you work with various materials—paper, card, wood, clay, and more. Achieve cleaner, more precise cuts than you would with those loose scissors you've had in your kitchen drawer for years.
Ideal for All Stages of Crafting
You can use a utility knife at every stage in your crafting process. Let's say you want to make your own greeting cards to sell online. With your knife, you can:
Cut a large sheet of card into several equal portions
Prepare decorative materials, such as ribbon or paper
Trim photos to a smaller size to fit on the exterior or interior of a card
Shape letters from card or paper with a stencil
Cut beads or stickers to customize envelopes
And this is just one example. If you plan to try sculpting, you could use a utility knife to shape, trim, and decorate clay throughout your creative process. There are so many possibilities.
Reduce the Risk of Mistakes and Wasted Time
High-quality utility knives help you craft efficiently. You can cut neatly and smoothly with tight control. Part of this is due to the ergonomic design that allows for a snug, comfortable fit in your hand.
And textured grips help you keep a secure grip while cutting different materials.
All this combines to help you avoid frustrating mistakes and make the most of your crafting time.
What Types of Utility Knives Are Available?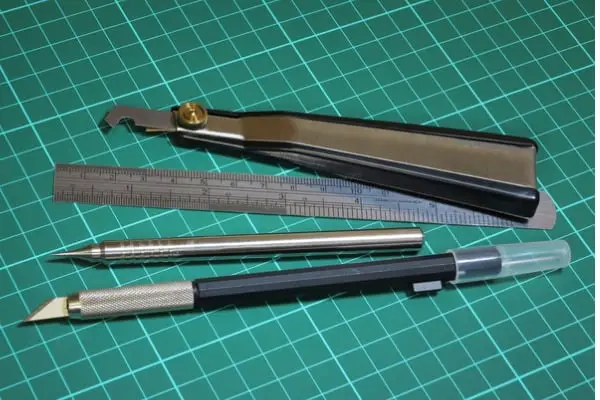 Let's look at some of the options to consider when shopping for utility knives.
Blade Lengths and Positions
Some utility knives feature longer blades than others. These are designed for cutting thicker materials, so keep length in mind if you expect to work with wood or cardboard.
Other utility knives allow you to choose from multiple blade positions to set the right length for the job.
Manual or Automatic Retractable Blade?
Auto-retractable handles are a fantastic safety feature, and you may want to try it if you're new to both crafting and utility knives.
Auto-retractable utility knives make it quicker and easier to keep the blade tucked away between cuts, as it retracts automatically when you release the slider.
If you prefer a manual handle, prioritize a blade designed to maximize your safety.
Decide If You Need an Ambidextrous Design
If you're left-handed, aim for an ambidextrous utility knife.
You can switch the blade orientation to suit you, and set it up for a right-handed user if you're crafting with friends or relatives.
That's much more convenient and safe than trying to use a knife that's a poor fit.
Knowing how to hold any knife properly is a must, especially when it comes to utility type knives. You can learn more here on good techniques.
Look for Rust-Free Blades
It's likely you'll need to wash and rinse your utility knife regularly, especially if you work with clay or paint.
But this can cause standard metal blades to rust over time, and force you to buy replacements sooner than you might expect.
While blades are relatively inexpensive, it comes down to convenience. You probably know how annoying it is to find you're out of blades right when you most need them for an exciting project.
That's why you might want a rust-free utility knife (such as one made from zirconium oxide) instead. Your blades will last longer and stay in good working condition no matter how many times you wash them.
Which Utility Knife Works Best for You?
Keep these safety tips and features in mind when shopping for utility knives for your first (or next) crafting adventure. You'll be thanking yourself later so you can focus on what's most important: your goals and creativity!
The right tools will help you express your artistry, work at your best, and stay safe at the same time so you can be fulfilled to your heart's content.