Many apartments or condos have balconies, and they can be the perfect place to soak in the sun on warm days or enjoy a soft breeze while drinking your morning coffee.
With the small space, it can sometimes take time to decide how to best decorate a balcony, but there are some simple ways to create a beautiful and welcoming balcony space.
Your balcony does not have to become a place for broken furniture and dying plants.
It can instead become a beautiful outdoor oasis that helps you soak up more vitamin D.
Focus on the view
A balcony is a perfect way to look out over your city or the views outside your home.
The balconies at the River Fly-In condos offer a beautiful view of Merritt Island.
If you have a great view outside your window that you can admire from your balcony, you should try to create a minimalist approach to your decorating so that you can focus on the view.
Choose a theme
In any room in your home, you want to focus on decorating around a theme, and the balcony is no different.
To create the best cohesive look, you should pick a design theme that evokes the emotions you want to feel on your balcony.
Try to make a romantic space with floral and mood lighting, or go for a whimsical feel with hammocks, plants, and wicker furniture.
A theme helps you decide the best pieces to use in decorating that will work together.
A theme can help you create an atmosphere you love while showing off your personality.
Furniture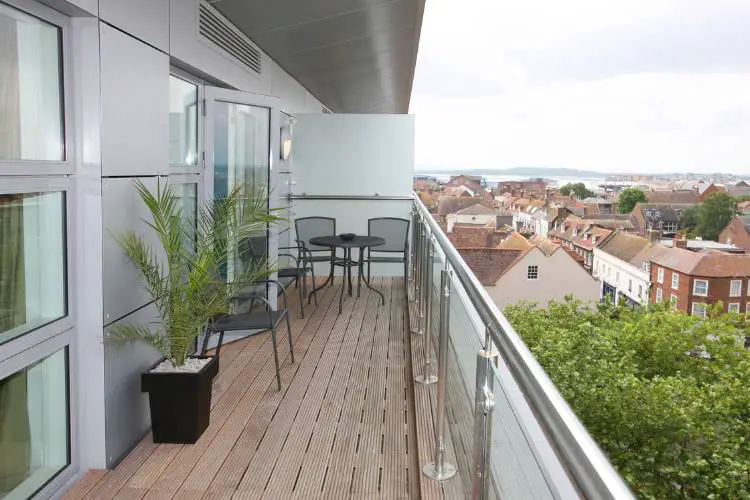 Balcony furniture is vital for creating the perfect space to hang out. You should find comfortable and weather-resistant furniture.
Choosing the right furniture can make or break a good balcony.
Tables and chairs are always a good idea since they allow you to sit out and relax on the balcony with a good book, drink, and maybe even a meal.
You can also add a throw or pillows to help make the space more cozy and creative.
Color scheme
Along with a theme, you should choose a color scheme.
Having some set colors, such as neutrals with a pop of color or focusing on gold and light neutrals, can help you create a beautiful space where you know if things will look good together.
Be creative with your colors and use them as a guide to help you create the patio space of your dreams.
Choose colors you love to ensure you create an area where you want to go.
Add plants
If you want to create a small garden or just find the perfect place to store your plants, the balcony can be an excellent place for greenery.
Balcony plants are a great way to add a touch of green to the space.
You could create a small herb garden in plant boxes or have a plant wall to store beautiful potted plants.
Just be sure to place them in the right spot for their sun needs and water them regularly.
Privacy
If you are worried about nosy neighbors spying on you while you relax and unwind on your balcony, you should consider adding more privacy.
You could add a fabric or bamboo privacy screen or tall and bushy potted plants, such as bamboo or decorative grass, at the front of your balcony to hide from prying eyes.
Lights
If you know you want to spend early mornings or evenings on your balcony, you should add some lighting.
Hanging lights like string or small pendant lights can add soft, romantic lighting.
You could also add tabletop or floor lanterns to turn on when the sun goes down.
If your balcony doesn't get a lot of sun, lights can be a great way to ensure you can enjoy hanging out in your outdoor space.
Shade
While basking in the sun on a summer day is lovely, no one wants to end up sunburned or harming their eyes by the bright rays.
Balconies that sit directly in the sun may need some extra shade. Vines or tall plants might be a solution, but you could add an umbrella or a small covered canopy.
Installing a more permanent shade solution, such as a marquee or plant-covered pergola roof, can also create shade and a beautiful design element.
Adding more shade makes your balcony the perfect place to relax on a hot summer day.
Statement wall
To help your balcony stand out more, you can choose one wall to create a statement piece.
This statement wall could become a garden wall with planter boxes and vines hanging from old pallets.
You could add decor that fits your theme or personality, such as hanging photos or statement pieces.
You could also add a splash of color by painting the area or adding wallpaper.
If you aren't allowed to alter your apartment too much, you could always opt for temporary wallpapers or removable design elements instead.
Personal touches
One of the most important parts of creating any design is to make it personal. Add touches of yourself into the design elements.
Choose your favorite colors or add decorative elements that fit your personality. Maybe create something by hand to add more of yourself to the project.
Your balcony should reflect your tastes, so you should hand-pick some items you place in the area.
Different colors, patterns, and textures on your balcony can show off your personality and add creativity to your space.
Parting Shot
Creating a beautiful balcony oasis can help you get outside more and spend quality time with loved ones.
Your balcony does not have to be a small, forgotten spot of your home.
Instead, you can be creative in creating an area with comfortable furniture and creative decorations that you want to go to at the end of a long day.
These ten tips can help transform your balcony from a place to store unwanted items to the area you start and end your day in.