If you are planning on decorating your home for St. Patrick's Day, which falls on March 17th, you will want to include all those traditional elements, such as leprechauns, four-leafed clover, and the color green, but you will probably want to decorate using such elements in a tasteful way.
So, whether you have a large or small budget for the decoration of a St. Patrick's Day party, you will want to check out the following great ideas.
Create a Leprechaun Selfie Station
Just because you are looking for tasteful ideas for your St. Patrick's Day get-together, it does not mean you cannot have fun!
Decorating with pictures of leprechauns and soft toy leprechauns might not be the most tasteful idea, but you still need to include Ireland's small people in your décor.
After all, leprechauns are symbolic of St. Patrick's Day. So, consider decorating your space with a selfie station where your guests can dress up as leprechauns and take photos of themselves.
You could then turn those photographs into photo books to give to your guests after the event.
Photo books are sure to be warmly welcomed as they will act as reminders of your memorable St. Patrick's Day celebrations for years to come.
Take a look at Mixbook's unique photo books to see what design options are available.
Frame Prints of Ireland
Rather than going for obvious choices like hanging rows of paper shamrocks along walls, go for a more tasteful option by decorating your space with framed prints of Ireland.
You could display photos of famous Irish sites like the Cliffs of Moher, Blarney Castle, and Dublin.
And consider using green frames to tie them into the rest of your décor.
Hang a Shamrock Wreath on Your Front Door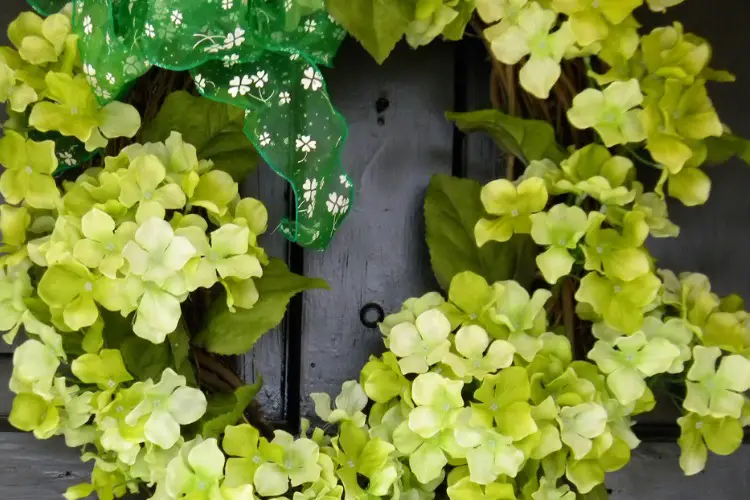 Just because you are dispensing with cheap shamrock decorations, it does not mean you should not include shamrocks in your décor.
After all, the four-leafed clover is a symbol that is firmly tied to St. Patrick's Day celebrations.
So, consider hanging a wreath made up of shamrocks or that is in the shape of a shamrock on your front door.
You can also decorate the interior with shamrocks.
For instance, you could nestle candles in bunches of clover or even fill pairs of old leprechaun-looking boots with shamrocks.
Use Green or Appropriately-decorated Soft Furnishings
Green is the symbolic color of St. Patrick's Day, so you will want to ensure there is an abundance of the color in your home.
One option is to use green soft furnishings that you already have or purchase new green-colored soft furnishings.
You could drape green covers over furniture, use a green tablecloth for your centerpiece table, or hang up green curtains.
If you have more money to spare, you could even buy stylish themed items, such as cushions with shamrock prints or a rug featuring the Irish flag.
Create a Pot of Gold
For something a little different, consider placing a pot of gold in your space.
OK, even if you have a large budget, you probably could not afford a pot that contains real gold.
But you can purchase items like gold-colored costume jewelry or candy wrapped in gold-colored paper to fill your pot with.
You could even paint a wall with a rainbow that leads to the pot of gold, as long as you do not mind having to repaint the wall after your party.
You might also consider coming up with a game that involves giving your guests the opportunity to win items that are contained in your pot of gold.