The national average cost of building a swimming pool ranges from $10,000 to $100,000, according to price estimates on Fixr. Swimming pools have become essential parts of today's homes.
After all, nothing is quite relaxing, like taking a dip to beat the summer heat in your backyard pool. Moreover, modern home pools have appealing features that add beauty and character to your home.
Whether your home is a rustic farmhouse, traditional Tudor, or modern ranch, you can design pools that complement its style without much hassle.
Below are tips for designing a beautiful home pool when landscaping your small backyard.
1. Pick A Design With Safety In Mind
There are different pool design ideas to choose from based on functionality, size, space, budget, and ease of maintenance.
For example, if you are on a budget, consider installing an above-the-ground pool. This pool style is affordable, easy to maintain, and supports different functions.
However, above-the-ground pools are limited to rectangular and circular shapes only. Other designs you can opt for include infinity pools, resort-like pools, indoor, architectural, and natural pools.
Whatever type of pool you decide to build, be sure to install fencing and alarms around it. Doing so helps reduce the risk factors that cause drowning in home pools.
2. Factor In Function
Before you can start designing, list down the reasons for building a home pool. In most cases, homeowners build pools to create space for relaxing, exercising, and family fun.
Others install stunning swimming pools to serve as wow factors in the backyard. Whatever your reasons are, understanding the functionality of your pool helps you make wise choices regarding size, shape, and location.
3. Consider Pool Accessories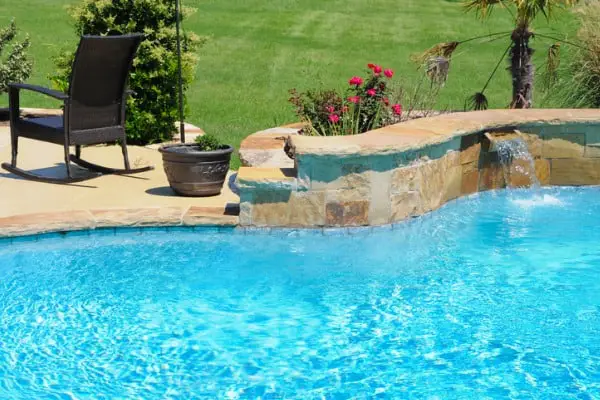 Once you have a design idea, think of how you can accessorize your pool to enhance its style and create room for fun.
Depending on your preferences, you may add a diving board to your in-ground pool if the water depth is deep enough. You may also add a hot tub, slide, and volleyball net for extra fun and relaxation.
You can invest in quality beach chairs like these for lounging or sunbathing. These seats provide a comfortable place to relax while soaking up the sun. Make sure you buy portable weather-resistant chairs so you can easily move them around as needed.
Fountains and waterfalls are also great additions for adding a touch of elegance to your pool.
Designing a stunning pool in your home's backyard isn't as challenging as it sounds. All you need to do is decide why you want a pool in your home.
And then pick a design that suits your needs and blends well with your home's style.
Most importantly, install safety features like a four-sided fence, perimeter alarms, or floating sensors to reduce drowning risks.