Creating a designer-inspired aesthetic in your decor adds a touch of luxury and class to your home.
However, working with a designer to curate colors, furniture, and accessories is a luxury many people can't afford.
With a bit of creativity and intentional work, you can become a master curator and personal designer.
Here are six amazing ideas for decorating your home on a budget.
Custom Drawings and Artwork
Artwork brings a room together and sets the overall tone.
Purchasing real paintings and large-scale pieces requires a considerable budget, and buying department store prints is boring and predictable.
Instead, decorate the walls with your own drawings and artwork. You don't have to be a skilled artist to create pieces for your walls.
You can create modern line art with some white canvases and black markers for a minimalist decor scheme.
Alternatively, get some acrylic paints and do an acrylic pour or abstract piece.
You can find several creative prompts on Craft Whack for inspiration.
Upcycled Thrift Items
Taking frequent trips to the local thrift shops is another effective way to curate unique home decor pieces.
As you navigate the aisles of these treasures, view them for their potential rather than what they are now.
You'll likely find a few decor pieces that you want as-is, but you can also upcycle items that need a bit of work.
For example, you can spray paint that gaudy cat figuring black and dip it in gold paint for a luxurious, sophisticated statuette.
In addition to shopping for potential, it's important to be intentional with your purchases. Consider how you plan on using the item.
How will you alter it to fit your style? Where will you place it in your home?
Intentional shopping prevents hoarding and purchasing regrets. Don't buy something without first clarifying exactly where it fits in your decor vision.
Stage a Bookshelf
Bookshelves are often overlooked as works of art. Yet, this functional storage area is a budget-friendly decorator's dream.
Stage your bookshelf by breaking up the monotony with decor pieces like book ends or your upcycled thrift store finds.
You can also stack some books vertically rather than horizontally for more texture and dimension.
If you're an avid reader and need all of the space for books, consider organizing them by color for an artistic, eye-catching gradient.
Swap Out Textiles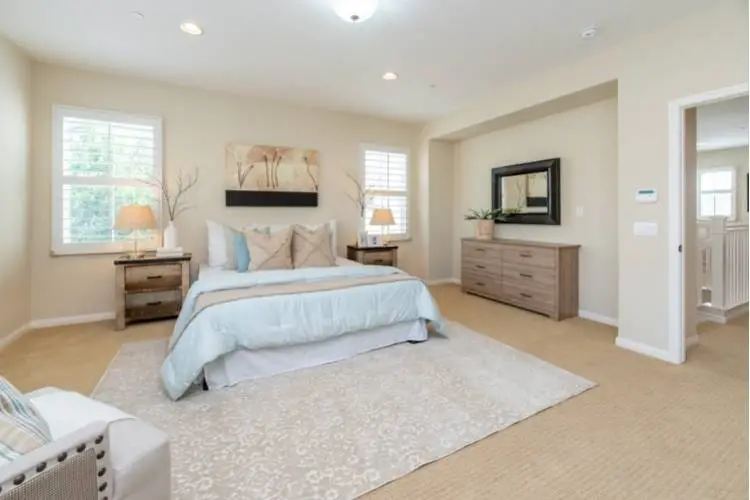 Swapping out textiles is a simple, affordable way to refresh a room. The key elements to focus on include:
Blankets and bed sets
Throw pillows
Blankets
Area rugs
Table dressings
Simple changes in these areas are a great way to make seasonal changes to your decor.
For example, you can make a DIY painted or stenciled table setting for the summer months and swap it out for a rich, jewel-toned set up during the winter.
Sewing throw pillow covers is an easy DIY project you can do with sale fabric or fat quarters.
Being a textile bargain shopper will also help you create a rotation of decor options to swap throughout the year.
Dry or Press a Floral Arrangement
Decorating with florals is a fantastic way to improve the mood and energy in your home decor.
If procuring fresh flowers every few weeks isn't in the budget, consider drying or pressing a floral arrangement to keep it forever.
The best way to dry flowers or herbs for a bouquet is to hang them upside down in a dark, dry closet for a few weeks.
You can then seal them with hairspray or spray varnish to minimize degradation over time. Arrange them in the vessel of your choice for a lovely accessory piece.
Alternatively, press your favorite blooms to vellum or paper by placing them in a stack of books and leaving them for a few weeks.
You can then frame the paper and display it on your wall.
Finally, you can elevate your textiles or use them as your backdrop by sun printing dark fabrics during the summer.
Arrange your favorite florals and greenery on a piece of dark fabric and leave it out in the sun for a full day.
At the end of the day, bring it in, remove the plants, and enjoy the result.
Add an Accent Wall
Adding an accent wall is an easy way to make a big statement in your home decor. You can also scale this project to suit your budget.
If you have a minimal budget, a contrasting coat of paint or wallpaper on a single wall can enhance the room and change the atmosphere.
If budget allows, you could install a shiplap or a mural.
There are endless budget-friendly options for decorating your home.
The trick is to become a budget shopper, plan in advance, and see things for their potential. Channel your inner designer and create a home that reflects your personal style.