Most people want to make their homes as beautiful as possible. And one of the ways that they want to do this is to also reflect their personality and tastes with how the interior is designed.
But there are also other ways like choosing a color theme, picking certain types of furniture, or even installing the right flooring material.
However, if you want a quick and easy way to show a bit of creativity, express yourself, and make your home look gorgeous, then a good accent wall might be a good solution.
But thinking about what kind of accent wall can put you at a dead end. To do that, there are several accent styles, colors, textures, and more that you could use for different parts of your house.
For living rooms, you could use all kinds of designs depending on your personal style and the architectural style of your home.
To open your world up to all kinds of accent wall ideas, here are some examples:
1. Wooden Accent Walls
Wood is always a favorite by homeowners since there are different types of wood and shades to choose from.
You could even achieve all kinds of effects depending on what you're using.
It's possible to make it look seamless for a clean accent wall, or you could even use wooden tiles to achieve a pattern.
For example, there are many wood paneling options that you could try to have a more rustic, classic, or even experimental style.
2. Stick-On Wall Accents
If you want a quick installation, then a stick-on wall accent might just be the thing for you. Unlike paint or wallpaper, it doesn't require too much prepping and steps to do.
In addition to being easier to apply, you can also choose from all kinds of designs. You could choose to get stick-on wallpaper that looks like marble, wood, brick, stone, and more.
And if you want something more fun, you could even get the ones that have actual pictures and prints on them.
3. Plain And Painted
You don't always need to have print, patterns, and textures to achieve a creative accent wall. In fact, you could achieve a striking accent wall with just a solid color.
For instance, if the rest of your living room is muted in color, you could add a yellow or a marine accent wall. This splash of color can add some life and interest to the room.
And you could even add matching furniture pieces and décor that matches the accent wall to tie it together.
4. Artistic Free-Hand Painted Walls
Painting is a fantastic way to change up your walls, and you can even add some designs by free-handing the design.
This is great for those who like to decorate their living room with wall art.
If you love to paint and have some experience with painting murals, you could try out hand painting an accent wall.
The great part about this is you get free reign on how it's going to look. For instance, some people even paint an entire map or a real masterpiece on their walls.
This way, they don't need to use canvas and hang it up—it can simply be displayed boldly on their wall.
5. Stencil Painted Walls
Painting your walls isn't only limited to those who are creative and can paint murals.
You could also try painting your walls and achieve a great design even if you don't have experience. To do this, you simply need to use stencils to create a pattern or a picture.
You could print them out or buy a wall stenciling kit that gives you all the tools and instructions you need.
6. Stone Accent Walls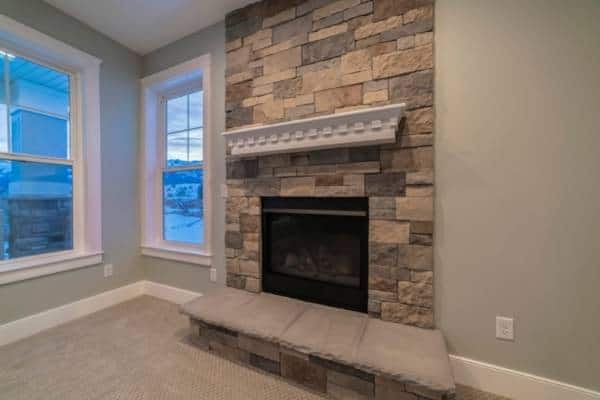 Stone has always been a great choice for houses, but for the most part, they've been used for the outdoors.
But adding them as an accent wall in your living room could add a taste of nature even when you're indoors.
The great thing about stone is that its texture is inconsistent, which adds a raw and wild feeling inside your home.
And if you want to play more into the nature aspect of the design, you could add plants around it.
This way, it accents a natural environment that you might not normally expect from the indoors.
7. Brick And Bold
For those who like the bold and textured look of stone, but not the inconsistent look, you could opt for brick instead.
This is fantastic if you want to add a bit of industrial design to your home without having to go all out.
To get the full effect of brick, you could keep it unpainted.
But if the texture is the only thing you want and not the bold brick color, you could paint it to look more muted.
8. Tile Accent Walls
Tiles are becoming even more popular in different homes because of how clean and pristine they look.
It also can be made from different materials and have all kinds of finishes.
Just remember that it's important to shell out the time and money to have a tile accent wall professionally installed.
However, there are also easy-to-install stick-on tiles that you could try out.
Nonetheless, it requires a lot of care and measuring out to see how you could install it correctly. Otherwise, you could end up with an uneven tile job.
In addition, tile accent walls look best when they're installed into the wall, so they're not raised from the wall's surface.
But it's worth it because tiles will look amazing as an accent wall, especially when professionally done.
Conclusion
The idea of having an accent wall at home is becoming more and more popular because many people want to add points of interest to their homes.
Whether you want to do this by adding color, texture, or patterns, you could achieve this by choosing the right material.
Take your time about thinking what would look great in your living room by observing the interior and the color pallet that you like.
But at the end of the day, as long as you love and enjoy the finished product, then you're doing it right.