As we all know, renovating a home can be rather costly and throw us some rather unexpected costs from time to time.
However, sometimes we must move forward with a renovation to either sell our home, make it a little more liveable or to better adapt it for a growing family. With that in mind, it is always good to kick things off with a budget and try your best to stick to it from start to finish.
That in mind though, it can seem almost impossible to keep on track with a home renovation budget given that our houses can be rather unpredictable — and that's where our strategies below come into play.
All of our pointers, tips and ideas below should help you in renovating with a budget and keeping costs to as low as possible. Take a look!
1. Kick Things off With Priorities
At the very top of your list should be the issues that inspired you to begin your renovation — and these should be where the bulk budget lives.
Take a gander around your home and make a list of all the things that need to be renovated or replaced before you move forward with anything else. A good pointer here is to take a look at what you can and can't live without in a renovation.
With this list, you'll have a good look at what is going to change around the home, and what doesn't particularly need to be remodelled or upgraded just yet. And with those points in mind, you can better control your budget and see where your time and money are being spent.
The small projects or the can live withouts will be able to wait for another day if your budget maxes out on these higher priority tasks.
2. Understand Your Return on Expense
For those of our readers who are renovating to sell their homes, this one is for you.
You'll always want to make sure you're getting the biggest return on your expenses as possible, and that means taking a deep dive into the renovation projects that result in the largest value bump for your home.
As you'd expect, these are typically the kitchens and the bathrooms, though there are some rather 'newbie' renovations that are taking off post-COVID. These are things like creating the ultimate outdoor oasis or great indoor living spaces that bring the outdoors inside.
All that said though, make sure you're choosing the renovating tasks that are going to provide the best return if you're looking to sell. This way, you'll be able to easily offset what you spent in your budget.
3. Planning on Your Financing
Now, this used to be the complicated part until calculator tools like this one gave us a great breakdown of your expenses when it came to loans.
We always suggest being prepared financially before a renovation, and this could mean anything from having a whole bunch of savings ready or taking out an intelligently sized loan to finish up your renovations.
Either way — always be ready when it comes to financing.
One of our bigger tips here is to start off with your emergency fund in cash and run through your renovation on the personal loans that you've selected which suit your budget the best.
This way, when things get a little awry, you'll be able to pull on your emergency fund to clean things up before it begins to impact your personal loan.
4. List Out Your Specific Requirements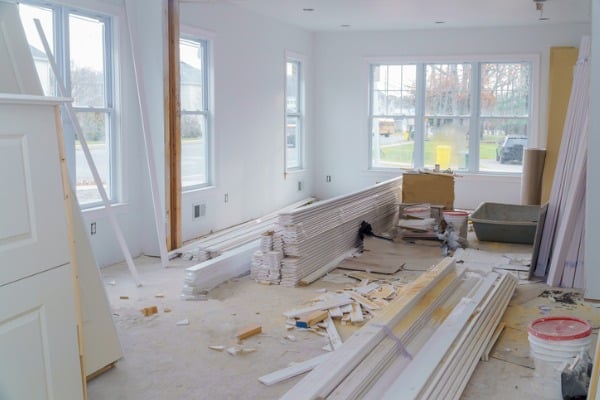 Once your renovation has started, you'll want to be as clear and concise with all of your contractor teams as possible.
Leave no room for ambiguity here.
When you are as clear as day in your requirements, builders and tradespeople will know exactly what you want and are unlikely to make costly and time-consuming mistakes on your project.
That in mind, this goes all the way down to the details in the home such as the cabinetry hardware and things such as lights and ceiling fans.
Be pedantic and unapologetic about your requests and make sure that everyone knows exactly what you are looking for.
5. Cut Costs When Appropriate
To end our list, you'll always want to be on the look out for when you can cut costs with little consequence. There isn't too much point in spending more than you have to, especially when you're on a budget.
That in mind, we highly suggest considering restored furniture, looking at auctions for appliances and even looking on the market for recycled stone and other costly materials.
You would be surprised with what you can find from resellers and sometimes contractors and development companies set their unused stone slabs and similar materials aside when their projects have completed.
You can typically nab these for half the cost and get some decent additions to your home for less.