A garland is an essential part of holiday decorations. Their versatility, timeless charm, and festive appeal make them a favorite accessory during the Christmas season.
They come in various designs and sizes and are made of multiple materials, from shiny tinsel to long-lasting artificial fir or delicate fabric.
The vast options can make choosing the proper garland quite challenging.
How can you select the perfect one that resonates with your taste, the desired aesthetic, and the practical needs of durability? Find out here!
Understanding the types of Christmas Garlands
Different garlands cater to various styles, themes, and needs.
To truly grasp the vast array of options available, it helps to familiarize yourself with the specific types of holiday garlands in choosing what to buy.
Here are the main types of holiday garlands that are commonly used during Christmas:
Tinsel Garlands
Tinsel garlands are known for their shiny, glittering appeal.
They usually come in gold, silver, red, or multicolored shades that reflect festive Christmas lights and add a magical sparkle to the setting.
They are particularly effective at dressing up Christmas trees, mantels, stairways, or front doors.
Beaded Garlands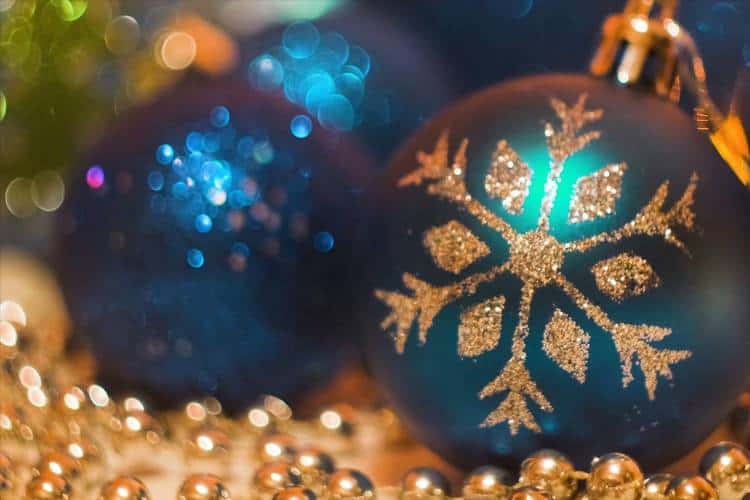 Beaded garlands are made up of a series of strung beads. Usually made from glass, crystal, or plastic, they offer an elegant touch to any Christmas decor.
They are perfect for bringing a sense of sophistication to Christmas trees, chandeliers, and table settings.
Lighted Garlands
Lighted garlands are a convenient choice for those who want an all-in-one solution.
They come pre-strung with holiday lights (usually LED), and some even have timers.
They are versatile and suitable for indoor and outdoor decorations, adding a magical glow to your home.
Pine and Fir Garlands
Pine and fir garlands are designed to mimic the look and feel of real evergreens.
Created with fresh or artificial evergreen branches, they help evoke a natural Christmas ambiance in your home.
They can be beautifully draped over doors and mantels or used as a basis for table runners.
Fabric Garlands
Fabric garlands add a textured, soft touch to your Christmas decor.
Made from felt, cotton, or wool, they typically feature Christmas-themed colors or patterns, such as plaid or holiday motifs.
In the empire of fabric garlands, a popular DIY alternative is to create crocheted garlands.
Depending on your crochet skills, you can create charming, intricate designs that enrich the festive environment.
Crafting your garlands allows for personalization and adaptability, enabling you to match your garlands perfectly with your decorations.
Here's a simple guide to creating your crochet garlands:
Gather Your Supplies: You'll need crochet yarn (preferably in holiday colors), the right-sized hook, scissors, and a needle.
Choose a Crochet Pattern: Decide on the shape or pattern of your garland. This could be as simple as crocheting small square circles or more complex, like creating small star or tree shapes. Plenty of free crochet patterns are available online, catering to all skill levels.
Crochet Your Chosen Pattern: Refer to your pattern and begin crocheting your garland pieces. The number of pieces you'll need to crochet depends on the length of the garland you want to create.
Create a String: Crochet a simple chain-stitch string that will serve as the base of your garland. The chain length will depend on where you hang the garland and how many crochet pieces you must attach.
Attach the Crochet Pieces to the Chain: Use the yarn needle to sew your crocheted pieces onto the chain. Space the pieces evenly along the chain for a balanced look.
Factors to Consider When Choosing Christmas Garlands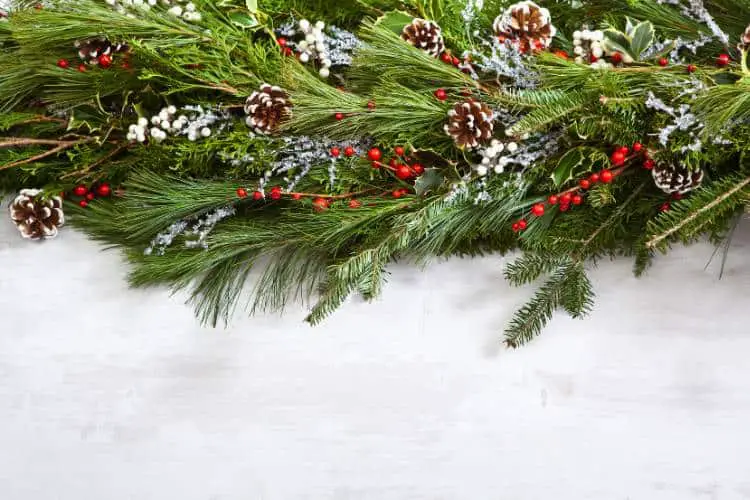 After familiarizing yourself with the common types of Christmas garlands, a few considerations can help guide your choice. Here's what to look out for:
Indoor vs Outdoor
Each type of garland is best suited for specific areas.
Weather-resistant and sturdy materials like artificial pine, fir garlands, or lighted garlands made from waterproof materials are ideal for outdoor decorations.
On the other hand, fabric, tinsel, and beaded garlands that may not stand up well to the elements are better off enhancing indoor settings.
Durability
Your Christmas celebrations may last anywhere from a few days to the entire month of December.
Accordingly, you must choose a fresh and vibrant garland throughout the holiday season.
Lighted, beaded, artificial pine or fir garlands are durable and longer-lasting than their fabric and tinsel counterparts.
Color Scheme
It's crucial to align your garland selection with your Christmas color scheme.
You might prefer the classic Christmas colors of red, green, gold, and silver or lean toward a more unconventional palette like white, blue, or multicolor.
Coordinating the Garland color with your existing decor creates a harmonious, visually pleasing holiday look.
Safety
Safety is a paramount concern, especially when choosing garlands with built-in lights.
Ensure they meet the established safety standards and are suitable for indoor or outdoor usage.
Also, it's crucial to consider the safety of your pets and little ones when setting up garlands with small parts like beads.
Picking Garlands Based on Your Christmas Theme
Your Christmas theme is essential in determining the style of garland you should opt for – whether traditional, modern, rustic, or glam.
Traditional Christmas
A traditional Christmas theme recalls childhood holidays with classic decorations and colors.
For this, the tinsel, pine, or fir garlands are the ideal garland choices. Stick to red, green, and gold for the nostalgic holiday vibe.
Modern Christmas
Beaded garlands are perfect for the modern Christmas lover looking to create a contemporary holiday vibe.
Opt for a monochrome palette like all-white or all-silver to achieve a minimalist yet festive look.
Rustic Christmas
The rustic Christmas theme is all about bringing nature inside and celebrating simplicity.
Pair fabric garlands with pine or fir garlands, especially those made from burlap or plaid.
Together, they create a snug, country-style ambiance that's warm and welcoming.
Glam Christmas
For those who prefer a glamorous touch, lighted garlands in luxurious colors like gold, silver, or white are the way to go.
Combine them with beaded garlands to elevate the glitz factor of your Christmas decor.
Final Thoughts
Indeed, selecting the ideal Christmas garland involves more than picking the most attractive strand; it requires combining aesthetics with practical considerations.
Make your Christmas decorating effortless by considering the type of garland, the areas you'll decorate (indoor vs. outdoor), the length of festivities (durability), the color scheme, and the safety of the lights and materials used in your garlands.
This guide aims to pave your way to a beautifully decorated home filled with cheer and lit with the magical glow of Christmas garlands.