The country style in the interior of a country house and even a city apartment looks especially cozy.
It reminds us of a carefree childhood with our grandmother in the village, filling our souls with warmth and love.
What determines the country style in the interior these days? Wood and stone are used as finishing materials.
The decoration is deliberately simple and rude. The furniture is mostly wood, simple and sturdy with a retro look.
The decor uses an abundance of textiles (curtains, blankets, tablecloths, napkins) even in modern apartments.
A large living room in a rustic style will be a great place to relax with friends and family. Solid wood furniture in the kitchen will harmoniously complement the interior.
One way or another, all country styles have common features. Among them:
– Natural wood. Each style has its own breeds and processing methods, but it is the main material for decorating walls, floors, ceilings, furniture.
– Natural materials. Stone, fabric, leather, metal – all this goes well with wood and is widely used in a country style in the interior.
– Numerous decor. Often functional – for example, crockery.
– Focus on textiles. The fabric is important in all directions of the country style: Russian towels, French curtains in small flowers, English plaid blankets.
– Light aging. A deliberately new piece of decor or interior design will stand out from the overall picture. The atmospheric shabby details will be much more appropriate.
– Live fire. A stove or fireplace in a rustic living room will become the centerpiece of your home.
Color Spectrum
For the country design in the apartment you can choose one of two palettes: light or dark.
The light palette is usually cold, its base is snow-white, gray, mint, lilac, blue.
There are practically no shades of natural wood in such a village house, they are hidden by painting. But the floor and individual parts are allowed to be left warm.
The dark range, on the contrary, is warm: earthy, crimson, mustard. However, they are successfully combined with dark blue, dark green, purple details.
The basis of the country style in the interior is the color of natural wood – light, or dark, red.
Finishing Nuances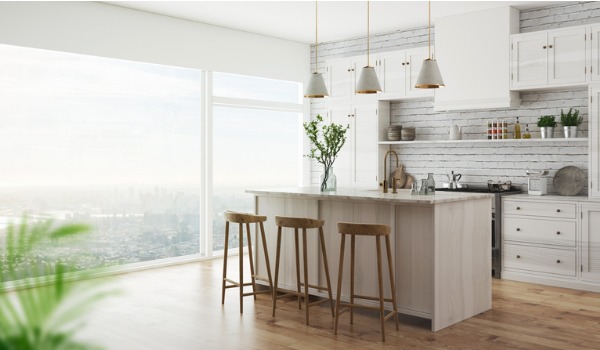 The modern country style is not much different from the authentic one.
During the renovation, wooden panels are left as they are, or they are refined with lining, stone or imitation, brickwork, decorative plaster, wallpaper or fabric (linen, cotton).
The latter are rarely used in monochromatic ones, more often with small floral patterns.
The floor is classic – wooden. At the same time, it is not necessary to put expensive parquet or laminate in an apartment, ordinary boards will help create the characteristic atmosphere of the coziness of a country house.
A simple small stone or ceramic tile is allowed near the stove, fireplace or in the bathroom.
Plain or with a simple print. Wooden beams are often used on ceilings to emphasize the overall natural concept. The ceiling is whitewashed, sheathed with clapboard.
In search of suitable furniture, go around flea markets or look for the necessary interior items on the Internet, like for example nyfurnitureoutlets.com that provides a wide choice of furniture designs in modern country style.
New cabinets and cabinets made of laminated chipboard will not work – look for cabinet furniture made of solid wood, or with wood veneer.
The exception is Provence, for it the facades can be colored, but aged. An antique dresser, a sideboard isn't just a storage cabinet.
Historical things become important details of the furnishings, highlights of the space.
Upholstered furniture differs from modern models in dimensions – it is large, a little rough in shape.
At the same time, the upholstery can be either leather or fabric monochromatic, or with small flowers.
Textiles
The country style in the interior is not complete without textiles. There should be really a lot of it:
Curtains
Draped blackout for bedroom windows, light café curtains in the kitchen, patterned curtains for the living room.
Pillows
Solid, printed or patchwork in all seating areas – from the living room sofa to the hallway bench.
Tablecloth
The decoration of the table speaks of the hospitality of the hosts, you can lay a neatly hanging tablecloth in the middle.
Bedspreads and Blankets
Lay them out wherever you can sit or lie down comfortably – sofas, beds, sun loungers. Woolen, quilted, patchwork are suitable.
Carpets
Wicker carpets look amazing on the wooden floor.
Small Kitchen Textiles
Towels, potholders, napkins and other little things shouldn't be underestimated.
Rustic decor is varied, including different paintings, potted plants, fresh bouquets or dried flowers, pots and vases, baskets.
The hardest part is finding the right fixtures. In many interiors, wrought iron chandeliers or sconces are hung.
A massive Victorian lamp will add a little chic. Wicker lampshades or paper balls will complement the natural theme.
Nobility and Aristocracy
Rustic styles are not alike, each of them has its own history associated with the national characteristics of local peoples.
For many years, practicality and convenience have been the main focus of country style.
In the English country style, design issues were thoroughly approached.
Stone and brickwork are often used in the decoration of the walls, and the furniture is distinguished by its massiveness: a separate dining room will be required for the dining table, and a king-sized bed will look appropriate in the bedroom.
The chairs have high backs and are made of wood, then upholstered in leather and decorated with carvings.
They are usually located in the living room next to the fireplace.
In the color scheme of English country, light tones (beige, gray) are closely adjacent to saturated shades (chocolate, red-brown, dark green).
Heavy dense fabrics are used for decoration. Covers for furniture, curtains, blankets, decorative pillows and other interior decorations are made of them.
Grace and Elegance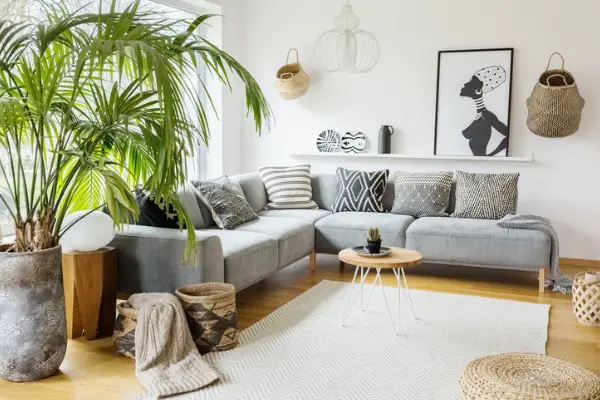 Among many other country styles, Provence is the most romantic and dreamy.
It is characterized by light colors (especially white and blue), delicate pastel shades and floral patterns.
The decor sometimes uses a bright red accent. Unlike English country, Provence furniture is light, elegant and usually in gentle pastel colors.
Floral ornaments are often used in the upholstery. Furniture is also artificially aged to give the interior a retro feel.
The walls are covered with plain plaster and the floors are covered with terracotta tiles or white painted planks.
The French country style suggests grace and the elimination of bulky unnecessary details, but some additional elements are still acceptable.
The Provence style interior can be decorated with homemade lace napkins, a bouquet of wildflowers in a porcelain vase, or wood painting.
The white kitchen with a wooden table looks very elegant.
Alternatively, the retro style decor is also a good option if you want something unique for your home.
So, start checking apartments for rent and prepare for that country style humble abode.