In this time of the pandemic where some people are not allowed to go out due to some lockdown restrictions or simply scared to get the virus, you might experience and discover a lot of things about yourself.
You might be one of the people who discover your talent in artistry or love for journaling, whether it's a hobby or just for winding.
Because of this, you splurge on different tools and equipment for writing and designing like fountain pens, highlighters, gel pens, calligraphy brushes, and many more that you don't know where to store anymore.
With different sizes and shapes of stationeries, storing them can be quite challenging. Worry no more! We will help you solve that dilemma.
We gather 7 craft cabinets that are affordable and extraordinary.
Is it cheaper to buy or build cabinets?
If you are the type of person who doesn't like spending your money on an expensive craft cabinet or you simply don't have enough money, it is okay.
Weighing down whether building a cabinet is cheaper than buying a cabinet can be a bit time-consuming and stressful.
Don't panic because there are a lot of cost-effective and eye-catching craft cabinets in the market. This list will help you decide what craft cabinet you should buy, so let's get to it.
If you are still contemplating buying storage with wheels, this is the sign you need. Having storage with wheels is one of the best choices.
Why? It's very convenient because you can work anywhere in your house and still have your art materials beside you.
The Honey-Can-Do Rolling Storage Cart and Organizer is perfect for storing your craft tools, home office, and scrapbooking materials.
It has 12 semi-transparent drawers in different sizes.
2. Marbrasse Wooden Multi-Functional DIY Pen Holder Box
Who doesn't want a multi-functional wooden cabinet, right? With 12 compartments and a drawer, the Marbrasse Wooden Multi-Functional DIY Pen Holder Box is one of the best pen holders available online at an affordable price.
If you are specifically looking for a penholder, this is perfect for you. This wooden organizer is simply beautiful and will surely inspire you to get your work done.
But, you can also use this as a make-up cabinet for your brushes, lipsticks, and any other small items.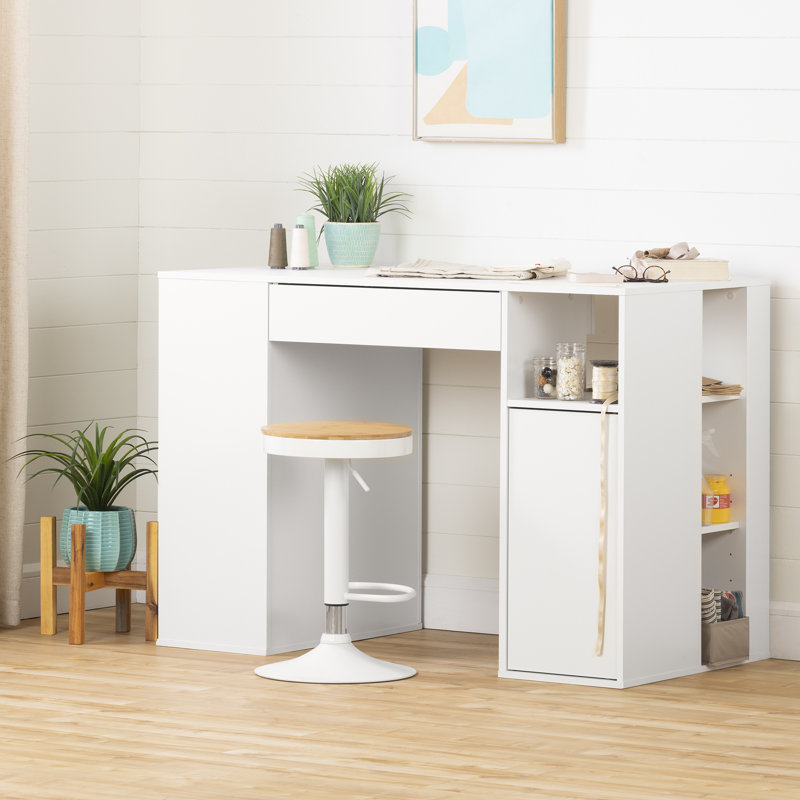 One of the storage cabinets on our list that provides many storage spaces is the South Shore Crea Counter-Height Craft Cabinet With Table.
It's a multi-functional storage cabinet with a table plus four storage baskets in different sizes where you can store big or small items you need for your scrapbooking, painting, and calligraphy.
It's one of the best multi-functional storage cabinets in the market. It has adjustable and removable shelves, so you can arrange it depending on your preference.
Even if it has a lot of compartments, you can get this at an affordable price.
4. Winsome Halifax Storage Cabinet
Next on the list is one of the best-selling and customer-favorite cabinets online. It's the Winsome Halifax Storage Cabinet.
Its minimalist, sleek, and fashionable design is why it is still the very much favored storage cabinet. It is available in Black and white with 5 or 7 drawers.
You can also use this as a dresser or simply a storage cabinet. Here's a trick. Put small containers or dividers inside to maximize the space, so you can store enough items.
5. Best Choice Products Multipurpose Cabinet
Another minimalist design on our list. The Best Choice Products Multipurpose Cabinet is a storage cart that offers tons of storage spaces.
Yes, you read it right. It's a multi-purpose storage cabinet. It has a working table plus a storage cart so you can also work in your bedroom, living room, or even on your patio.
Another catch? After finishing your work, you can form this into a side table that looks good in any room.
Looking for a storage cabinet where you can store numerous items? This Akro-Mils Storage Hardware and Craft Cabinet might be the one you are looking for.
It's a high-quality storage cabinet with 32 small drawers and 12 large drawers. At an affordable price, you can get 44 clear drawers in different sizes.
Amazing, isn't it? It is available in 16, 24, 26, and 64 drawers. You can store your stationery and your other items like toys, hardware equipment, and many more.
7. ArtBin 6830PC Storage Cabinet
But, if you are simply looking for a specific storage cabinet where you can put out your hundreds of washi tapes, stickers, beads, and sticky notes, the ArtBin 6830PC Storage Cabinet is what you are looking for.
It is one of the best-selling affordable storage cabinets that are perfect for storing your small tools. It has 30 clear drawers, so you can easily find the items that you need.
It is very convenient to put on your table or mount on your wall with its small size.
Conclusion
There are numerous affordable storage cabinets from wooden to plastic. These great finds will surely store enough items in your house from craft tools to supplies like yarn and thread to can keep your space free of clutter.
Keep your space organized with these 7 craft cabinets! So, what are you waiting for?
You can find these online and discover various storage cabinets you like. Arts and crafts shouldn't be messy. Stay clean and organized.