If your shed (want a new one?) or garage looks and feels dull, it might be time to look into possible lighting solutions. It will make the garage a safer place to walk through and work in and improve the room's look.
We understand, though, that getting the proper lighting for your garage can be a challenge.
First, you have to navigate tens of options available to you and can end up feeling more confused than you were at first.
Secondly, even if you find a good option, the size of your garage can be a deterrent to finding the right fit.
To help you move through the selection process fast and knowledgeably, we have compiled the most common garage lighting options.
LED Lights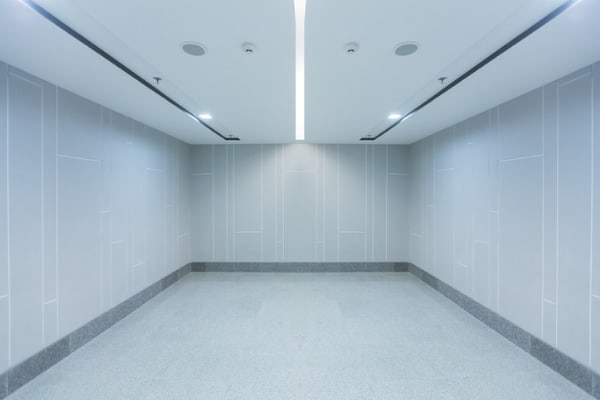 These lights top the list as far as energy efficiency goes. Compared to traditional bulbs, they use way fewer watts and produce the same or even higher brightness level.
For example, if you install a LEPRO light in your home, you will spend much less money on maintaining it than you would on traditional lights.
It uses about one-fifth of what other lights use to produce an equal amount of brightness. Additionally, it can last you a good 25,000 hours and give you an outstanding value for your money.
Thanks to technological advances, manufacturers now have an easier time making LED lights.
They now offer them to the market at much lower prices than they did when LEDs were new. If you've been holding back due to the initial costs, you need not worry about this anymore.
You'll also love that these lights can light any garage. Take the 150w UFO LED high bay for garage as an example.
If you have a huge garage and need lighting to cover every nook in the room, you cannot avoid high bay lighting. It's but one example of the ways you can use LED lighting.
Other benefits of LEDs include quiet operation, no mercury, no infrared or UV rays, and no startup delays.
Unlike other lights which pop and go off without notice, LEDs quietly dim over the years, warning you of what's coming.
Is there any downside to using LEDs? One point to note- their light is directional and will only move in a given direction.
That means you will need more than one LED to light your garage. But with their numerous advantages, it seems like a small price to pay which we will leave to you.
Shop Lights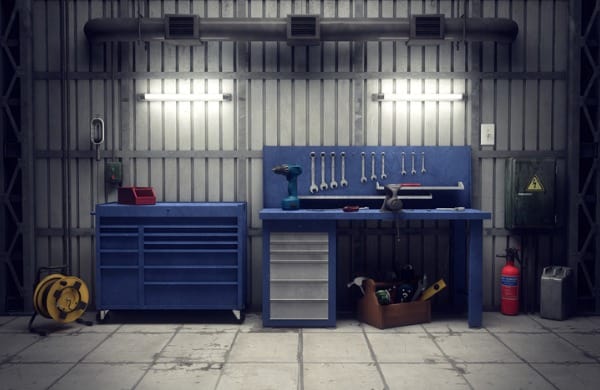 If you've been looking for garage-specific lights, you've probably seen or heard about these lights.
They are ideal for workspaces, including offices, retail shops, and of course, garages!
They are an improvement to fluorescent lights and are now becoming popular thanks to their cost-effectiveness.
Typically, people used fluorescent fixtures in their garages for a long time. These featured tubes four feet long and lasted way longer than traditional lights.
Interestingly, they also had low energy consumption and were great for lighting workspaces.
Over time, people began embracing LED shop lights as these had better performance regarding energy efficiency.
Additionally, they had more life hours which augured well with garages which are demanding when it comes to lighting.
Installing these lights may seem hard at first. However, that is not the case, and they are pretty easy to master.
You don't even have to be a guru in DIY and can make do with a simple video. It's always good to call an electrician for such work, though.
You can save money on other areas, e.g., positioning the lights for the best lighting and going the LED way.
Presently, you can work with retrofits and integrated LED options, all of which have fantastic light quality.
High Bay Lights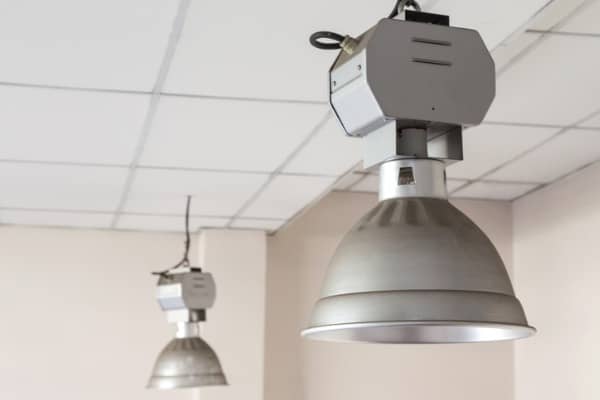 We cannot talk about lighting garages and not touch on high bay lights which are ideal for lighting large rooms.
Whether it's a garage, a gym, a large store, or even a shared office, this type of lighting works.
It's highly powerful and puts an end to the grim state of many garages, which tend to be quite dull. These lights are so good that they can even work for industrial use!
You can fix this lighting to the ceiling or hang it like you would with pendant lights. Add the hooks and chains, and you will be good to go.
One reason why people love this lighting is its uniformity. There are no scattered spots or weak areas in its rays, ensuring that you can rely on it for task lighting.
All you need is to arrange the lights spaced close to each other to avoid any gaps in the overlap. The resultant light will be clear with very minimal glare.
Do you want to know the best part? You can get LED high bay lights.
While other lights such as metal halide and fluorescent are available too, LED would be your best bet in reducing your energy costs.
LED bay lights can last as much as 40 times the average bulb's life. Imagine those savings.
Recessed Lights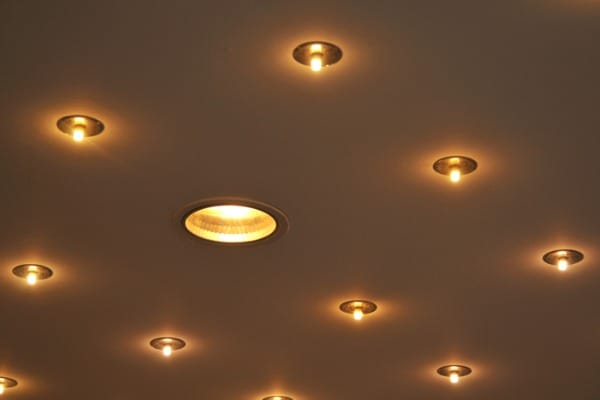 Here's another concept that will have your garage looking like a dream. Recessed lights, when spaced right, can illuminate your garage just right.
You install these into the hollow openings in your ceiling and allow them to pour light into your garage.
Concentrating this light downwards makes the light even stronger and ensures that little light goes to waste.
It's no wonder they are becoming increasingly popular in garages and commercial spaces.
These lights hide in the ceiling and reduce the eyesore that comes with glaring lights hanging from the ceiling.
If your garage is more of a chill space than a workspace, this concept will look right. Plus, the lights cover the whole room, ensuring you have good visibility.
You can still tinker with your car, grab a cold one with your friends or even hold band practice in the room without straining your eyes.
Recessed LED lights are a great option as they not only look good but will also help your bank account look good too.
What option do you think is ideal for your garage and why?