Are you in the market for a new paint job for your home, but don't know where to start?
Choosing the right color can be daunting, but don't worry – we're here to help! Painting a kid's room or a kitchen are two different choices you need to make.
Today the styling of the home has changed manifold so painting walls also need changes.
If you are looking forward to giving your interior a new trendy look, check out Top Tier Painting Inc, one of the best interior painting services provider.
Interior Painting Basics
Whether you're looking to refresh your living space or add a pop of color to your home office, interior painting is a great way to make your vision come to life.
However, before you start painting, it's important to understand the basics. Here are four things you need to know before you begin:
Choose the right paint
Not all paints are created equal. When selecting paint for your project, take into consideration the type of finish you want and the amount of traffic the area will get.
For example, Eggshell or Satin finishes are best for areas that will see a lot of foot traffic, like hallways or kitchens.
If you're looking for a high-gloss finish, Enamel paint is a good option.
Prep the area
Once you've selected your paint, it's time to prep the area you'll be painting.
This includes removing furniture from the room, taping off any baseboards or trim, and patching up any holes or cracks in the wall.
Taking these steps will help ensure that your paint job looks its best.
Get started
Now that you've chosen your paint and prepped the area, it's time to start painting! Begin by applying primer to the walls using a roller or brush.
Once the primer is dry, apply your first coat of paint using long, even strokes. Let the paint dry for at least four hours before applying a second coat.
Clean up
After you've finished painting, it's important to clean up your supplies and put everything back in its place.
Wipe down any surfaces that have been splattered with paint and dispose of any old rags or brushes.
Taking a few minutes to tidy up will make the process much easier next time around!
How to Decide Whether to Paint a Room or Touch up a Few Spots
When it comes to giving your walls a fresh coat of paint, you have two main options: painting the entire room, or just touching up a few spots.
Which approach is best depends on several factors, including the condition of your walls, the amount of time you have available, and your budget.
If your walls are in good condition overall, with only a few small blemishes, then touching up those spots may be all that's needed.
This approach is quick and easy, and it can be done with minimal disruption to your home. However, it's important to make sure that you use the same paint color as the rest of the wall, or else the patched areas will stand out.
If your walls are in poor condition, with large cracks or significant damage, then painting the entire room may be necessary.
This option is more time-consuming and expensive than touching up a few spots, but it will give your walls an even application of paint that will cover up any damage.
In addition, repainting an entire room gives you an opportunity to change the color scheme if you're looking for a fresh start.
Popular Interior Paint Colors for Kids' Room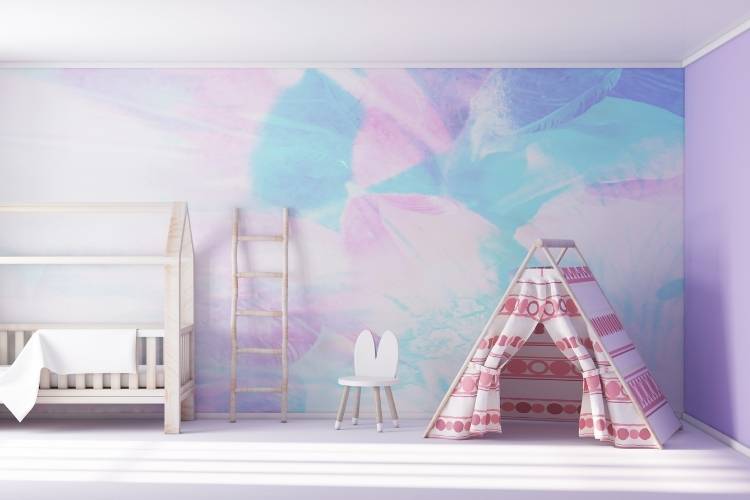 When it comes to painting a kids room, there are a few things to keep in mind.
You want the color to be cheerful and inviting, but not so stimulating that it will be hard for your child to wind down at night.
You also want the color to be durable and easy to clean, in case of spills or other accidents.
With those factors in mind, here are some popular interior paint colors for kids rooms:
Pink
Pink is a classic choice for a girls room, and it can be used in a variety of ways. Pair it with white for a traditional look, or add some brighter accent colors for a more modern feel.
Blue
Blue is another popular choice for kids rooms, especially boys rooms. Again, it can be paired with white for a traditional look, or mixed with other colors for something more unique.
Yellow
Yellow is a happy color that is perfect for creating a cheerful atmosphere in a kids room. It also goes well with other bright colors, so you can mix and match to create your own custom palette.
Green
Green is a refreshing color that can help create a calming environment in a kids room. It also coordinates well with other earth tones, making it versatile enough to use in any type of space.
Faux Finish, a Trendy Painting Technique
Faux finishes are a great way to add texture and interest to any room.
There are many different techniques that can be used to create a faux finish, but some of the most popular include sponging, ragging, and stippling.
Sponging
Sponging is a technique that uses a sponge to apply paint to a surface in a random pattern. This can create a mottled effect that resembles natural stone or marble.
Ragging
Ragging is another popular technique that involves dragging a piece of fabric through wet paint to create a striated effect. This is often used to create the look of linen or velvet.
Stippling
Stippling is a third technique that involves using small dots of paint to create an overall effect.
This can be used to create the look of granite or other rough-textured surfaces.
If you want such tactical paints in. your home, it's better to hire a professional interior house painter.
If you paint it yourself most probably many problems will occur.
Cost for professional interior painting services
Though the professionals cost more but honestly it's one time spending. Your paint will last almost forever if you take care of it.
The contractor hired or a professional should be licensed, referred, and experienced. Without these capabilities, the painter's hand will be no different than your own.
You can go for Top Tier Painting Inc. for worthy and trusted interior painting services and economical rates.
—–
Now that you've read our guide on interior painting, it's time to get started on your project!
If you have any questions or need help deciding what color to choose, don't hesitate to give Top tier painting Inc. a call.
We can provide expert advice and assistance for every step of the process – from picking out the right shade of paint to applying the perfect finish.
Thanks for reading, and we hope you enjoy your newly painted home!