Wood walls are the hottest trend in home decor, giving a warm rustic appeal to indoor spaces.
The elegance of wood makes it the go-to material for many homeowners looking to add a touch of style to an otherwise dull and drab living space.
The creative possibilities afforded by natural hardwood are seemingly endless; all it takes is a little bit of originality to decorate a unique and inspiring theme.
Do-it-yourself wood walls are one trend that has taken the interior wood decorating world by storm, as an increasing number of people are shifting away from generic wall designs to more custom looks.
After all, half of the fun in owning a home is being able to make it your own. In this sense, DIY wood walls genuinely are an excellent way to turn that blank canvas into something warm and inviting.
And the good news is they can be done extremely well on a budget!
Wood walls: Delving into the DIY experience
For those looking to get the biggest bang for their buck, pallet walls should be on the list of possible choices.
As the name suggests, these are constructed solely from an assembly of pallet boards.
Who would have thought a warehouse shipping material could be used as a decorative piece of art?!
The rustic nature of pallet wood walls appeals to homeowners the most, not to mention their ultra-low-cost.
Wood walls add a trendy rustic element to any indoor space.
So where can you find them? Most companies discard used pallets such as these and would gladly give them to an interested homeowner upon request.
Keep an eye on local classifieds, too! Putting the wall together requires first taking the pallet boards apart (watch for nails), then rearranging them in a pattern of your choice.
Mixing and matching board lengths and colors is a great way to make that one-of-a-kind living room or bedroom you always longed for!
Wood grains walls are another DIY option that have seen a rise in popularity over the last few years. An entire veneer section runs approximately $50 and is available in various material types and tones.
Update your entrance with wood
Next up is that boring and outdated entryway. Due to their relatively small size and flexibility, these areas can quickly be completed on a $100 budget and a day's worth of work!
Add some lumber, hang a few coat racks, and paint the wood to match the corresponding palette. Clean, simple, and stylish!
Plank wood provides the perfect combination of rustic appeal and modern aesthetic, and you do not have to go overboard (no pun intended!) to make a memorable wall.
Instead of spending a ton of money on individual pieces, simply use leftover remnants from previous projects.
This is the ultimate way to stretch your dollar and an artistic one at that. Vary up the wall by alternating between painted, stained, and bare boards.
If you are willing to spend a few hundred more, consider dedicating an entire room in your home to stained wood walls.
Using old barn wood instead of store-bought lumber will help slash the cost of materials.
Long-term care: Protecting wood walls against mold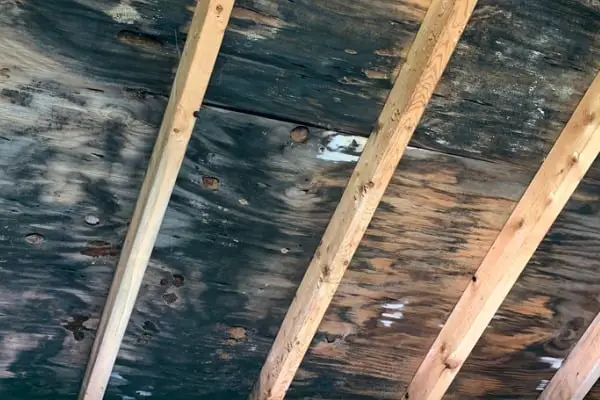 No matter how much money you spend (or save) revamping your walls, it's essential to make sure that this investment lasts as long as possible.
To get the most out of your money and ensure a healthy indoor living environment, you need to prevent water from entering your home.
As experts from Mold Busters stated, moisture is the number one cause of black mold, especially when it comes into contact with wood (a nutrient-rich food source for mold).
This is what happens to wood if left exposed to moisture over long periods: black mold!
This means checking that your plumbing isn't leaking, that your windows are properly sealed, and there are no cracks or gaps in your foundation.
You'll also want to run your exhaust fans when cooking or showering to reduce humidity and consider purchasing a dehumidifier for those hot and humid summer months.
If you're worried that you already have a moisture problem at hand, don't hesitate to get help from a professional mold inspector.
And remember, the key to every successful DIY project is to keep an open mind, and this applies just as well to wood walls. Have fun and explore the options!