We all know what makes a first communion so special for us, our children, our family and our parish. There is obvious deep meaning behind this memorable childhood event.
The very purpose of this right of passage for our young loved ones in our church is represented in the act of receiving the Eucharist. But what about the celebration that follows?
Perhaps we have family and friends over to our home. Or, we celebrate in larger groups by throwing a party. Either way, First Communion decor ideas are running through your head.
The beautiful part about decorating for this occasion is that there some key elements we can use that will make this even stand out even more.
Below, we have found some of these basic elements and have included examples and link to DIY tutorials you can follow yourself. Let's get started!
1. Rustic First Communion Decor
There's something about and outdoorsy, rustic decor theme when it comes to setting up for a first communion party.
From the cake to the party favors, you can use natural, woodsy pieces with lots of fresh greenery to really set a fun, loving tone.
Have fun of course, but keep the focus on what this party is about.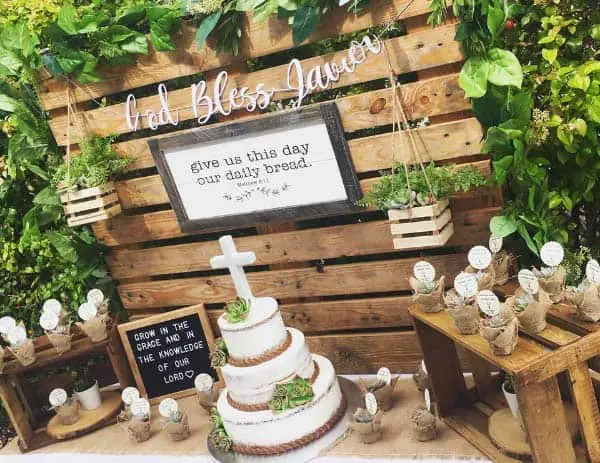 Take a stroll on over and see Jen's post on CatchMyParty.com to get the details and more photos of just how to pull this off so well.
2. Baby's Breath Flower Crown-to-Wreath
Jen from Paisley and Sparrow has created a crown that looks just gorgeous as a wreath on the front door.
Using the classic baby's breath flower, her crown embodies everything it should for a young girl at her first communion.
Why not create several and hang them in and outside your house to celebration the event.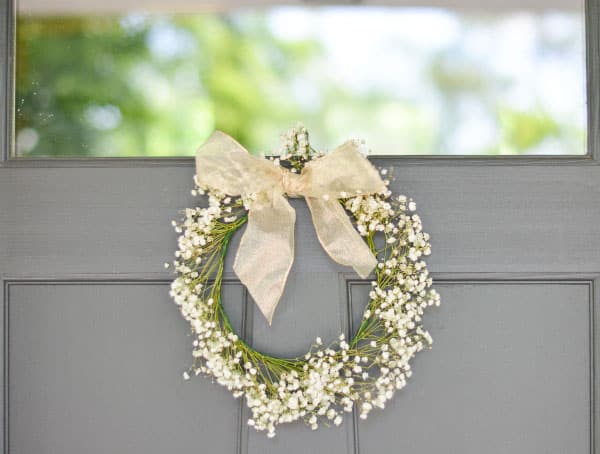 Check out Jen's design and how-to page for this project over at at Paisley and Sparrow.
3. Keepsake Scented Candles
The folks at HappyGlowCandleBar have got it going on when it comes to that special keepsake and gifts for a holy communion.
You can buy these, but like anything awesome, you can also take inspiration and come up with your own rendition.
The ensemble of the ribbon, cross, label and tag tucked in make these glass candles just darling.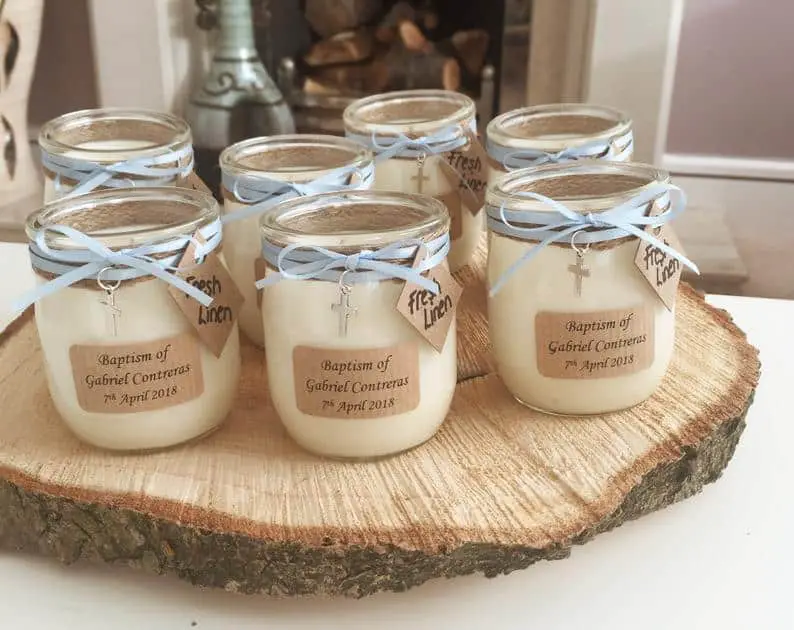 4. Cake and Flowers Go Together
Let's talk color harmony for a moment here. There really are no color restrictions when it comes to first communion decor ideas. Really, it's your call!
Personally, we love spring colors. Bright and natural hues feel special and welcoming, just as you or a child should.
Part of your "edible" decor has got to involve either a cake or cupcakes. What better way to tie everything together than to play of the accents used on the top of the cake with some fresh flowers on your table.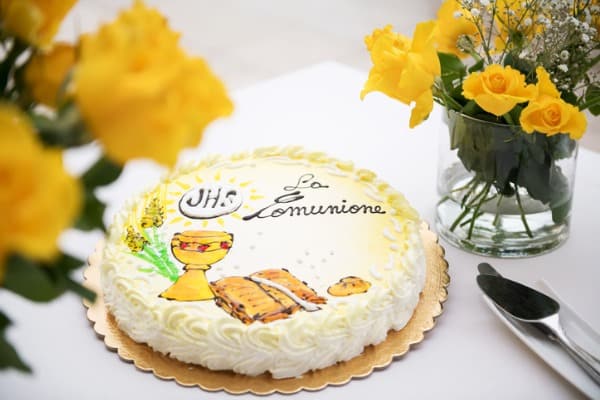 5. First Communion Centerpiece
It's just too cute with it's mini bible and mini bundle of grapes. This is just the perfect little ensemble that will add such a nice touch to your table.
Its details will have your guests staring at it and admiring both the simplicity and beauty that it represents.
6. Invitations to Embody this Joyous Occasion
Part of the decor of any event or party officially starts with the invitation to our guests.
The options for these are simply endless, but here is one sample we found to be delightful.
This one might be for a boy, but for a girl we can see pink and white ribbons with artificial flower petals in place of the fish.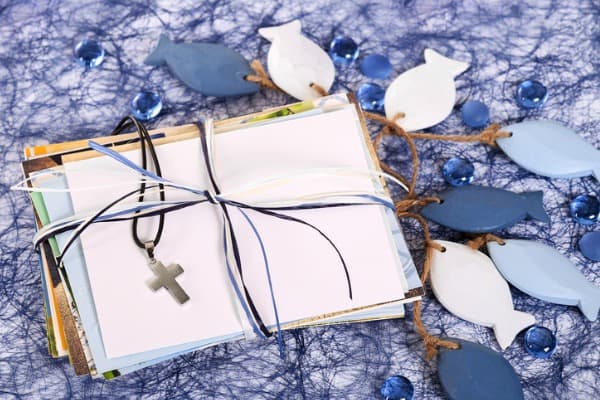 7. Simple but Delightful Paper Dove
Sometimes, making crafts from plain paper can provide the perfect answer to a decor need.
What better than to choose one of the great symbols of the first holy communion. We're talking doves here.
Want to try one that's easy to make but can bring so much heart and spirit to your decor?
Check out this video, and you'll be producing cute, little paper doves in no time!
8. DIY Colorful Communion Chalices
You can't go wrong with a project that uses a bit of Modge Podge. Enter: Mosaic colored chalices.
A creative teacher came up with these, and she uses them with her students. They are a fun and unique way to make a very inexpensive decor for your first communion party.
You don't need many supplies, just some plastic cups, modge podge, tissue paper and a small sponge brush.
We like this one because you can easily involve the kids, and they'll have fun making each "glass" their own.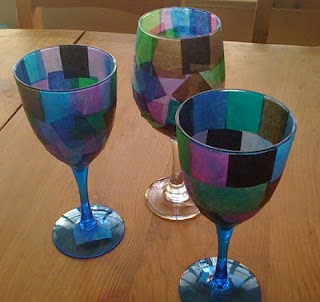 Get more details on how to make your own over at the Catholic Toolbox.
9. Rustic Chalice and Dove Scene
We absolutely love the marriage between the first communion symbols and rustic elements.
This is being "in style" without going overboard and taking away from what's most important.
Again, you can't beat the simplicity of depicted a scene to tell a story as you decorate your home or church lobby or reception area.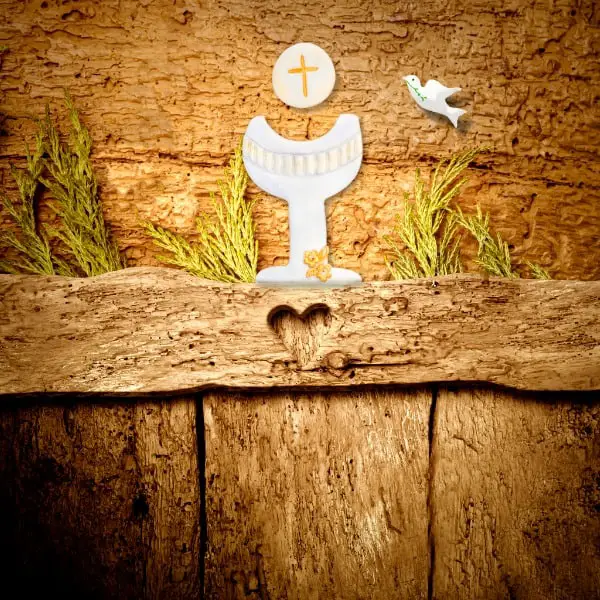 10. DIY First Holy Communion Banner
11. Grapes and Greenery Inspiration
Working grapes into your decorations goes without saying. They are just so pretty in their own right and make the connection you want to what this special day is all about.
Take inspiration from the photo below. There are so many ways to incorporate grapes and large leaves into your decor.
Put them together with any kind of flower and happy green leaves to make wreathes, garland, centerpieces, vines, or strings that hang from the ceiling or loop around tables or mantels.
It's practically endless what can be done with grape vines!
Pick up some artificial grapes from a craft store, or even better use real grapes for a memorable effect.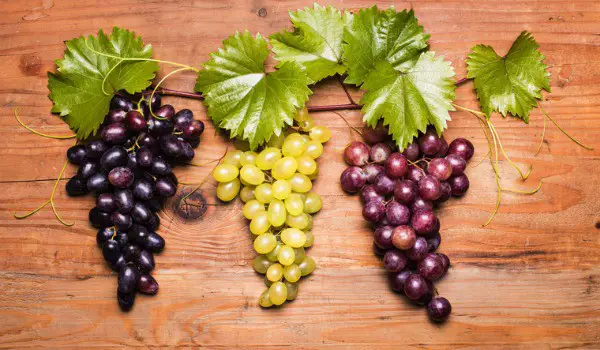 When you think about it, there are so many symbols and props that help support and represent what a first communion is for a young person.
The day is meant to celebrate, and creating decor for your home around this event should be one to remember.
Take these ideas and use them to ignite your own creativity and make this theme all your own, and one you can cherish forever.