Communion marks an important spiritual milestone in a child's life and there's no better way to celebrate it than with a party!
Celebrating communion is a great way to bring your loved ones together and to usher the lucky young ones into the light.
Planning a successful communion party takes a little effort, skill, and creativity.
To plan the classiest communion party, you'll need to have a few key things first.
To help you along your way, here's a list of the most important parts you need to make your party a raving success.
Follow this crafty guide and send your little ones off with the best communion party yet!
Plan and set the date
As with any party or celebration, you need to start things off with a good plan.
Picking the date and time of your communion party can be tricky as church-related events often have a busy and tight schedule.
It's customary to throw the communion party after the day of the first communion, which doesn't leave you with a lot of time to work with.
Start by making a plan and figure out what available time you have on your hands. Focus on what works for you and your family, and then worry about fitting the other guests in.
Decide on whether you'd like to host the event at home or at one of your local restaurants or centers. Do your research, look up the availability, and make sure to check and save the dates!
Get the invitations out
Once you've sorted out the date and time, it's time to sort out the guests! To begin your planning and preparation for the communion party, you need to plan the guest list.
Invite your closest family members and your child's friends from church. Once you've settled on a guest list, it's time to decide on invitations.
Your communion party invitations should be classy and understated while on theme with the importance of the event.
Decorate your invitations with communion motifs like doves, crosses, and angel wings, just make sure to not overdo it!
You can choose to do them by hand or work with professionals for a more polished look.
Have some gifts ready
Gifts are the perfect way to make someone feel loved and special for any occasion.
For the communion party, a small token gift like these for the child is a great way to make them feel special and remember the occasion.
Anything from a beautiful rosary to wall decor to a nice sum of money is appropriate for this occasion.
If you're looking to make the rest of your guests feel loved and welcome, create some small gift bags to take with them as they leave.
Get creative with your party favors and include sweets and treats or beautiful cards with appropriate bible verses.
Make it a group effort and have the ids take home some of their arts and crafts if you have a crafting center at the party.
Plan out the food and refreshments
Food and drink are a big part of communion and the party that follows.
Since communion parties often have many guests, it's best to have the event catered, semi-catered, or hosted at a local restaurant.
Whether you decide to cater it alone or hire a professional chef, choose a formal enough menu that is fun enough for the kids to enjoy.
While you're planning the menu, don't forget the cake! You can go as big or as small as you like with the cake decorations, just make sure it matches the theme and it tastes good.
If you want to avoid a fully decorated cake, get creative with cupcakes instead! Ice your cupcakes and place them into a cross shape to have a fun, festive, and classy way to sweeten the event.
Have a DIY-friendly theme
Whether you're planning a birthday or communion party, having a theme is always a great idea! A great way to make your communion party stand out is to have a fun theme.
Choose a theme that will be both simple and classy, and easy on the wallet. Choose a color scheme and work that into your theme.
White is traditional, classy, and easy to work with as you can easily pick a few motifs to accessorize with. Focus on angel wings, a chalice, and bread, or doves, and run with it.
Weave your theme into every aspect of the communion party from the invites to the desserts to make it cohesive.
Decor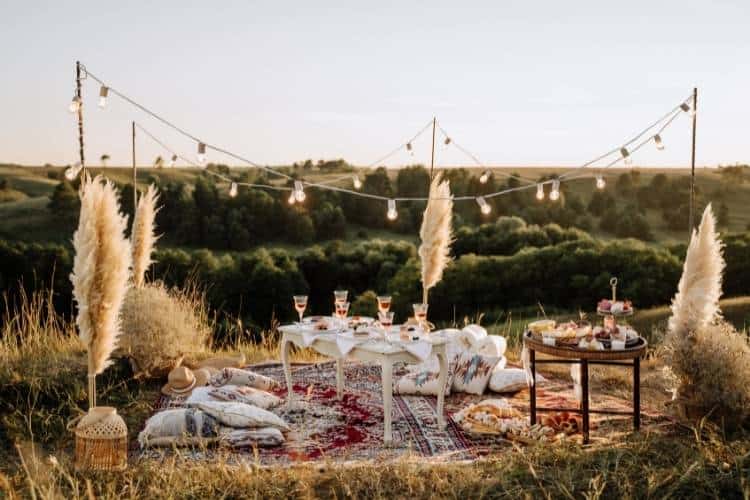 Once you've sorted out the theme, you can't forget the decor for your communion party!
Decorating your space for this important occasion is key to leaving a good first impression and setting the mood.
Your decor should suit your theme and you can go as big or as small as you like with your decorations.
Make sure to not overdo it if you're going for a simple and classy party.
Use tasteful centerpieces of flowers or candles and tie everything together with a cohesive color scheme.
If you're going for a more DIY-friendly look, hang up some of the artwork from the children to make them feel special and to decorate the space.
Plan the activities
An important part of any communion party is the fun activities and things to do.
Creating memories is all about having fun with your friends and family, so make sure to have some entertainment.
Plan some fun activities to entertain the kids and give the grownups some space, or plan something for the whole family.
To keep the kids occupied and having fun you can organize single or group activities at your party. From photo booths and shoots to bouncy castles and craft stations.
Entice the kids to make their own jewelry, art, or flower crowns and they're sure to have a blast.
Make sure to have some good music playing so that everyone at the event can have a laugh and a dance.
So there you have it! With these crafty tips and tricks in mind, you're sure to host the best communion for your loved ones!
Design and send out the invitations and make sure they match your theme.
Prepare some small gifts for the little ones and some party favors for the guests. Sort out the menu and keep things fun, fresh, and tasty!
Decide on a DIY-friendly theme and weave it into your decor. Last but not least, plan some fun activities for your guests and you're good to go!