You may be looking for thousands of ways to arrange a bedroom easily.
However, you must consider that the smaller the room, the greater the challenge, so you must organize yourself very well.
With these 5 valuable tips, you will arrange your bedroom in record time.
Among the recommendations, you will find that your room will gain more by eliminating unnecessary objects.
Likewise, you will know why multipurpose cabinets and other exclusive furniture for the room are so important.
Remove all unnecessary
For you to order your room, you need to eliminate everything unnecessary, which, of course, occupies an essential space.
Observe all the things that are in the bedroom and remove what you consider useless.
The key to success is that the fewer things you have in your room, the better it will look.
If you have objectives in the room with which you share a sentimental bond, try to organize them in one place, either in a closet or under the bed.
You can also consider buying a trunk where you can organize most of those objects such as toys, board games, comics, etc.
Zoning space
Before arranging the room, you should analyze the zoning space.
The smallest rooms are usually 9 square meters; for example, if your bedroom is larger than 20 square meters, you will have more freedom when ordering it.
Zoning space will never be square, so consider this factor.
Sometimes the room could have a rectangular space or disparities between its walls, giving you different measurements.
For these cases, you can make a plan for the room and order things in it.
Color that brings peace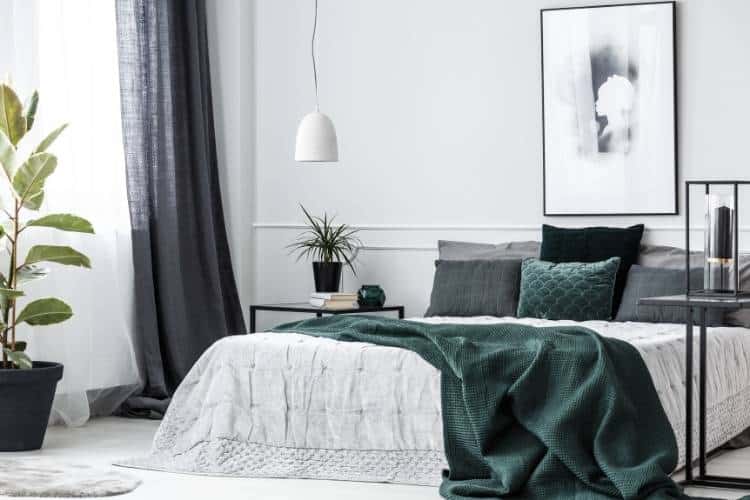 If you want to arrange a small bedroom in the best way, you must do everything possible to have a harmonious room that conveys peace, love, warmth, and style through its painting.
The ideal is to use pastel colors to express these emotions that combine them with the rest of the objects.
You might also consider painting the walls differently to ensure style and relevance in each space.
In other words, it would be useful to paint one wall in a pastel tone, the next one in a stronger color such as purple for contrast, and the remaining two in warmer tones.
Giving your room color is a good opportunity for brainstorming, so you can easily implement this advice.
Convenient cabinet
You must select a cabinet that suits you if you want a room that is both useful and spacious.
In this sense, you should buy a multipurpose cabinet that allows you to organize things in the room easily.
They are furniture used for clothes, shoes, sheets, and valuables you want to store.
To meet the goal, you will have to obtain the best value cabinets that you will easily find online.
These cabinets will also add style to your bedroom, making it look like a space that every boy or girl would like to have at home.
Likewise, you will enjoy a long-lasting product from which you will benefit greatly.
Light
Bedroom lighting is important since it gives you the freedom to make the area appear appealing or unappealing.
Considering this, you should try to give your bedroom the best lighting and not make it dependent on a single light bulb.
Currently, you will find several options to illuminate the room, such as LED tape lights, wall bulbs, or wireless bulbs.
The best idea is to place LED lights around the room, trying to cover the entire space so that nothing is left in the dark.
You can invest very little money trying to meet this goal, so it is not something you should ignore.
Final Words
Organizing the bedroom makes sense, but the reality is that it is a complicated task if you do not have a notion of how to do it.
You must organize your mind before arranging the room to understand ​​what you want clearly.
It is good that you focus on having a clean bedroom, a computer, and good lighting to look beautiful.
You then need to spend some money on useful cabinets so you can organize and simplify your life.