The backyard is often seen as an extension of the home. It's a space where families and friends can come together to relax.
Whether you're entertaining guests or just relaxing in the sun with your loved ones, you'll want to ensure that your outdoor space feels like home.
When renovating your patio, here are some things to keep in mind.
Consider the Space You Have to Work With
Consider the amount of space you have to work with.
While it may be tempting to design a patio that's bigger than your backyard, there are some drawbacks and limitations that could come with this idea.
For example, if you want a large patio where people can gather and socialize, keep in mind that most patios need at least 10 feet of open space on each side for easy access by guests.
That means if you're looking for an extra-large area for entertaining, it might be smarter to build an outdoor living room instead.
Think about what activities will take place on the patio before finalizing any plans or designs.
If possible, try testing out different arrangements until they feel right.
Find Inspiration
Many of us have a hard time visualizing what our outdoor space will look like once it's finished, especially when we're trying to decide how to decorate our patio or backyard.
It can be helpful to look at pictures of other people's backyards to get an idea of what you might want for your space.
You can find inspiration on Pinterest and Instagram.
Look at Your Existing Patio Set-Up and Consider What Works and What Doesn't
Before redesigning your patio deck, it's crucial to look at what you already have.
Not every space will be perfect for your needs, so think about what's working and what isn't.
Consider the following questions:
What do I use this space for? Is it for relaxing with family or entertaining guests? Is it for enjoying the sunshine on a warm day? Do I want some shade in my backyard when it's hot outside?
How do I use this space right now? Do we have an outdoor dining area where we enjoy meals together as a family or with friends? Do we entertain there often, or is this just somewhere we go to relax after work and unwind in peace?
Will our plans change over time, as well as our lifestyle needs change?
Get a Rough Idea of How Much It will All Cost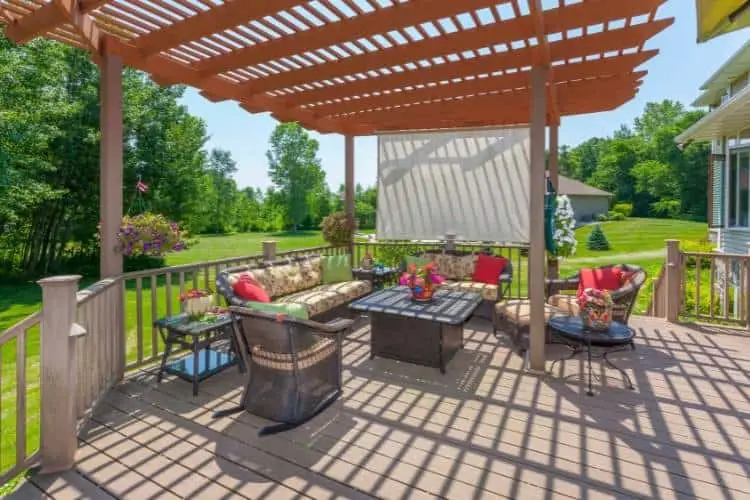 When you're planning a patio renovation, it's vital to get a rough idea of how much it will all cost.
The materials and labor costs are easy enough to figure out, but you should also take into account the permit fees and delivery charges.
If you plan on hiring an installer for the project and using their supplies, factor in those costs as well.
As with any home improvement project, there are maintenance costs that should be factored into your budget.
Over time your patio will inevitably show signs of wear and tear.
Wood-made materials are usually the ones that have much wear and tear over time and basically need maintenance every time other time. You might want to consider installing a composite decking floor to remove the worries about degrading material over time.
So, you must keep up regular cleanings so as not to incur unnecessary expenses down the road.
Additionally, if you decide to do some DIY projects on your own patio area or have family members doing some minor repairs, this can save money instead of hiring professionals every time something breaks.
Create a Visual Plan
You'll want to create a visual plan of what you want to do with your patio, and it's best to start with the basics.
This can be as simple as making a list of all the things you want to do and then using that as a guide for creating your new backyard space.
Think about what size and shape of the patio will work best in your backyard, as well as how much space there is to work with.
Keep in mind that while most patios are rectangular or square, they don't have to be! If there's room for it on your property, consider adding curves or arcs into your design plan so that the space feels more natural when viewed from within the structure itself.
Don't Forget About the Finishing Touches
Start by working on your fence. See if it needs repairs or a paint job. You can use a water-based paint for the fence.
It's easy to apply and ensures color retention. Plus, the paint comes in different colors that you can use to give your patio and backyard a funky look.
Click here to learn more about this type of paint, why you should use them for your fence, and how to apply them.
Afterward, see if the grass or any bushes need trimming. At times, you might need to get rid of a few entirely.
Then, work out a plan to set up lights around the patio seating area. It will look amazing during the evening when you and your close ones gather at the patio.
Bottomline
As you can see, renovating your own backyard patio is a big project.
It can be overwhelming at first glance, but if you take your time and plan out every step of the process, it will go smoothly and turn out great in the end.