The right decor can bring a house to life, but this doesn't just include your furniture.
If you feel like something is missing in your home, then you may benefit from trying out a variety of wall art ideas to complement each room, as this art can elevate and complete any space.
With so many different designs to choose from, you won't have to just stick to standard paintings when considering wall art. So, if you need some inspiration, here are the best wall art ideas for any style.
Canvas prints:
Personalized canvas prints are perfect for any home, and when ordering these prints online, you can often customize them by choosing your own photos or designs to print.
This allows you to truly personalize your space as you can display exactly what you want rather than being restricted by pre-made wall art.
In addition, companies like Hello Canvas allow you to purchase custom canvas shapes such as hexagon photo prints (see more), which can add extra creativity and fun to your home.
3D wall sculptures:
A great way to add shape and dimension to your wall art is to use 3D sculptures like these.
You can find a variety of shapes, including abstract geometric patterns and specific designs like trees or flowers, and also a variety of materials, including wood and metal.
With all of these choices, you can surely find the perfect 3D wall sculpture for your home. In addition, this would be a great decoration for your living room as a statement piece.
Plates:
If you're a fan of 3D wall art, you may also enjoy hanging up decorative plates and platters.
Using plates as wall art can also add a rustic and old-fashioned feel to your home, so this is a great choice if you're going for a specific style.
This type of wall art is particularly suited to kitchens and dining rooms.
Wall stickers:
If you're looking for something less formal, particularly for your bedrooms, then wall stickers are a great option.
With their fun designs and easy application, wall stickers can be the perfect decorations for children's bedrooms.
Of course, you can also use wall stickers for other rooms in your home if you find some designs you love.
Your own paintings:
For creative and artistic people, selecting new wall art is the perfect opportunity to create your own paintings or wall art designs.
Like canvas prints of your favorite photos, your own paintings can personalize your space and make it unique.
If you really want to do something different, then you could skip the canvas entirely and paint a design or mural straight onto your own walls.
This can certainly add a modern and quirky atmosphere to your home.
Additional Ideas When It Comes to Decorating Your Walls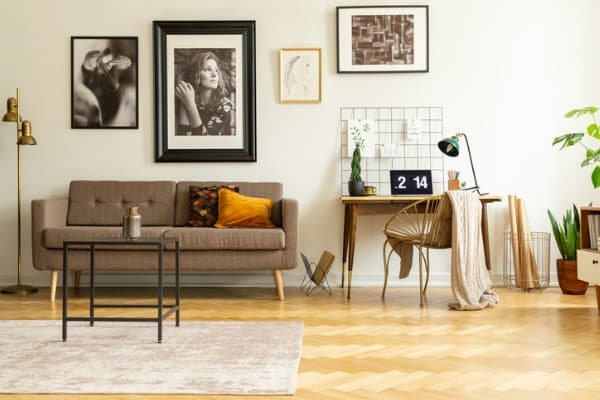 As you look to your walls to create a mood and set up an expression for yourself consider white and neutral colors to truly make your room warm and heavenly.
However, don't be afraid to go bold with colors to really make an impact on your space.
You can color-block the wall with a bright color, or even go two-toned and paint it in two different shades by having the lower half in bold and top in a lighter shade.
Remember, what ever you do when painting the walls will become a potential backdrop for the wonderful wall art ideas above.
Choose a color scheme that is suitable and layer it around your room; try mixing warm and cool colors together.
But for an even more sophisticated look, add an unusual color accent to it.
If your bedroom is white and navy blue, splash around some gold accents to make it pop. This is a timeless look that anyone will love.
Why focus on your walls anyway? Many homeowners have been painting their ceilings and leaving the wall a neutral color to make it appear higher than it is.
For smaller spaces, consider painting adorning that neutral wall with bright and bold splashes of color when it comes to artwork.
This will do wonders in making your environment appear more grand and exciting that the physical space might otherwise provide.
Another idea is to make your entire wall a piece of art through the use of art or creative wallpaper.
You could forget the paint and choose wallpapers that make a statement, especially if you're going for the neutral theme.
Don't be afraid to mix patterns because they will definitely make your room pop.
Wall art is a key part of your home's decor, so it's worth considering which types of art will best fit each room in your home.
Luckily, with so many different designs to choose from, you'll be able to find your perfect wall art in no time.