Getting a job in a different state can be both exciting and frightening.
While most people are receptive to the change, it's still very hard to leave your old friends and venture into the unknown.
Transitioning into a different city is especially troublesome if you haven't properly planned your move.
Small blunders can hinder you during the first few days in this new environment, affecting your job performance and causing additional stress.
In this article, we talk about some of the most important things you should keep in mind when moving cross-country.
We'll share a few tips for choosing movers, and then we'll talk about optimal packing strategies. Enjoy!
Find the right moving strategy
Finding quality cross-country moving companies is always important.
However, it's equally as important to find a proper moving strategy. Here are a few options at your disposal:
Full-service movers
Traditional moving service is the most common choice.
It's a fantastic option if you have numerous large pieces of furniture that you don't want to carry around yourself.
With full-service moving, a provider packs all your belongings on a truck and delivers them to the new address.
Freight transport
Fight transport gives you numerous options.
You can place your belongings on air or land transport while going with LTL or FTL model (Less Than Truckload or Full Truck Load).
The LTL model is especially great for transporting a few items and when you don't need to rush things. FTL, on the other hand, is faster and more efficient but also more expensive.
Containers
Container transport is a fantastic solution if there's a time discrepancy between selling your old house and moving into the new one.
You'll basically need space to put all your belongings while you wait to close on the new house purchase.
When you finalize the contract, you can put a container on transport and deliver belongings to a new address.
Hybrid moving
There's also an option of going with a hybrid service.
With this one, you hire a company to drop off a container at your place, and then you hire movers to pack all the stuff inside.
Although hybrid moving is more expensive than the other approaches, it's a hands-free option that gives you more time for other stuff.
Moving different furniture pieces
Mattresses
Mattresses are one of the trickier pieces. You'll need a slipcover to protect this item, as it can easily get ruined by any spillage.
You can use a mattress for boxing in other pieces within a truck or a pod.
Tables and chairs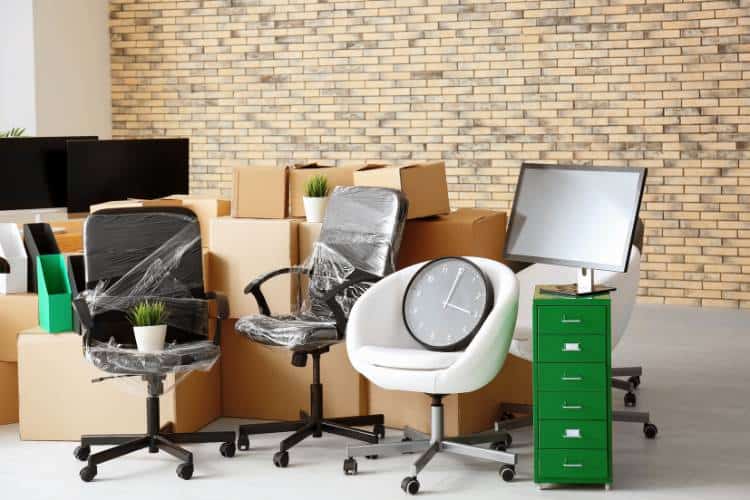 Tables can be tricky if you can't remove the legs. Otherwise, they're rather straightforward for packing.
You should also think about the best ways to stack chairs together so you don't waste too much space.
Bed frame
Like with tables, the difficulty of packing a bed frame varies depending on your ability to detach parts.
Ideally, you should place the wooden frame close to the mattress so it doesn't get damaged during transport.
Mirrors
There's a good chance one of your mirrors will get broken if you don't properly pack them.
So, make sure to get some duct tape, and put a large X across a mirror.
This small trick will significantly reduce the effect of vibrations reducing the chance of breakage.
Packing things together
One of the cool tricks is packing furniture together. Some movers won't tell you this, but you can leave smaller objects in your drawers and closets.
Then, you can pack everything together, thus maximizing the available space. Besides saving space, you'll also save money on the boxes.
In fact, it's even recommended that you use towels and other disposable clothing pieces to cover fragile furniture pieces.
You can even put them inside drawers to isolate smaller objects that you place within them.
Visualize the space and consult
Ideally, you should create a mental map of all the things you want to pack and how they would fit in a truck or a pod.
Of course, that doesn't necessarily mean you'll have enough space to put everything the way you've imagined, but you would at least have some initial blueprint.
Furthermore, it's not a bad thing to consult with movers beforehand.
They can give you a few awesome tips on how to combine different objects and, more importantly, how to avoid damage.
If necessary, you can even do this a few days before the actual packing and move-out.
Most companies are willing to perform this small service. However, it's also recommended that you leave a nice tip afterward.