Ceilings are the most tedious and bland area of any room. But, it need not be so! If you're creatively inclined and can handle a paintbrush, the night sky ceiling DIY would be a good weekend DIY project.
Let's take a look at some beautiful and creative night sky DIY options.
Do note that not all examples were painted on the ceiling per se; some were on the side walls or displayed on a canvas – you can replicate it on the ceiling because the process remains the same.
#1 Acrylic Night Sky Painting
Galaxy inspired artwork looks beautiful. Watercolor and acrylic star ceiling paint looks awesome!
Give the ceiling a light blue paint and use the swirling paintbrush technique for organic tones of color. Paint a dash of purple and green acrylic on the outer edges of the ceiling. Use little drops of water to encourage natural color blending.
Lastly, use white acrylic paint to add dots over the night sky to resemble stars. Draw shooting stars and starbursts for a little fun!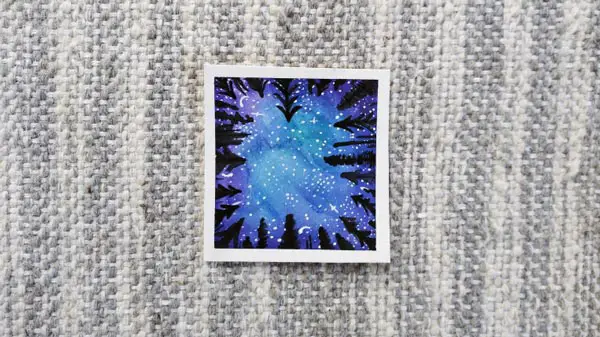 Danielle Verderame created the acrylic night sky look on canvas, but you can blow it up to cover the ceiling.
#2 Night Sky Mountain Painting
Lying down below a starry night with the mountain visible around the horizon is a beautiful feeling. Recapture the moment with this night sky ceiling DIY.
Paint the ceiling dark blue and sketch the picture on it first. Color the mountain with shades of white and grey as it looks during the night. Paint trees with a mixture of brown and black color for the perfect hue; finally, the stars with white acrylic paint complete the look.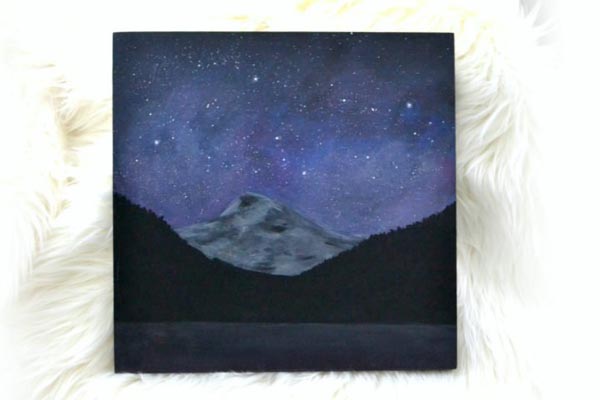 Sarah at Ugly Duckling House painted a beautiful mountain night sky. Have a look!
#3 Night Sky Mural
A simple night sky mural is a perfect night sky beginner DIY project and suitable for a kids' bedroom.
Use a masking tape to neatly paint the wall navy – a double coat if necessary. Avoid getting the polka dotted night sky look by painting some of the areas in light navy color (mix dark navy with white). Use the brushstrokes deftly. Next, use white color for the stars.
You can embellish the night sky mural by stenciling in a quotation or adding a few strands of fairy lights for a soft and comfortable look.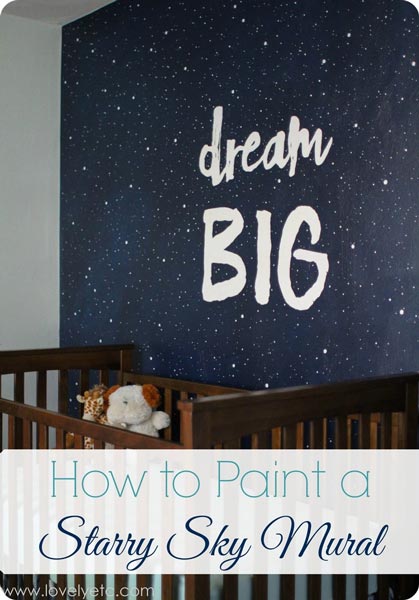 Carrie from Lovely Etc shows how she painted a night sky mural for her newborn's bedroom.
#4 Easy DIY Star Wall
The first step is to paint the wall with an accented texture. Use dark colors like gray or blue, and paint with an even hand. After the wall dries, use white paint color or a white paint pen to put small and big dots to resemble stars.
A thicker group of stars give a shooting star effect. If you want to show Venus and Mars in the distance, paint the white round a lot bigger than the stars.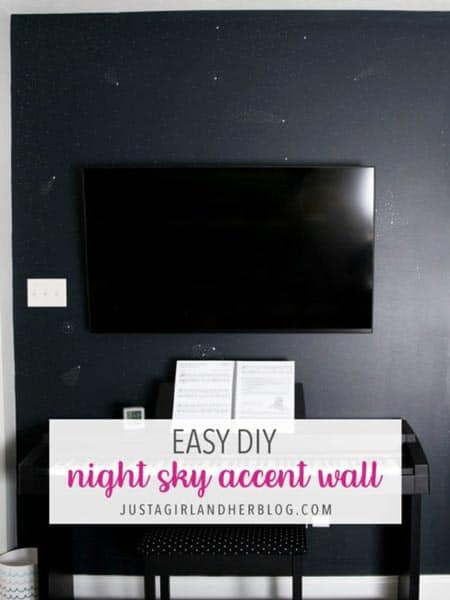 Abby from Just a Girl and Her Blog shows how a star wall is done with few basic steps.
#5 Van Gogh's Starry Night Mural
The "Starry Night" is the most famous painting of all time by artist Van Gogh. It is an excellent inspiration for a beginner star ceiling paint project.
You need minimal colors – black, white, yellow, and blue. Exterior formulated acrylic paint will give you the best outcome. Clean and prime the wall, sketch your best replica of the Starry Night (don't worry about being perfect!) and block it in the colors.
Rough sketch the Starry Night on paper a few times to get the right proportions.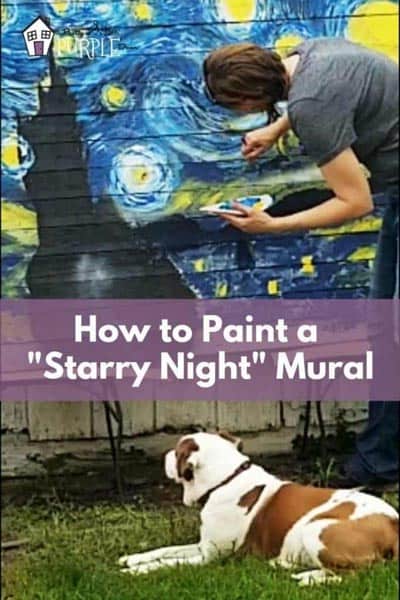 Amy Fedele at Pretty Purple Door guides step-by-step to paint the mural. Check it out!
#6 Large Sky Mural Wallpaper
If you don't want to risk painting and spoiling the wall, the peel and stick large sky mural wallpaper comes to your rescue.
The sky mural wallpaper has rich and vibrant colors. It comes in six pieces for easy installation, and it is simple to remove or reposition without leaving any marks on the wall.
You can improve this by gluing famous quotations to inspire you or hang fairy lights from the ceiling. You can even put a star projector on the bedside table to complete the look.

Buy this amazing piece on Amazon. It'll be incredible on your ceiling!
#7 Dark Star Ceiling Decal
The bright and glowing dark star ceiling decal is perfect for kids' bedroom or holiday decor. These stickers have a 3D star effect for the perfect view of the galaxy, eerily similar to a real night sky.
The duration of the 3D glow is pretty long. Put the decal under sunshine, a lamplight, or a flashlight, and it will glow for the next 8 to 15 hours easily.
The ceiling decal will not fall off the wall, and self-adhesive is used on the glow stars. You can easily remove or reposition them.
Another cool way to add stars to your bedroom ceiling. Check it out at Amazon.
#8 Cloudy Night Sky Ceiling
Painting a night sky doesn't have to be elaborate; it should be done even without any painting experience.
After applying the base paint color, use the paintbrush to draw clouds or a cluster of stars, or something similar to the clustered milky way galaxy. White and gray paint is all you need.
Decorate with 3D lighting installation.
This video shows how a guy did his kid's bedroom with minimal effort and colors.
#9 Northern Hemisphere Starscape
For an authentic northern hemisphere ceiling starscape in your home, use glow in the dark paint, and complement it with glow in the dark custom painted jars with LED lights.
Watch a detailed tutorial on how it is done in this video.
—
We hope you found the night sky ceiling DIY ideas inspirational. Even though we are city dwellers, there is no reason we can't enjoy a starry night once in a while.