Have you considered downsizing and shifting to a slower pace of life?
Most of us have from time to time, and with the right home design, doing so can offer many benefits.
If you have considered park model cabin living, this guide is for you.
We'll review the pros and cons to help you decide if park model cabin living is for you or not.
What Is Park Model Cabin Living?
A park model cabin is a preassembled, portable cabin that is easily delivered to your home or property.
Park model cabins are sometimes referred to as recreational trailers or tiny homes.
While tiny home living has been around for many years, it first gained popularity in the early 2000s as people made it a priority to minimize their environmental impact.
In addition to a lower carbon footprint, tiny home living also offers many benefits, including lower utility costs, less maintenance and upkeep needs, and more affordable living.
Additionally, people can prioritize a more sustainable, minimalist way of life because the smaller space doesn't allow for a lot of clutter or waste.
Why Park Model Cabin Living in Missouri?
Missouri is an excellent destination for tiny home living. For one, Missouri has a lot of rural locations, which can be the perfect backdrop for quaint, cozy, tiny home living.
Additionally, the state tends to be less strict when it comes to building codes and zoning laws, meaning you can easily enjoy park-model cabin living.
Missouri is also subject to all four seasons, which can enhance your tiny home living.
Just imagine watching the seasons change while immersed in the outdoors in your small home.
You won't have to worry about increasing heating or cooling bills since park model cabins are extremely energy efficient.
Choosing tiny home living may also be a more suitable solution to the state's increasing home costs.
The housing market has become extremely competitive in Missouri over the last few years.
Missouri cities like St. Louis and Cape Girardeau have gotten expensive over the years, and tiny home living may be a solution.
Pros of Park Model Cabin Living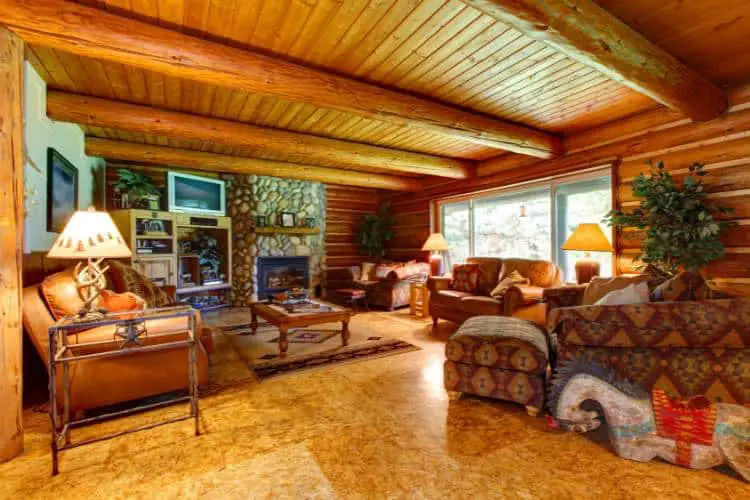 You can enjoy many pros of park model cabin living, including:
Minimal maintenance and upkeep requirements.
Affordable cost.
Easy to install.
Typically doesn't require any building or zoning permits.
Lower utility costs.
Ability to enjoy an outdoorsy location.
Because park model cabin homes offer a minimalist way of life that allows you to immerse yourself in nature, they have become incredibly popular over the last few years.
Park model cabin customers also enjoy the cost savings that come with minimal maintenance and lower utility costs, especially in times of high inflation.
Tiny home living in Missouri is perfect for hobbyists who enjoy bird watching, gardeners, campers, or hikers.
Log cabins also typically hold their resale value well.
With minimal maintenance and upkeep requirements and in-demand wood materials, most log cabin owners enjoy an extended hold on value for up to 50 years.
You can also use your park model cabin for changing lifestyles.
Move grandparents in for extended stays or take longer vacations with the family with minimal costs.
Cons of Park Model Cabin Living
Of course, it's important to be aware of any cons that come with park model cabin living, including:
Minimal storage space.
Not always designed for larger families.
May have unique insurance requirements.
Minimal entertaining space available.
With the right planning, you can easily overcome many of the cons, making park-model living an excellent choice.
You'll want to downsize before permanently moving into a portable cabin or park model.
You could always store your items in a storage facility.
Some families may also use a cabin for temporary living, such as when visiting a favorite vacation destination, which allows you to keep your belongings at home.
It's also a good idea to research your city and state's zoning, permitting, and insurance laws before choosing tiny home living.
Building a deck or patio outside of the park model cabin also increases your ability to entertain guests.
Finally, even larger families can enjoy the benefits of park-model living with a little unique planning.
Built-in bunk beds or blow-up floor mattresses give larger families the room they need in a park model cabin.
Tiny home living is a real possibility for Missouri residents.
Whether you want to downsize after retirement and move closer to the lake, or you're looking for a more cost-effective housing solution for your young family, a park model cabin home may be the answer.
With a little planning and after choosing the right model, you and your family can enjoy easy installation and a more relaxed way of life.