A coffee table is a piece of furniture that often serves as a focal point in a living room. It could also be used in the dining room to create an informal, functional meal space.
Rattan tables are great because they add warmth and charm to any environment.
They are ideal for small spaces because they take up much less space than regular wood or metal tables.
Tables made of rattan add to your home's overall look and feel by creating an inviting atmosphere for visitors to enjoy.
What is Rattan?
Rattan is a type of natural fiber that is widely used to make furniture.
It has been used for making furniture for centuries, and it's still very popular today not only because of its attractiveness but also because it's a renewable resource.
Rattan is an eco-friendly option for furniture because it can replace hardwood or other materials that are more expensive and require more energy to create.
The use of rattan furniture in the home has increased over the last few years as people become more conscious of environmental issues.
They are looking for sustainable materials that are durable and easy to maintain. What's more, they want furniture that looks good too!
Benefits of Rattan Coffee Tables
Rattan coffee tables are best for people looking for more rustic furniture but still want a modern touch.
They come in various shapes and sizes, so customers can find the best one that suits their style.
To determine the design that's right for you, we recommend checking out the selection of 3D coffee table models on Hum3D.
The first benefit is that rattan coffee tables are lightweight. It means that they will not take up too much space, and it will be easy enough to move them around the house if needed.
The second benefit is that rattan furniture is easy to maintain. People often buy furniture made out of other materials because they think it will last longer, but this isn't always true.
But the main advantage of rattan coffee tables is that they add a touch of sophistication to any room.
Apart from the aesthetic value, they also provide a good comfort level, especially for armchairs.
The furniture is made of natural material can last for many years if taken care of properly.
There are no chemicals used during the manufacturing process, so there is no danger of releasing toxins into your home environment.
Where to place a rattan coffee table?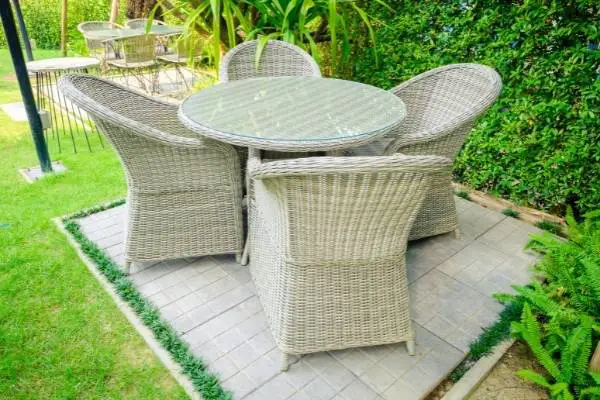 The placement of a rattan coffee table is crucial to determine your room's complete look and feel.
But before you bring home your new coffee table, it is essential to know which room will suit it best.
Small tables are generally placed in the center of the living room or family room, while bedrooms often have them on either side of a bed or in corners.
When choosing the right place for a rattan coffee table, there are a few things to take into consideration.
First, you should know what size your room is. The size of the table determines the size of the room it can be placed in. A small table can be tucked in a corner, while a large one takes up more space and will not fit everywhere.
Second, you should know how much space you have left inside your house or room. If you don't have much space left, then the chances are that there won't be any place for your new coffee table either.
Thirdly, consider whether your home's interior style matches the style of the rattan coffee table. Some styles might look out of place or clash with other furniture pieces in your room if they differ too much.
The shape and size of the room is one factor that should be considered.
For instance, if you have a large open space with no other major furniture in it, then placing a coffee table in the center of that space may be best suited.
However, if there are chairs or sofas around which people will often congregate, this area is likely better suited for the small table.
If you aim for a modern interior, you can place your coffee table in the center of the living area.
If you want to create a more sophisticated and traditional look, then it is best to place your rattan table near an entrance or on the edge of a long hallway.
In conclusion, positioning a rattan coffee table is all about what you want to achieve with it and what your interior design looks like.
Conclusion
Rattan has many positive qualities that make it such a delightful furniture material.
The material is lightweight and can be easily moved around, making it perfect for those who tend to rearrange their living room frequently.
Rattan furniture is environmentally friendly and sustainable since its use doesn't have an adverse effect on the environment.
The modern trend in interior design is about making a room feel spacious and open by using lighter colors and large pieces of furniture to fill up the floor space.
Rattan tables can easily fit this interior style with neutral colors and are lightweight compared to other wooden furniture options.