White has always been the most common paint color that is used in the kitchen and for a good reason.
When building a new house, the ideal first coat of paint that should be applied to the walls is white. White is versatile.
It looks clean and spacious, and it can easily be paired with any other colors. An all-white kitchen is perhaps the most popular type of kitchen out there.
We see it all the time. In condo units, apartments, offices, and landed homes.
To make an all-white kitchen stand out, designers pair it with a color that is the complete opposite of it: black.
For example, if you want your custom pantry design to stand out, you can combine white walls with black hanging shelves and drawers.
Modern white cabinets with black countertops are increasingly becoming popular among homeowners these days. White cabinets with black countertops make a good pair.
They create visual drama and add interest to a rather dull all-white kitchen.
One of the questions people ask a lot is "Should I go for white or black countertops with white cabinets?" You can go with either of them because the effect will still be the same.
But, if you are looking for a more unique and interesting way to pair these two contrasting colors in the kitchen, continue reading below as we present other white cabinets with black countertops ideas.
Black and white kitchen designs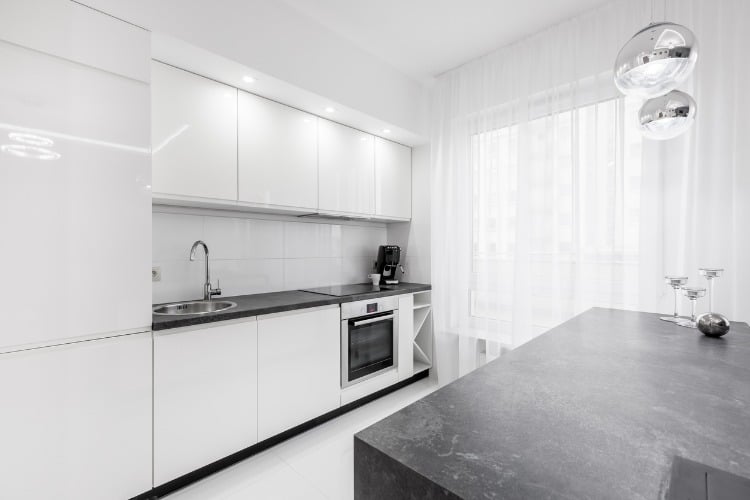 If you are wondering what are the kitchen designs with white cabinets and black countertops you can do to make your kitchen look visually appealing and coherent, we've got the answers for you.
The following design styles mentioned are the most popular and well-known design styles where the colors black and white can be incorporated.
If you are planning a black and white kitchen, there's probably no other interior design style more fit for the look than the minimalist interior design.
Minimalism is characterized by using less ornaments, decorations, and accessories and only sticking to a few functional pieces.
This principle also applies to the use of colors. Neutral colors such as black and white will be perfect for the minimalist look so you can go for minimal white cabinets with black countertops kitchen.
Quite similar to minimalism, a contemporary kitchen also uses the principle of less is more and form follows function.
You can also opt for contemporary white kitchen cabinets with black countertops if you aim to achieve a contemporary look in your kitchen.
It's all about creating a clean aesthetic that looks subtle yet significant.
A Scandinavian-inspired black and white kitchen is not often seen in most homes. In fact, it is a rather rare and unique color combination that can be found in a Scandinavian-styled home.
However, it is only because we are used to the most common characteristic of a Scandinavian-inspired interior which is the combination of white and wooden elements.
You can actually replace the wooden elements with black decorations and design features. Add a bit of gray here and there and you have a monochromatic effect in your kitchen.
Industrial kitchen ideas with white cabinets and black countertops are very common. Black is a color that is normally incorporated in an industrial-designed space.
White, however, is not often used and is only integrated with subtle features such as an accessory, a painting on the wall, or a furniture piece.
You can however paint your cabinets white and create a stark contrast by opting for a black countertop.
Other design subtleties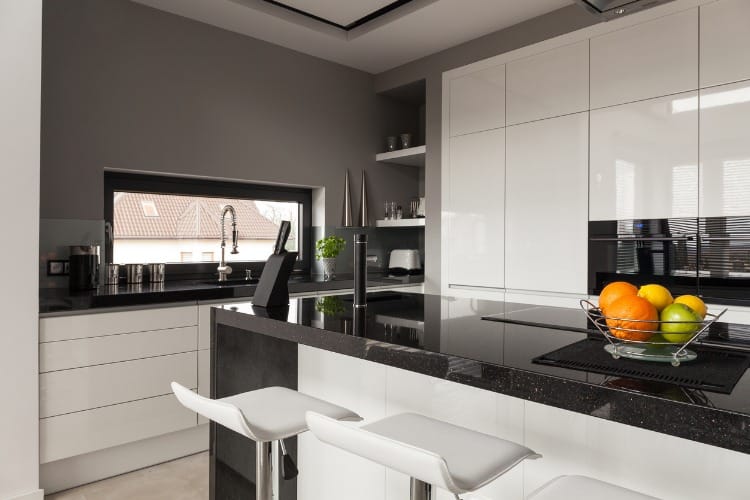 Now, let's talk about other design elements important for the appearance of the kitchen cabinetry: hardware and backsplash.
What are some hardware and backsplash ideas for kitchen with white cabinets and black countertops?
Hardware
The hardware types for white cabinets and black countertops can be either made of copper, brass, metal, or wood.
If your cabinets are painted white, opt for hardware with a black finish. It can be matte or glossy depending on your preferences. If your cabinets on the other hand are painted black, pick silver hardware or gold ones.
Backsplash
There are tons of kitchen backsplash ideas with white cabinets and black countertops. It can be a challenge to choose the right backsplash because black and white colors perfectly blend together.
Adding another element with a bold color might ruin the composition. Go for a neutral white subway tile kitchen backsplash with black granite countertops and white cabinets. A neutral backsplash with white cabinets and black countertops is a good option because it creates visual texture and will not make the kitchen look too boring and empty.
Countertop best materials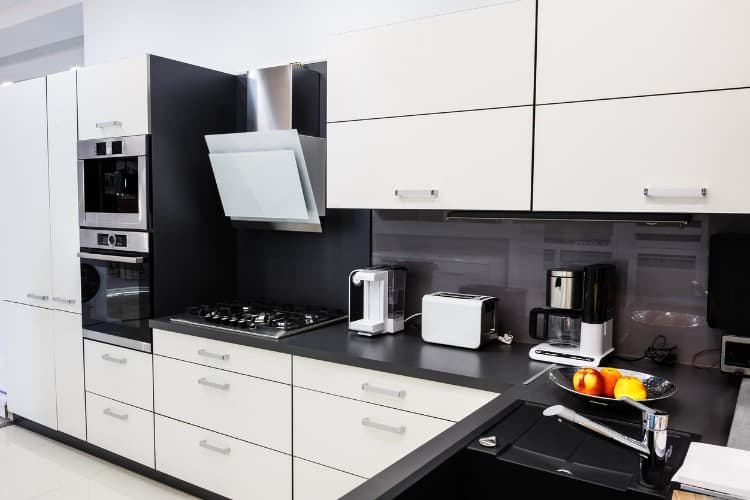 There are many kitchen countertop materials available out there but here are the top most widely used countertop materials that go well with black and white painted kitchen cabinets.
Granite countertops are durable, strong, and easy to maintain. Moreover, it is available in a wide variety of colors and styles. Granite countertops tend to be darker.
You can find shades of black, gray, and brown. If you want black granite countertops with white cabinets, you can find engineered granite slabs in manufacturing stores.
Quartz is actually stronger than granite. It is also non-porous and bacteria-free. Quartz however is more expensive.
If you want to make your kitchen look timeless and elegant, go for black quartz countertops with white cabinets. It is also available in different colors such as black and gray and in lighter colors as well such as white and light brown.
Another common countertop material marble is outstanding. When it comes to aesthetics, marble surely has something to offer.
It gives kitchens a more elegant and sophisticated look. White kitchen cabinets with black marble countertops are a marvellous pair. Choose a marble countertop if you can handle the upkeep and maintenance needed to keep your marble countertops looking good as new every single day.
Laminate countertops are a more affordable option. Unlike natural stone, laminate is cost-effective and low maintenance.
If you are simply updating a small kitchen, installing laminate countertops will do. Although they are not as strong and as durable as natural stone, laminate can last for a long period of time approximately 15-50 years. You can also pair white cabinets with black laminate countertops.