Are you looking for a better way to charge your phone? Wooden charging stations are a great option.
Offering a contemporary, minimalistic design, these stations will not only store your phone while charging, but they will also store other items.
A wooden charging station by Teslyar will last for years and looks great sitting in any room.
If you're going to buy a wooden charging station, there are some things that you should consider.
What are the Features of Wood Charging Stations?
One of the first things that you need to consider is the features of the wood charging station. Different stations have different features, such as:
        Trays for storing keys
        Slots or hooks for hanging watches or sunglasses
        Decorative elements
        Wallet storage
        Cord storage
First, think about what other items you may want to store on your charging station. To figure that out, consider where you'll place the charging station. Some familiar places to store charging stations include:
        Home offices
        Bedrooms
        Entryways
        Kitchens
If you're going to store it on a nightstand near your bed, you may want room for your personal effects, like your watch or bracelet, car keys and wallet.
For home offices, you may need to store pens and business cards.
The placement of the charging station will make a difference in the features you want or need.
Also, think about how you want your phone to sit when charging – upright or on its side.
Do you want the cord to be hidden behind the station?
Knowing which features you want will help narrow down your choices and make it easier to find the right wooden charging station for you.
Simplicity and Ease of Use
Along with its features, you also want to consider how easy it is to use the charging station.
A wood charging station should have a simple design and shouldn't be complicated to use.
The more complicated the design, the less often you'll want to use it. The last thing you want is another product that just collects dust on the shelf.
How do you know if the product has a simple design? First, take a look at its components.
The more pieces, the more complicated the design. Some stations have drawers and compartments that make it more challenging to keep cords in place or store things properly.
These stations also take more time to assemble and can be frustrating to get everything to fit together.
To keep things simple, look for charging stations that consist of just one or two pieces of wood. Make sure that the assembly is quick and easy.
All of the compartments and slots should be easily accessible and right there for you to use. A simple design means that the product is enjoyable and easy to use.
There's no need to overcomplicate things. Instead, choose a design that's as simple as possible while still including all of the features that you want.
Environmentally Friendly Product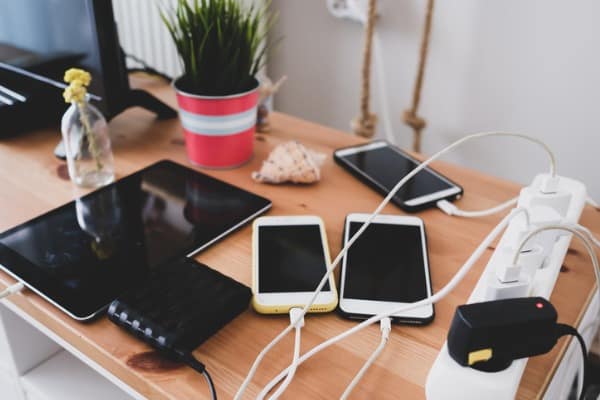 When choosing a wooden charging station, make sure that you buy from a brand that uses sustainable, environmentally friendly practices.
Wood is naturally environmentally friendly, but you want to make sure that the product is made from responsibly sourced wood.
Also, make sure that the charging station is made from natural wood, such as:
        Walnut
        Cherry
        Ash
        Oak
These are all excellent choices for wood charging stations. Not only are they sustainable, but they're also durable and naturally beautiful.
Avoid charging stations made from veneer, plywood or other cheap materials. Products made with these materials won't last long, and they are terrible for the environment.
Plywood, for example, is traditionally made with formaldehyde. Because it's made with formaldehyde, it is not biodegradable.
Plywood also causes a large amount of water, soil, air and noise pollution.
In today's world, it's crucial to think about the environmental impact of the products that you purchase.
Choosing real, sustainable wood products is a step in the right direction.
There are many things to consider when choosing a wooden charging station, but these are the most critical factors.
Ensure that the charging station has the right features, a simple design, and environmentally friendly materials.
Easy assembly and beautiful natural wood grain are two other things that will make your wood charging station perfect.