Uber surcharges, exorbitant cover prices, subpar pubs, and nightclubs crowded with people! Going to public places on New Year's Eve is the worst, we strongly believe.
The obvious solution is to host an at-home New Year's party, which is so fancy and exciting that it will make all of the failures of the previous year look as if they never did happen.
It will even offer a fresh start to the upcoming year.
Ah, good. An intriguing plan. There's only one issue: You didn't purchase any inventory this year, and events, particularly cool ones, can be pricey.
We're here to assure you that they don't need to be. With our tips, you'll manage to throw a fantastic New Year's celebration party without breaking the bank.
Ring in the New Year with style without burning a hole in your pocket
When planning your party, there are several elements to consider for spending minimal cash, minimizing stress, and saving time.
The resources listed below cover everything from picking a theme and establishing a budgeting plan to selecting those unique New Year party invites.
1. Pick a theme you're enthusiastic about
As you'll be the one hosting the party, ensure you adore the theme that you select. Being passionate about your concept will significantly improve the event you are arranging.
2. Choose the people you wish to invite
To determine the magnitude of your event and how many invitations you'll have to order, make a list of everyone you want to invite.
This will help you stay on schedule and organized as you prepare to shop for your celebration.
3. Select a location where you can hold your event and house your visitors
You can either choose to organize your party at a certain location or your home after you have decided on a theme and created an invite list.
Choose a gathering at home to save cash if you want a more private gathering of friends and family.
If you're expecting well over 50 people, you can look into accessible, local, and economical venues.
4. Invite guests a few weeks in advance
In order for attendees to RSVP (Répondez s'il vous plaît aka Respond if you please) throughout the hectic holiday season, pick New Year's Eve invitation cards that go with your concept, and distribute them beforehand.
Don't neglect to include important information or specifics regarding required costumes or relevant dress standards on your invitations.
For uniformity, think about using the same party invitation templates for your cards.
5. Find decorations with a specific theme
Early December is the best time to start shopping for thematic decor and organizing DIY (do-it-yourself) projects because a New Year's celebration is all about keeping your idea as engaging as possible.
For creating the ideal New Year's Eve party atmosphere, select yard signages, customizable flyers, vinyl banners, or bunting banners.
6. Set a spending limit for booze and food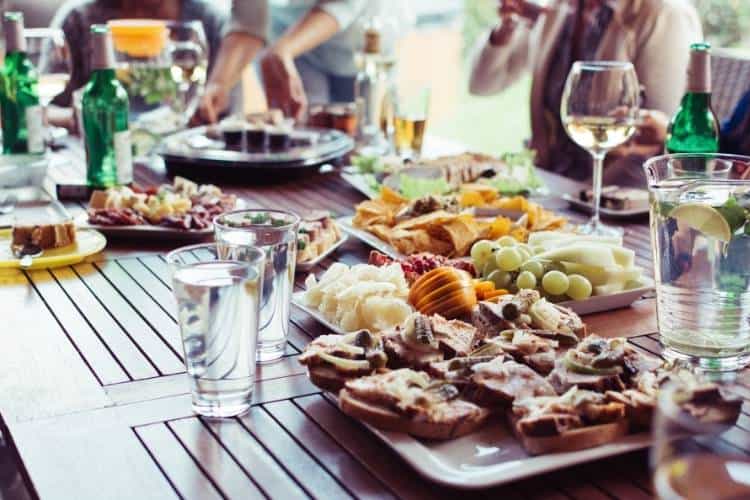 After you've decided on your concept, the number of guests, and invites, you can create a spending limit that accommodates all of your party's needs and demands.
You should provide a wonderful assortment of beverages and serve finger snacks because it is New Year's!
Although it can seem somewhat "cheap," doing a lot of dishes on the year's first day is not preferable. When serving food and beverages, choose disposable cutlery, glasses, and utensils.
The cost won't blow your budget out of the water.
Let's face it: alcohol is by far the most costly buy for any celebration. This time, add a unique spin to the New Year's celebrations by inviting your friends to bring their own alcohol or opting for BYOB (bring your own booze).
Don't forget to include some juices to go with the drinks.
7. Host enjoyable or rewarding activities or games
Don't miss organizing a few exciting activities or games to keep the guests entertained.
A black-light party would be perfect if you're planning to throw in some music and bust some moves after the games or toasting.
You could also try and rent out those silent disco headphones if you want to experience dancing a little bit extra this time.
Games are still a hit at any gathering, whether you want to have guests predict one another's New Year's vows or enjoy a card game.
Organizing prizes for the victors is required when hosting games at parties. And much more so, uniform, useful, and reasonably priced presents.
Similar items are hard to obtain in neighborhood shops. Therefore, you can opt to shop for gifts online. You can add nice messages to the holiday card in addition to the prize.
8. Select simple decorations
It isn't always necessary to use pricey décor; it's sometimes okay to go a little out of the way. Select a straightforward décor for your New Year's celebration to keep costs down.
Consider using decorative streamers, lanterns, flowers, or noisemakers. A homemade "Happy New Year" stunning banner is also an option.
Conclusion
These cost-effective New Year's Eve party ideas can work well on any spending plan. Don't let the expense of planning prevent you from hosting a memorable party.
Your family, relatives, friends, and, most crucially, your checkbook will adore these suggestions.
Why are you holding out? Plan your affordable New Year's party right away!