Every now and then, we all get a wild idea and decide we want to redecorate our home–but there are some things that you need to think about before doing so.
First of all, you must consider each room individually and what needs to be done there. Then, create a list of those things and decide on how much you're willing to spend on each piece.
In this article, we'll take a look at the various rooms in your home and how to approach the redecoration process in each one.
Once we have done this, you'll have a better plan in mind and you'll be able to figure out what it is that you want to do with your own home.
Of course, you must keep in mind that your décor should be a reflection of your personality- but you also must make sure the functionalities of each room is addressed as well.
Living Room/Family Room
A living room has a variety of possibilities. It can be used as a formal "parlor" where you greet guests as they arrive or it can be a place for the family to gather for socializing, studying, entertaining and more.
In many of the modern homes today, the living room is known as the "great room" and is connected to the kitchen and dining areas.
When it comes to redecorating this area, one of the first things to consider is where you want your focal point/conversational area to be.
The way that you arrange your furniture should be a reflection of this consideration. Once you have placed your larger pieces of furniture, you can move to the details of lighting, area rugs, accessories, art and so on.
Bedrooms
Did you realize that you spend about one-third of your life in your bedroom? This means that you need to consider what you need to do in order to ensure that it's a restful place.
The very first thing to consider is your furniture. Do you need a new bed? If so, do you want a plush or firm mattress (get help choosing here)? If you're getting rid of your current mattress, you'll need to consider mattress disposal.
Will you have to pay for this or is mattress recycling an option in your area? Maybe you can just toss it out for bulk trash pickup?
Of course, when you are purchasing a new mattress, you'll want to consider your mattress dimensions.
Do you want to keep the size you have currently, or do you want to go up or down a size? No matter what, the most important thing is that you are comfortable with your decision.
Once you've made a decision on your mattress, you'll want to consider the rest of the bedroom furniture and décor. If you are a morning person, perhaps lighter hues will be better for you.
On the other hand, if you are a late riser, perhaps darker shades will be more pleasing for you.
The lighting in your bedroom is critical for creating the right mood, allowing you to get dressed and allowing you to read if you wish.
When you're redecorating your bedroom, don't forget to take a look at the kids' and guest bedrooms (if you have them). Don't forget to find out how and where to recycle your mattress if that is offered in your area.
When it comes to decorating kids' rooms, it's still common for parent's to choose themes that are traditionally boy/girl themes.
Of course, there are some parents that prefer more gender-neutral décor. Older children may wish to choose their own theme, which is something to keep in mind.
Bathrooms
If you want to create an elegant spa environment in your bathroom, but you're on a budget, try researching ideas on how to make the room feel softer and more sophisticated.
You may also want to learn more about how to choose the lighting, accessories, tile, sinks, cabinets and mirrors. If you have a smaller bathroom, the challenge is going to be in making it look and feel bigger.
Of course, if your redecorating plans for your bathroom turn into a full-blown remodeling contract, learn how to work with contractors and how to avoid going over your budget.
Kitchen
When it comes to redecorating/remodeling, your kitchen can be one of the most expensive rooms. Therefore, you'll need to be careful with your plans.
Of course, if a full remodel isn't something you can afford right now, there are plenty of budget options that you can consider including replacing sink/faucet, adding new accessories, freshening the paint and more.
Of course, if you can't afford to do any of that either, you can always change up some of the décor in your kitchen to make it look brand new.
Dining Room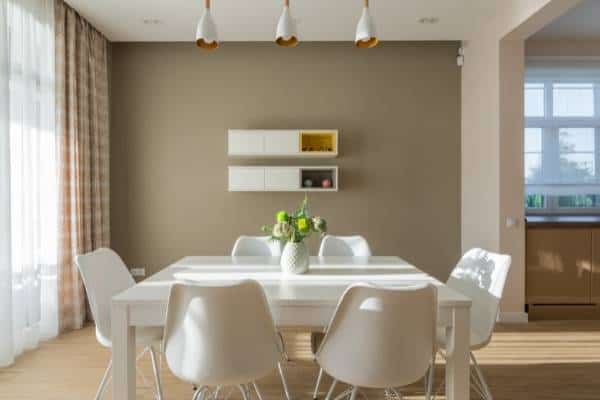 When it comes to your dining room, the table is the centerpiece of your room, so it's a critical piece of your project.
Choosing the appropriate furnishings is central to any project, especially if you have a small dining area. Other important things to consider are chairs and the lighting, which can define your overall style and set the tone for mealtimes.
Foyer
The foyer, or entryway, should be inviting. This area sets the tone for the rest of your home. However, there are so many practical things that you should consider as you design/decorate your foyer.
Things such as fixtures, flooring and storage should all be taken into consideration when you are working on this area.
Home Office
If you have an office in your home, your needs will be different if you are meeting clients than if you are just working on your own.
There are some specific things that should be considered when planning out this area. If budget is a concern, look for ways that you can save while getting the key furniture you need.
For example, you can get yourself a comfortable chair for your home office at Ergo Tune.
Conclusion
When it comes time to redecorate/remodel your home, you'll want to take it room by room instead of trying to do it all at once.
You'll definitely want to consider your budget first and foremost. Consider each room individually and what needs to be done in each one. This will help you ensure that you're happy with what you get done.