If you are looking to add charm and beauty to your garden, look no further! We have created a list of 10 important decking accessories you can use to enhance your space.
Whether you are on a budget, have a family or want to create a backyard area perfect for hosting all summer long, there are multiple ways you can do so.
From adding features such as a fire pit or hot tub to provide a focal point for parties and gatherings to simply adding lighting or garden planters to give the area a fresh look.
Trims
You can easily enhance a decking space by using trims to add to the aesthetic and finish the decking off.
Many customers choose to create a contrast with colors when adding trims to their decking, which can complement the surrounding area and provide a modern feel to the space.
For example, if you have light grey decking as shown on this UK site, you may opt for a dark grey trim to contrast the color.
Not only will this add aesthetic value to your backyard, but it can help prevent injuries from falls, as the edge of the decking is more noticeable.
Pergola
A popular method to add charm to your backyard is by adding the feature of a pergola.
A pergola provides shade which ensures you can use your backyard even in the scorching heat throughout summer.
Adding a pergola to your backyard will add shade and reduce the fade of your decking boards, as it stops the powerful UV rays from the sun.
You can buy pergolas online or in-store to suit your backyard theme and don't have to worry about the price, as there are many various price ranges across the market to suit all homeowners.
Planters
If you are looking to bring some life back into your space, especially if you have a modern aesthetic in your backyard, a great way to do this is by constructing planters to hold flowers or vegetables.
Composite material is ideal for this due to its resistant qualities, which ensure it absorbs minimal moisture and is less likely to rot than other materials, such as wood.
Additionally, your planters will last for 20 years + without needing replacement because of their durability.
Creating planters means you can add color to the space naturally and even provides functionality if you choose to plant herbs or vegetables.
Balustrades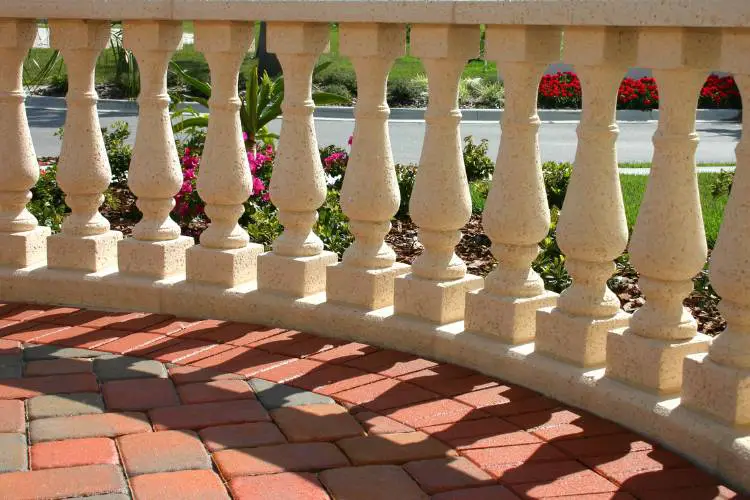 Balustrades are decking accessories that are more commonly used with raised decking for safety.
Despite this, balustrades are a beautiful addition to your decking and not only provide functionality through safety but can add aesthetic value to your yard.
There are many balustrades on the market to choose from to suit your particular yard, such as glass which can provide a modern appearance, or composite balustrades can give a more traditional feel and match the surrounding environment.
Stairs or Steps
Adding steps to your decking is not only functional but will add dimension to your area and can be installed with lighting that will add to the aesthetic of your area.
Stairs are also often accompanied by balustrades for safety, making your backyard more beautiful and enhanced.
There are various styles of stairs that can be use to match the surrounding area, such as spiral steps, L shaped or bifurcated.
You can even add steps yourself as a project using composite material or timber. Therefore, steps aren't just for practicality but can be adapted to elevate the area's appearance.
Hot Tub
A hugely popular feature for your yard is adding a hot tub to your decking area – learn more. This will create an area perfect for hosting parties and gatherings for you and your friends.
Not only will a hot tub make for a relaxing feature that you can use all year round in any season, but it will ensure you spend more time in your garden space.
Who doesn't want to dip into a hot tub to wind down after a long day at work? When adding a hot tub to your garden, you must ensure the ground beneath is suitable and safe.
For example, it is not recommended to fit a hot tub onto wooden decking, as this is susceptible to rotting from moisture and becomes slippery when wet, which can become a hazard for you and your family.
Another factor that must be considered when adding a hot tub to your garden area is the weight.
Composite material is a good flooring to have underneath a hot tub as it is stronger and more durable than other materials, such as wood and more resistant to damage.
Lighting
Using garden lighting is essential for adding charm and beauty to your exterior space.
Lighting is functional, meaning you can enjoy your garden day or night, but it increases aesthetic appeal by creating a modern and warm atmosphere.
Lighting comes in many forms, meaning you can choose the best style and method to suit your space. Various lighting options include spotlights, fairy lights or path lights to accentuate a specific area.
For example, you can choose to put lighting on the sides of your decking, which highlights the space beautifully and provides a chilled ambiance, or you can attach lighting vertically to walls, which makes for a modern aesthetic.
Furthermore, lighting adds security, as it brightens the area at night. Therefore, it is also useful for peace of mind and appearance.
Trellis
A garden trellis is a structure that supports climbing plants vertically up walls or properties. They come in multiple materials to suit your garden space and can be used with many plants.
The most commonly used plant when using a trellis is ivy. A trellis will add aesthetic appeal to your area and can even become a feature within your space, adding color from beautiful growing flowers.
Additionally, a trellis can section off different areas of your garden, making it feel more spacious.
Seating area
A simple way to enhance your garden is by adding a featured sitting area for you and your family.
Whether you want to add an exterior dining table to create an alfresco living space that can be used throughout the warmer months.
Many customers place tables and chairs under covers or pergolas to be able to make use of the furniture all year round.
Alternatively, you can choose to add a more casual seating area, such as a sofa or bench, which will make your area perfect for hosting.
Creating a specific area for relaxation will ensure you use your backyard more often and can make the most of your space throughout summer.
Fire pit
A fire pit is a significantly popular feature used by many homeowners across the country. There are many deck fire pits to choose from that can be chosen to suit your garden area, whether it is modern or more traditional in aesthetic.
You could add a chiminea (see ideas here), which is generally safer than a standard fire pit but usually more expensive, or opt for various styles of fire pits offering more light and heat to the surrounding area.
A fire pit is a great focal point for parties and means you can use your garden all night long, through any season.
You can choose from various fire pits, such as a fire pit within a table, a bowl fire pit with seating surrounding it or even vertical heaters to comfort your guests.